The desk is an important piece in the home office, if not the most important. It sets the tone for the style of the room and provides you a space to comfortably work. And that's the goal, isn't it To be comfortable.
If comfort for you means a sit-stand desk, check out our comparison and review of the BDI Sola versus the Copeland Invigo. However, if you prefer a more classic wood desk, you're in the right place.
Catherine Willey, our Framingham store manager, takes us through two hardwood desks, the Preston and the Sarah.
Preston Desk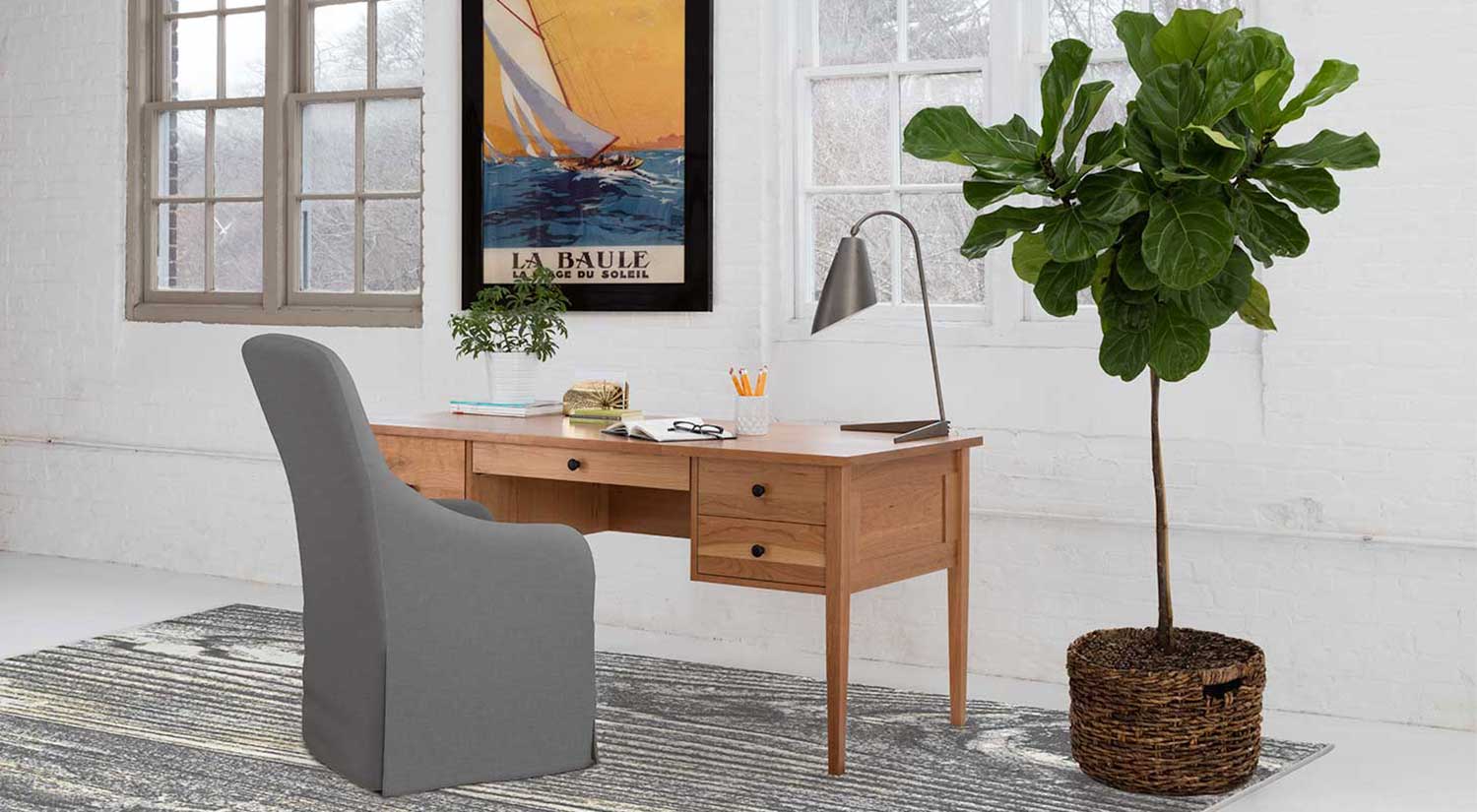 The Preston desk is a classic desk with modern, clean lines and it's available only in Cherry, in a variety of finishes. Catherine says, "The front's finished nicely so it can be floated in a room and look really beautiful."
It has English dovetails front and back, a lay-down keyboard tray, and coordinating pieces available. When it comes to getting the most bang for your buck, this desk packs a punch. Catherine explains, "The desk is $1,299 and you get a file drawer, two drawers, and a keyboard tray. It's really a great price."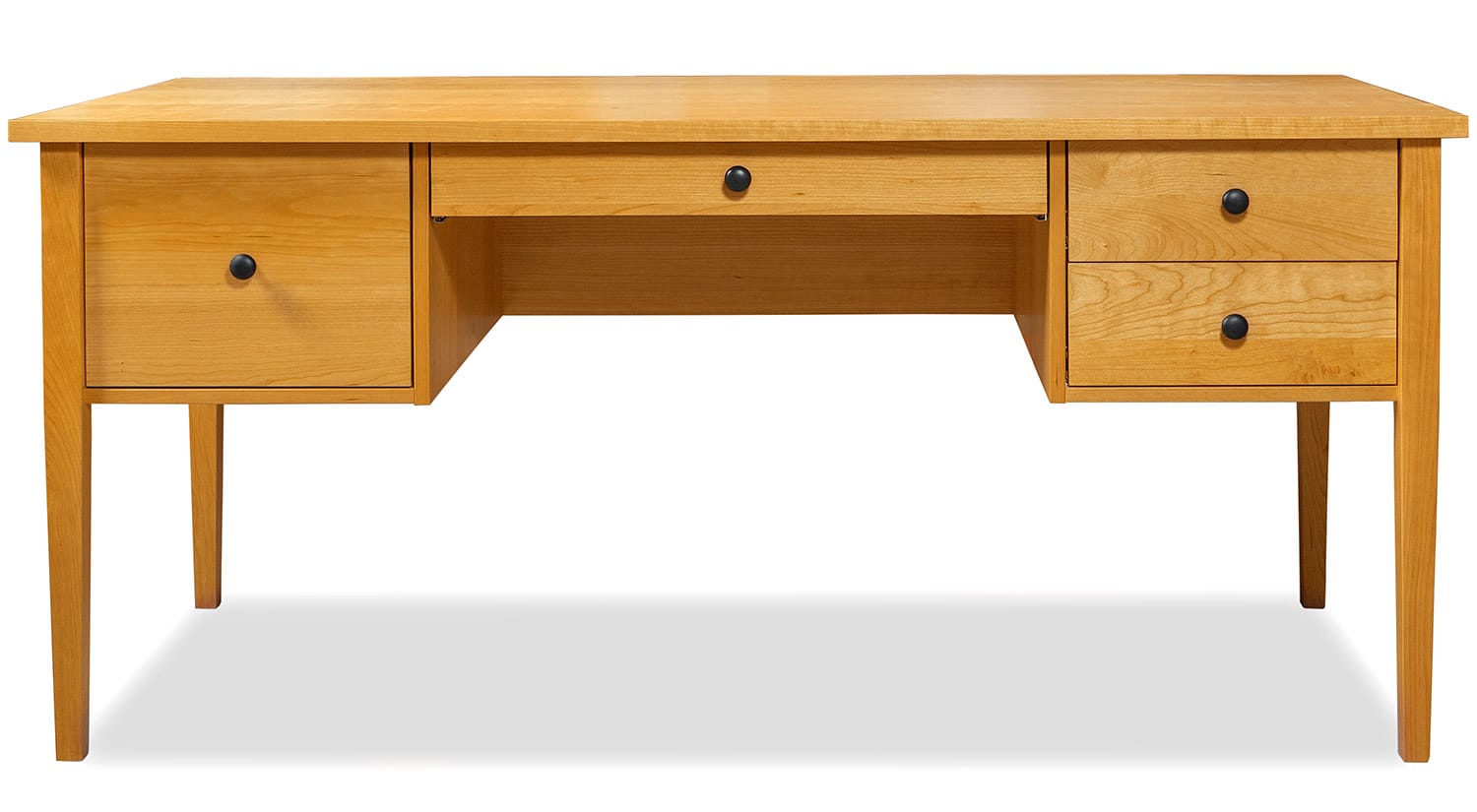 One thing to note about the Preston Desk is that it's a little bit bigger side. Catherine describes, "Most desks are 60 inches and this is 65 and a half. So, that can be good or bad depending on your space and what you're looking for."
Sarah Desk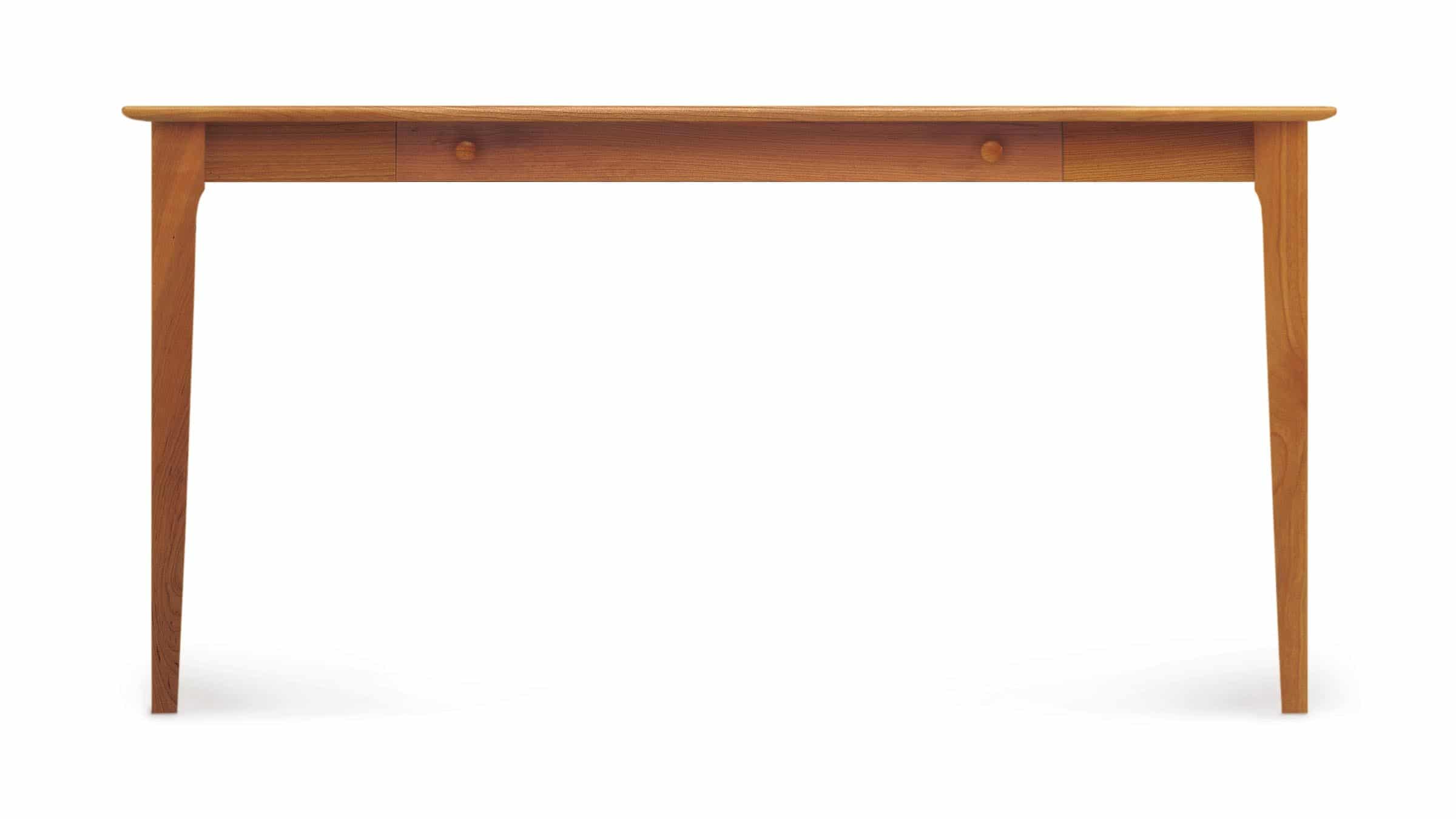 The Sarah desk from Copeland is a much simpler take on a desk. Catherine explains, "It does and doesn't compare to the Preston. It compares in that it's cherry, but on its own, it's a very simple legged desk. If you have a tiny space and you want a more open feeling and you don't need the file space it's a great option."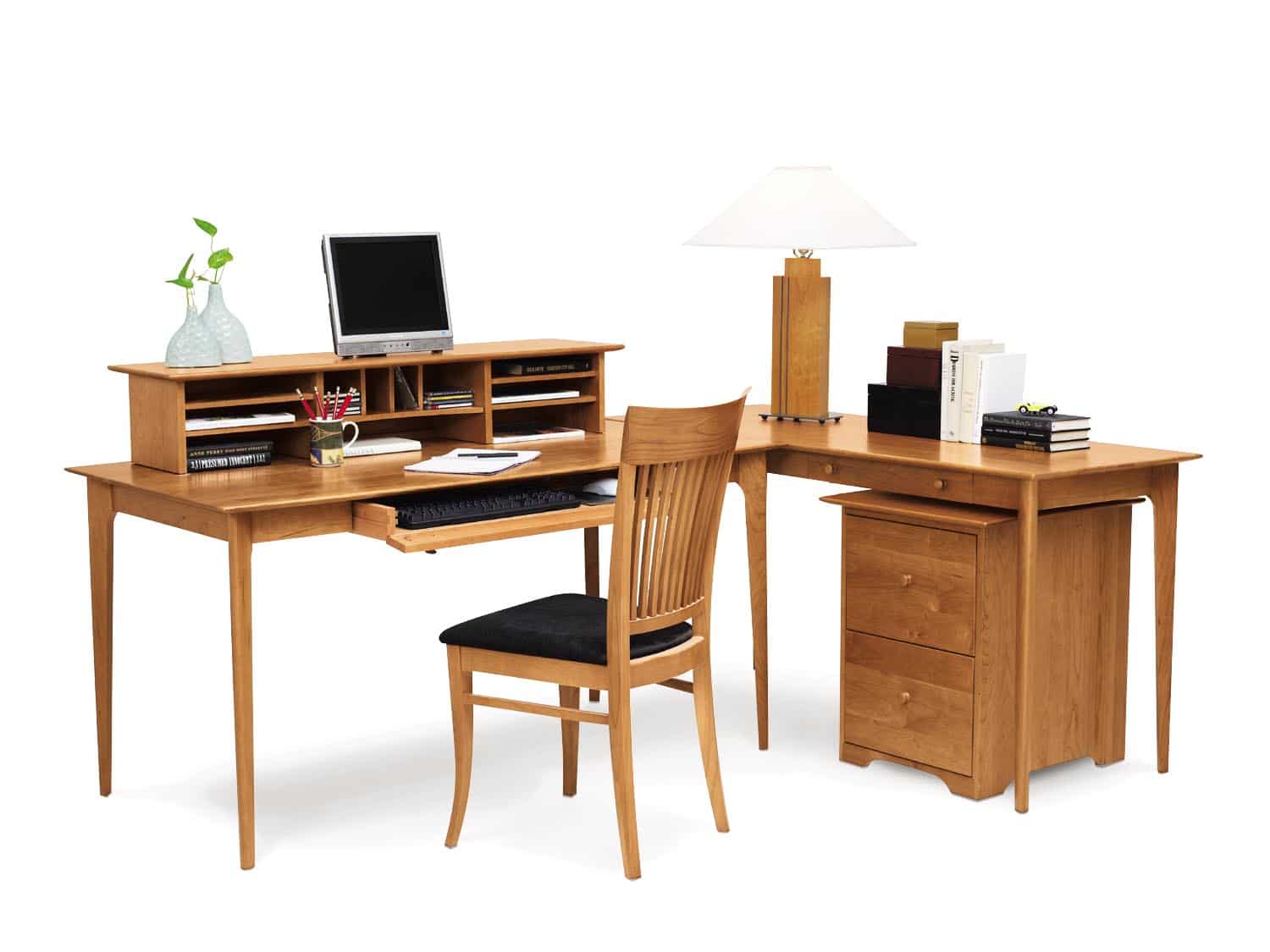 The Sarah, in Copeland's words, "exhibits the clean lines and balanced proportions of its shaker influences." The beauty of the desk is really in its simplicity. It's an average sized desk, 60-inch by 30-inch, and it comes with a laydown keyboard tray. The desk, $1,139, comes with a return, $999, which can be set up on either side.
Catherine describes, "There's also a mobile file available that you can store underneath, a cute vertical desk organizer, and also a smaller desk called the secretary." These options make the Sarah a very versatile and customizable desk.
Making your decision
When it comes to making your decision, they're actually quite different. Like Catherine says, "They're both hardwood options but very different desks. For the price, the Preston is a great value. It gives you a little bit of everything in one piece."
Whereas the Sarah is a more compact desk and it's better for space saving. When it comes to floating your desks, both can float but, "The Preston is a little more impressive and with just a half dozen inches longer you get drawers and file drawers built in. It also has a modesty panel built in which the Sarah does not."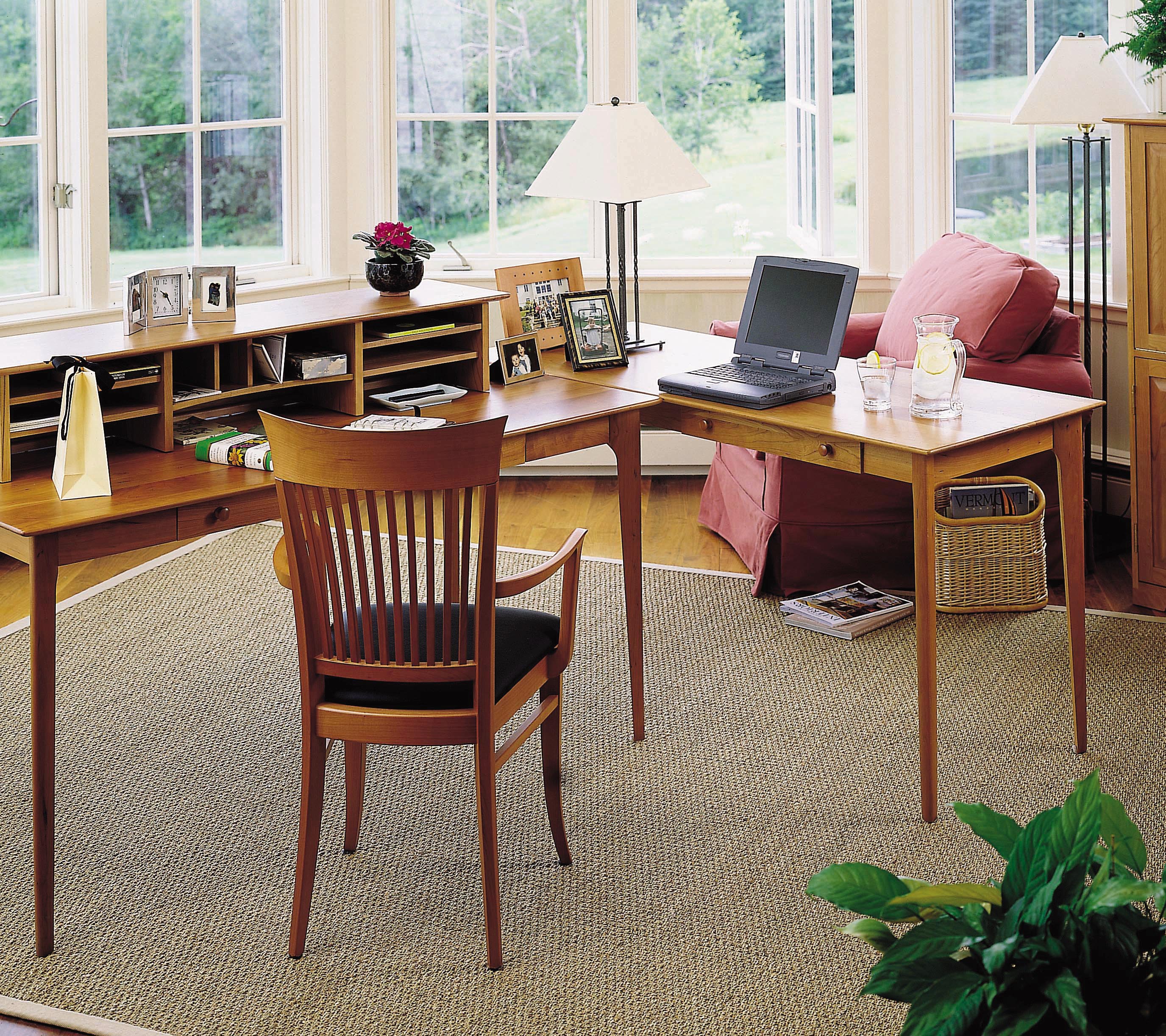 When it comes to styling options, the Sarah comes standard with wood knobs but you can also choose metal knob designs. With the Preston, there are several knob options, including unique options like antique apothecary pulls.
Catherine explains, "The Preston is transitional and has a little more variety in terms of styling, whereas the Sarah is a basic shaker. If you want simplicity it's a great option and it's made of solid hardwood and is greenguard certified."
Both the Sarah and the Preston are built with sustainability in mind with wood sourced from local forests, using lower VOC products and finishes.
Visit a showroom
The best course of action when considering a desk is to come into a showroom and see them in person. You may discover that you're more drawn to a lift desk or a desk with configuration options and coordinating pieces.
Our designers have a wealth of knowledge and will be able to walk you through the process of choosing your home office furniture; asking the important questions so you leave with exactly what you need.
Curious about Copeland Get to know the company by watching a factory tour and interview with Tim Copeland to learn about their style influences.
Still have home office on the mind Check out these articles:



Author: Julia Maiman
Julia is a writer, blogger, and believer in the smell of old books. She has been crafting stories since she could put pen to paper. She is also a lover of dogs, traveling, and Led Zeppelin.