Sometimes it's the simplest changes that have the greatest impact. Regardless of style and budget, there's one change that will instantly update the look of your home: wall color.
Whether you've just moved into a new home or you're looking for a fresh take on a room in your house, changing your paint color is a great place to start.
We met up with our team of designers in Middleton to discover their favorite trends and get tips on deciding on a paint color.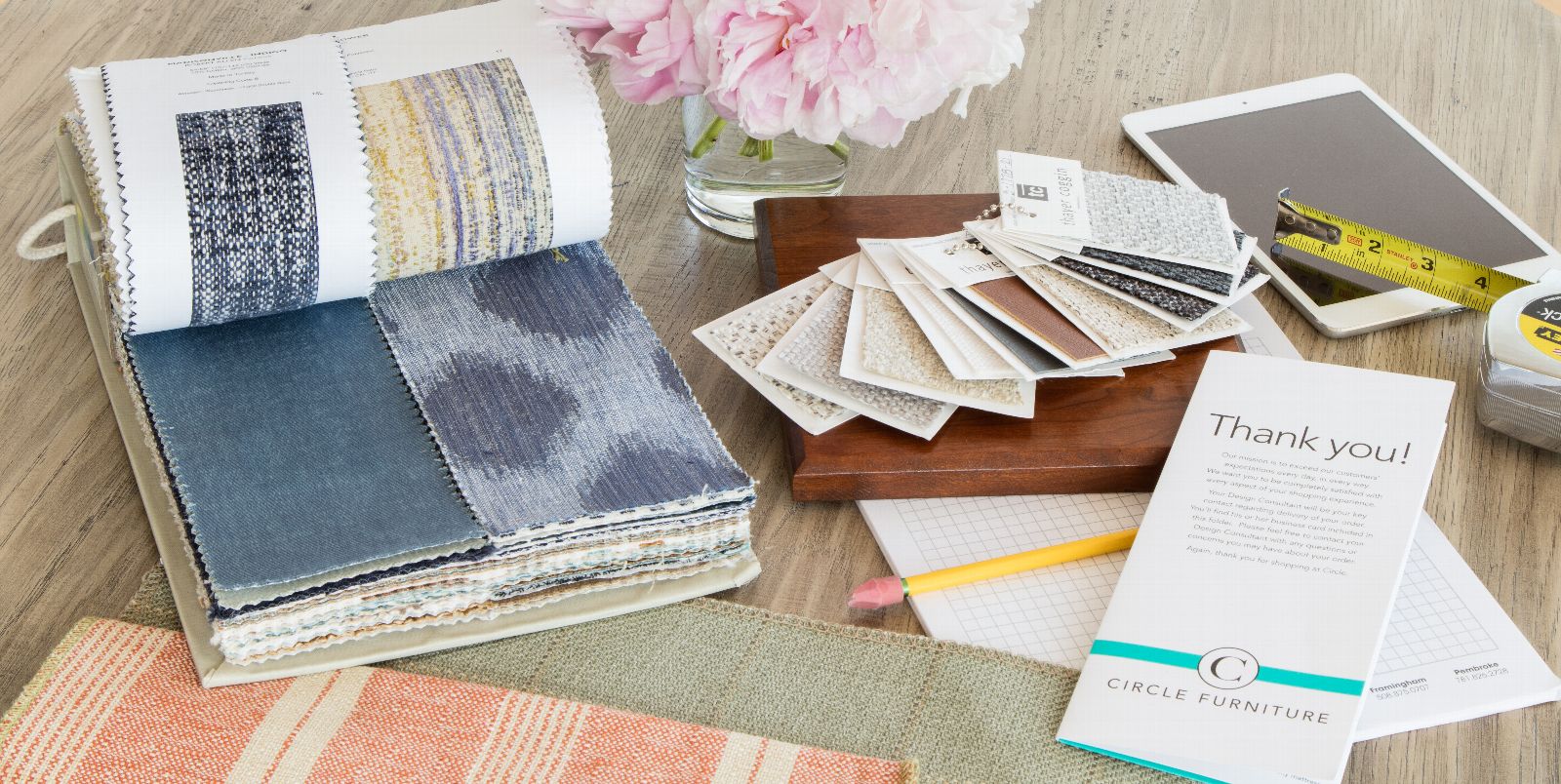 Trend forecast
We want to stress that trends are always in flux, and it's best to follow your instincts, trust your gut, and go with what you love!
That being said, there's a general move towards deep, saturated colors on walls—which not only makes a beautiful statement but allows your furniture and art to stand out.
Wallpaper—whether it's on a statement wall or every wall (and ceiling!) continues to be a growing trend. Wallpaper is a wonderful way to add an artistic look to your home and interest where things have perhaps gotten a little too neutral.
And the best trend (if you could call it that)? Cindy, our store manager in Middleton describes, "Color schemes are taking on a new direction where anything goes."
So throw out the rule book!
Colors we love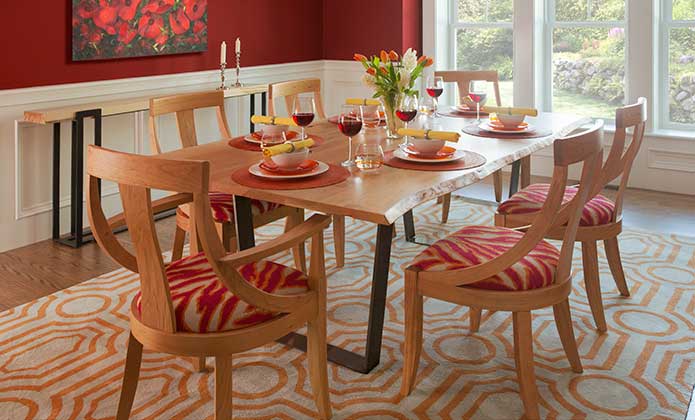 As far as what we're loving, the trend is clear–we're not shying away from rich color.
The Middleton team chose a few of their favorite wall colors:
Peacock turquoise: This opulent tone can be used to make a room feel cozy and inviting. For a softer look, add pale pink and gold tones to add a calming effect.
Ruby red: This shade of red pairs beautifully with bright white trim and black window frames and doors.
Gunmetal grey: This tone is replacing lighter grey shades and, when paired with deep ochre or blazing orange, it adds a fresh pop to a living room. It can also be used on kitchen cabinets.
Classic blue: This Pantone Color of the Year offers a peaceful environment and is reminiscent of the winter skies in the Northeast.
Blush: Otherwise known as "millennial pink," this shade is still very much on-trend and can be made more dramatic by adding deeper jewel-toned furniture.
Black: A dramatic choice and one that adds elegance to just about any piece of furniture in the room. Leopard prints, deep navy, and dark olives work well with black.
Earthy green: Valerie, describes, "The greens of today have an organic feel - pulled right from nature. This outdoorsy feeling can be enhanced by adding a natural fiber rug and other natural elements."
Play it safe
Not a fan of bold wall color? There's nothing wrong with playing it safe and bringing in color with rugs, upholstery, and art.
Our favorite neutral wall colors are taupe tans (think mushroom tones), clean chalky whites, and medium pewter gray.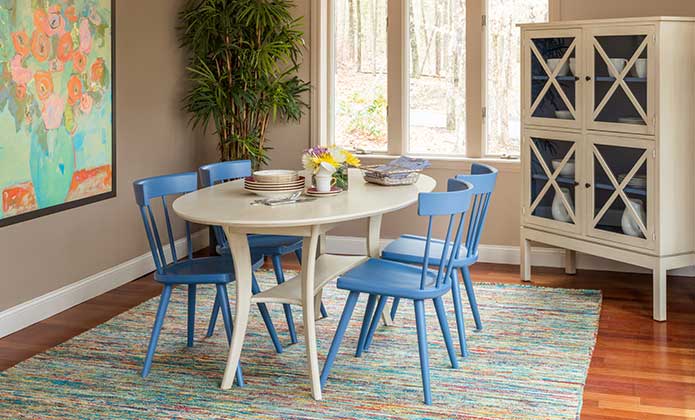 Deciding on color
It's one thing to love navy blue, it's another to determine if it's the right shade for your bedroom or your downstairs bathroom.
Cindy explains, "Painting a room has many variables. First, you'll take the direction of light entering the room into account. Is it a north-facing room? South-facing?"
South-facing rooms have the most sun all day whereas north facing rooms will lack direct light. As a general rule, it's best to avoid cold, dark colors in rooms that don't receive a lot of light. Whereas a south-facing room can handle a pale blue or a cool tone.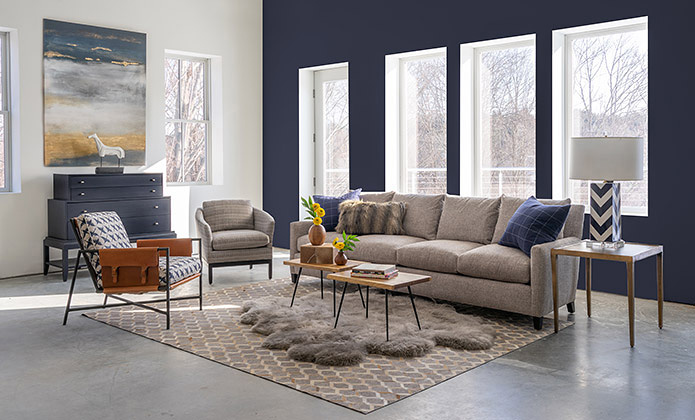 The next course of action is to gather paint chips from a local dealer and tape them to the wall. Check back in the morning, noon, and after dark to see how the light changes the wall color in your space.
Regardless of the color and the room – there are ways to make any shade work, whether it's a greyish taupe or a saturated cornflower blue. And thankfully, inspiration can be found everywhere, from your wardrobe to Pinterest to your garden!
For expert advice and a helping hand through the design process, come into a showroom and meet with one of our Design Consultants.
Author: Julia Maiman
Julia is a writer, blogger, and believer in the smell of old books. She has been crafting stories since she could put pen to paper. She is also a lover of dogs, traveling, and Led Zeppelin.