We believe that customization is the best way to style any piece in your home—from your ottoman to your sofa.
And yes, even your Stressless chair. Although the style of the recliner may not be the first reason you choose to invest (the certificate from the American Chiropractic Association may have urged the decision along), there are so many ways to beautifully style your Stressless recliner in your home.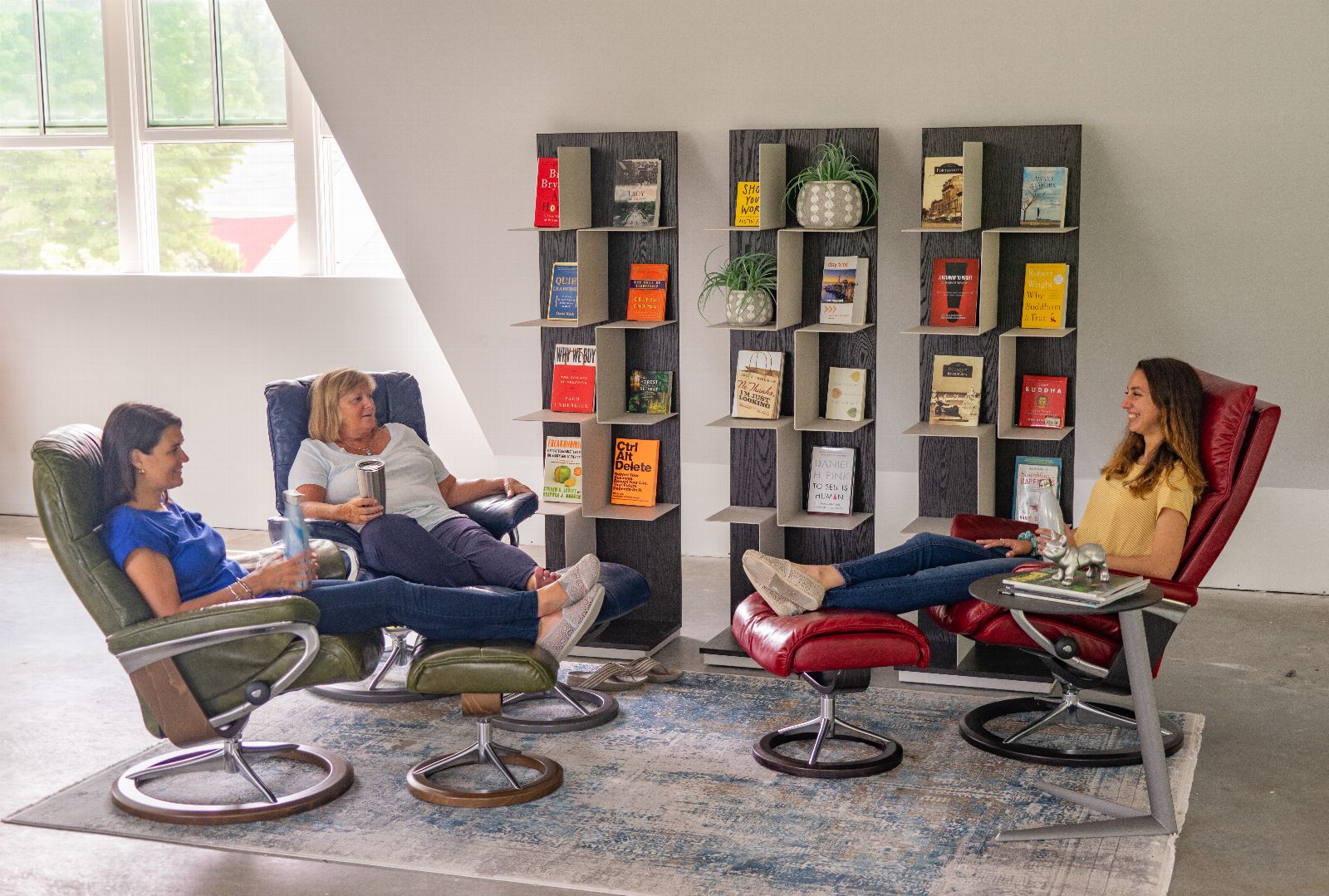 Customize your color, leather, and base finish
Catherine Willey, our VP of Purchasing, notes that by simply choosing a different color you can take your recliner from a more traditional look to something much more contemporary.
For a traditional style, she recommends choosing deeper colors, like cognac, brown, or espresso.

To incorporate your recliner into a more transitional home, look for neutral colors like butterscotch or taupe.

And finally, for a contemporary look, Stressless offers dozens of brighter shades like reds, oranges, and blues. A black recliner is a streamlined choice that would fit well into a contemporary home.

Next, consider the wood or metal finish of your base. For a more traditional look, you could opt for brown or black. To make the style a little more modern, you can choose a grey wash, white wash, or a walnut tone.
The look of the chair will also depend on the leather or fabric you choose. Fabric is a softer, toned-down look. There are several leather grades to choose from depending on the feel you want and the finish you prefer. The new Pioneer leather is a natural leather that offers a vintage look with natural marks.
Find inspiration
The truth is, like Catherine explains, "Stressless recliners can fit into several different styles. They're somewhat style-neutral in their simplicity."
"And", she says, "the concept of Stressless is about the fit. You want to make sure you find the chair that fits your body perfectly. Once you've done that, you can tailor the color, leather, and base color to change the look."
Find inspiration by looking through the styles, seeing the recliners in person, and looking at their style catalog to see how they fit into different homes and environments.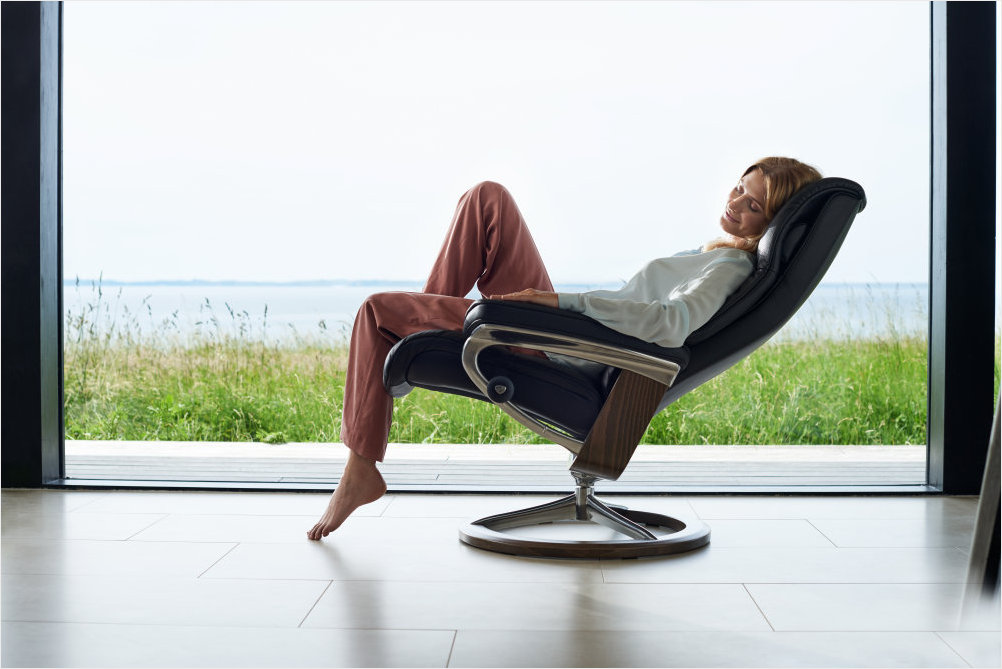 There are some variations between the styles of the recliners. The Paris chair, for example, is much more streamlined and simple than say, the Reno. But for the most part, you'll change the look by customizing the color and working with a designer to tailor the recliner to your unique space.
Catherine describes, "There are numerous options for color and leathers. If you have a minimalistic design, there are a lot of whites and gorgeous neutrals from the Cori Leather range—from olive green to taupe colors."
Read more: How Much Does Stressless Furniture Cost? A Comprehensive Breakdown
Use the Stressless@Home app!
If you want to see exactly how your Stressless recliner will look in your home, Catherine recommends downloading the new Stressless@Home app.
She says, "You can virtually place any Stressless sofa or chair in your home which makes choosing the right style for your space a lot easier."
Read more: 5 Benefits of Purchasing a Stressless Recliner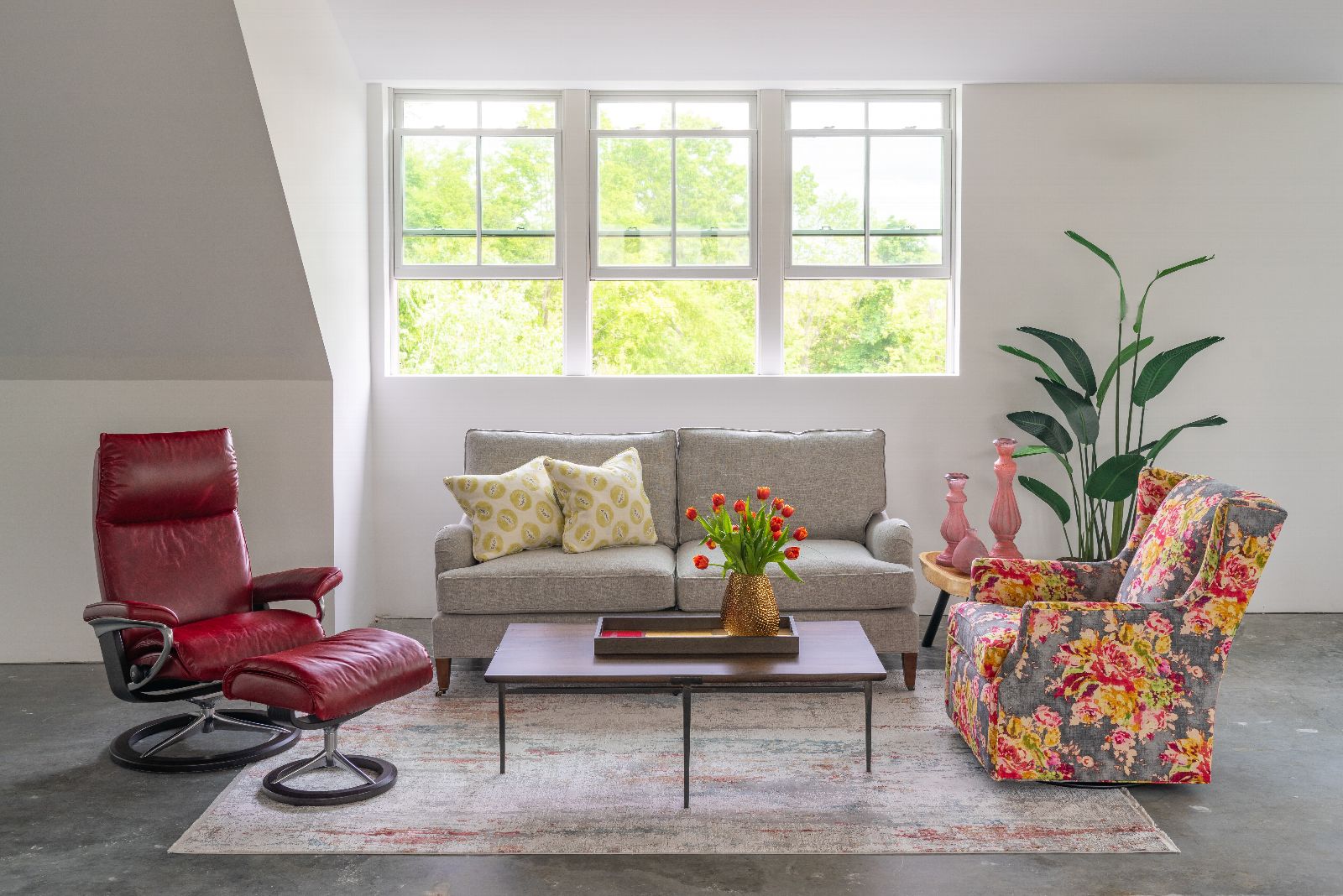 Find your fit
The main selling feature of a Stressless recliner is the comfort and ergonomic fit it provides. Like Catherine says, "If you have neck or back discomfort, or if you're just looking for the most comfortable recliner, the Stressless design features are built specifically for comfort in mind."
But just because style might not be the number one reason you purchase a Stressless recliner, that doesn't mean you can't customize your recliner to look beautiful in your home.
Talking to a designer in a showroom will give you the best idea of how to choose the right recliner for you—both in fit and style. Online research is great but there's no replacing sitting in a recliner, feeling the texture of the leathers, and seeing the array of options available.
Come into a showroom near you to chat with one of our Design Consultants and see our collection of Stressless recliners.