If you're a mid-century modern aficionado, then you've probably heard of Thayer Coggin. Founded in 1953, the iconic brand remains a pillar of the mid-century modern style nearly 70 years later.
We spoke with our Pembroke team to learn more about the brand, the key style features, and their favorite picks out of the collection.
What is Thayer Coggin?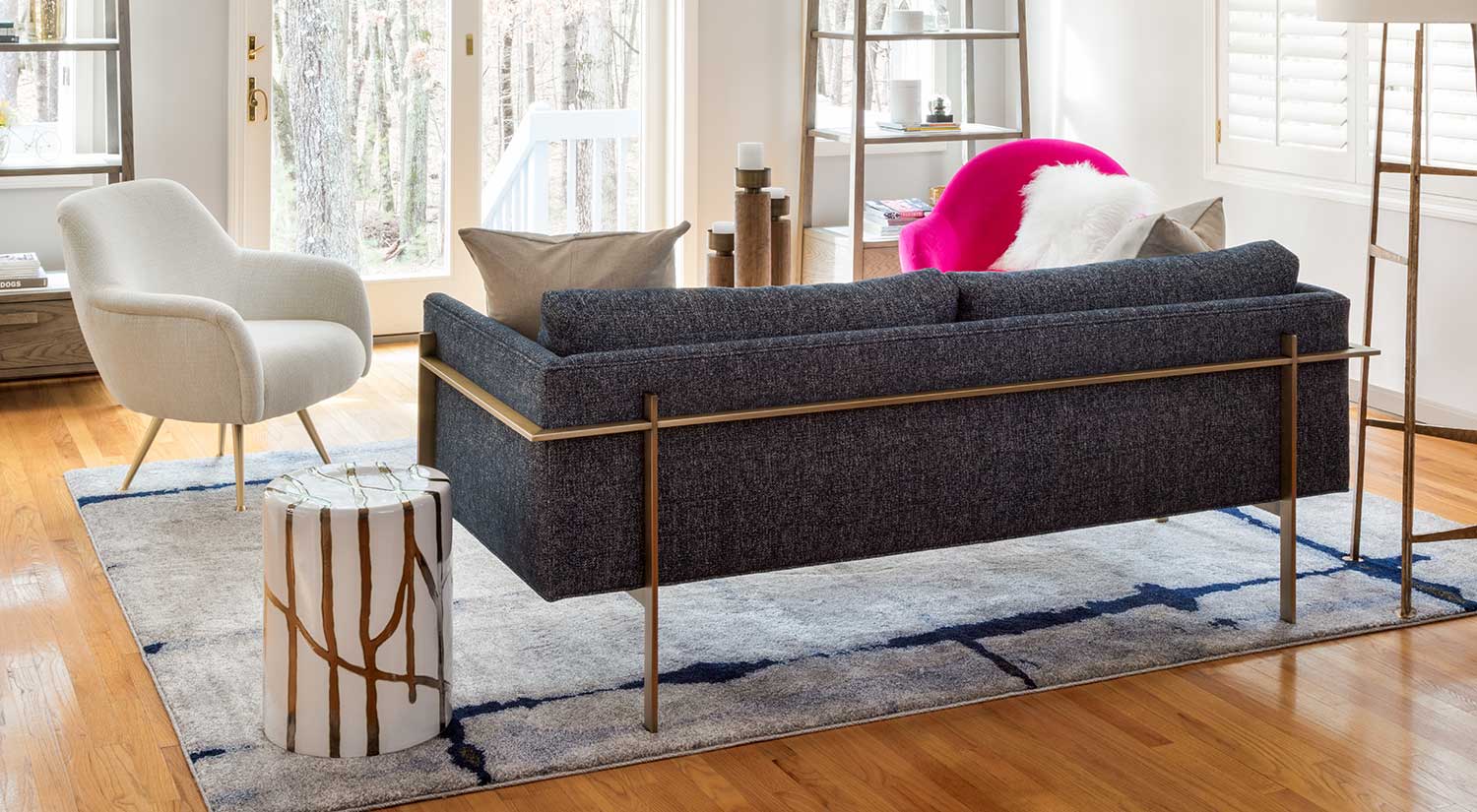 The brand describes themselves best, saying, "Through founder Thayer Coggin's vision and Distinguished Design Award honoree Milo Baughman's creations, Thayer Coggin has amassed a collection of some of the most recognizable furniture designs in the world."
Thayer Coggin is known for partnering with famed designer Milo Baughman and innovating in the mid-century modern design trend, creating iconic pieces that remain popular to this day.
Their reputation is built not only on style but on quality and attention to detail. Thayer Coggin products are made in North Carolina by expertly trained craftspeople. They offer customization on all of their products, from wood finishes to thousands of colors and styles of fabric.
Betsy Johnson, a Design Consultant in our Pembroke store, says of the designs, "They're a classic mid-century modern design with a lot of configurations. Several of the designs have been in continuous production, like the Viceroy Recliner."
When you think of mid-century modern design, you think of Thayer Coggin and Milo Baughman. It's a testament to their incredible innovation and the timelessness of the design that the brand remains as popular today as it was in the mid-century.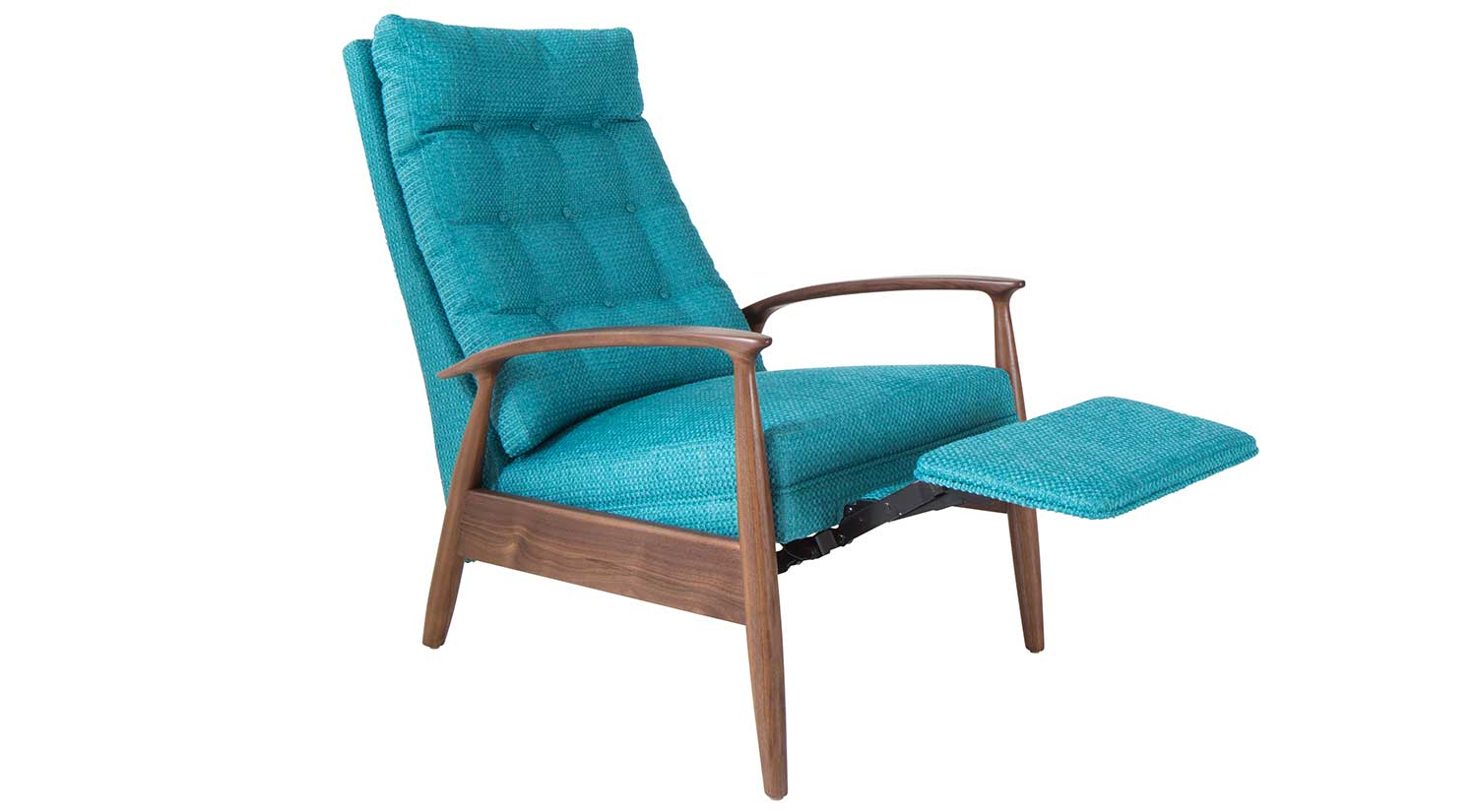 To learn more about mid-century design and how to incorporate it into your home, read: Mid-Century Modern Design: Simplicity and Function.
What are the key features?
The key features of Thayer Coggin products are in line with the features of mid-century modern design; clean lines, organic curvature, metal accents, and beautiful, rich walnut tones.
Cheryl Harrington, a Design Consultant in Pembroke, notes that the styles are extremely versatile. "Because of the clean lines, you can mix these pieces into a traditional home or a very contemporary condo. Their collection spans from oversized sectionals to unique, fun ottomans."
Another key feature of the upholstery is that they tend to sit lower to the ground. And although many of these pieces have been around for decades, they're still defined by an inventive style that focuses not just on comfort but on artistic design.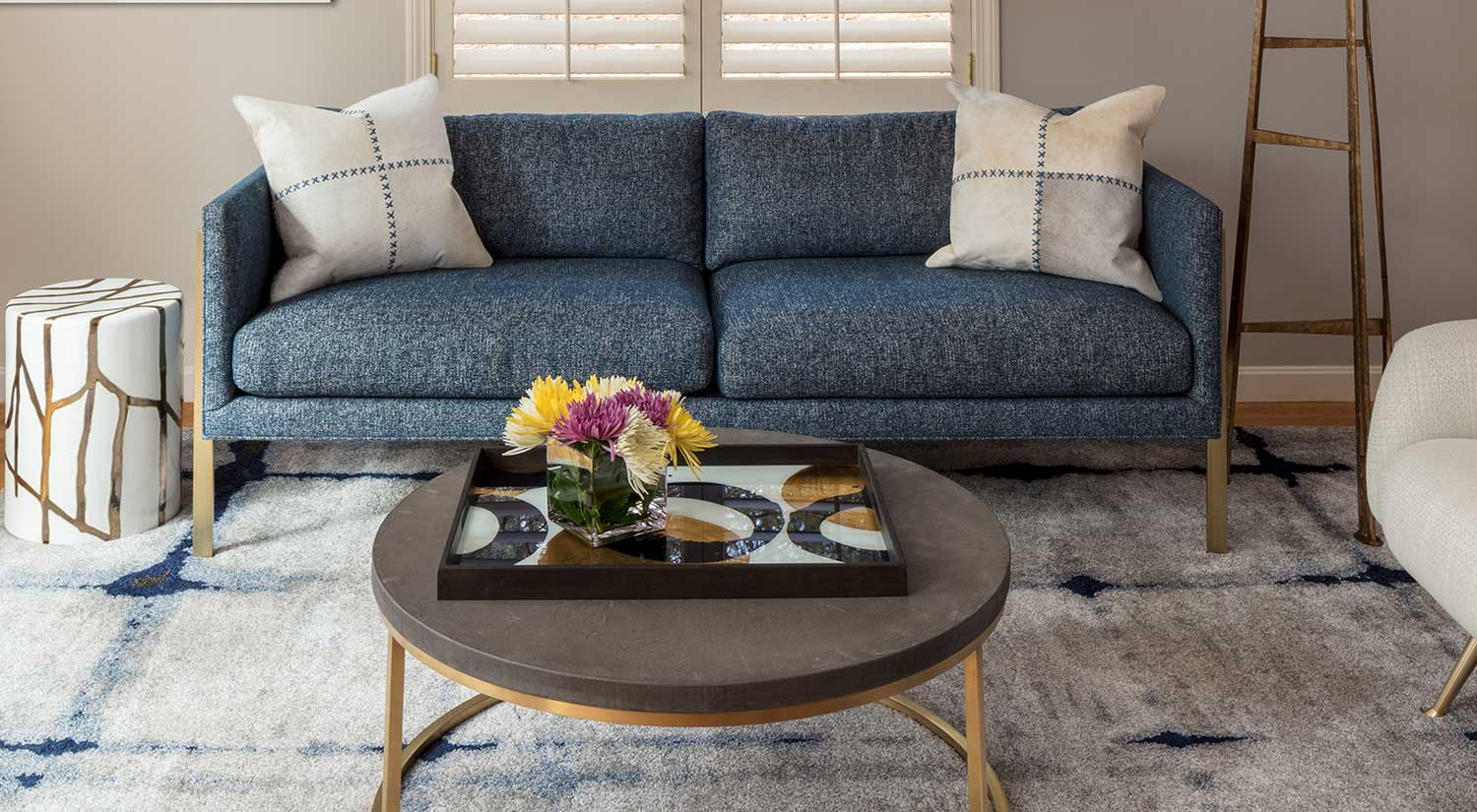 Our designer's top picks
Cheryl and Betsy picked their favorites from the collection we carry at Circle Furniture. To start, they both agreed that the Viceroy Recliner is a classic for a reason. Cheryl describes, "It's sleek, comfortable, with a beautiful exposed walnut frame. It has a solid strapping system underneath and it's available in fabric, leather, and with or without tufting."
As for who might enjoy the Viceroy? "It's really great if someone wants a chair that doesn't look like a recliner. And because of its petite frame, it's perfect if you have a small space but still want the luxury of a recliner."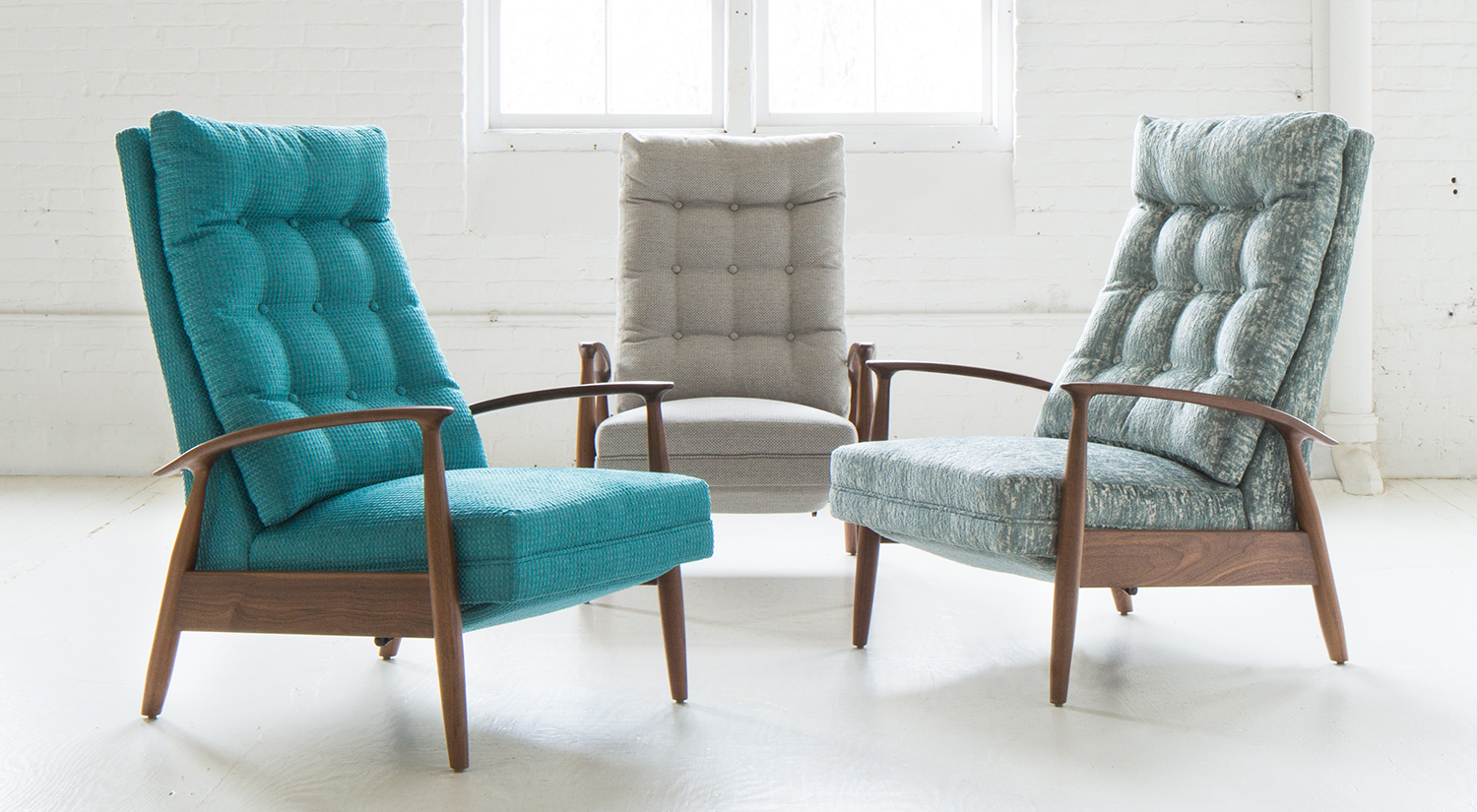 Betsy's favorite piece is a sofa that works for any space, the Design Classic. "There are so many options with the Design Classic," she says, "It comes in a sofa or a sectional, wood or metal leg, and you can choose regular cushions or ultra-soft cushions. It's a classic, versatile piece that can fit into any home."
Speaking of sofas, they both enjoy the Hangover Sectional, aptly named for what it's perfect for—lounging. The Hangover is a huge, deep, comfortable sofa, making it a great option for a family room.
Finally, Cheryl's personal favorite? The Roxy Swivel. "It's a swivel barrel that rocks and it's really cozy with a petite frame. It's available in a wood base, fabric base, with a metal back option for a contemporary look."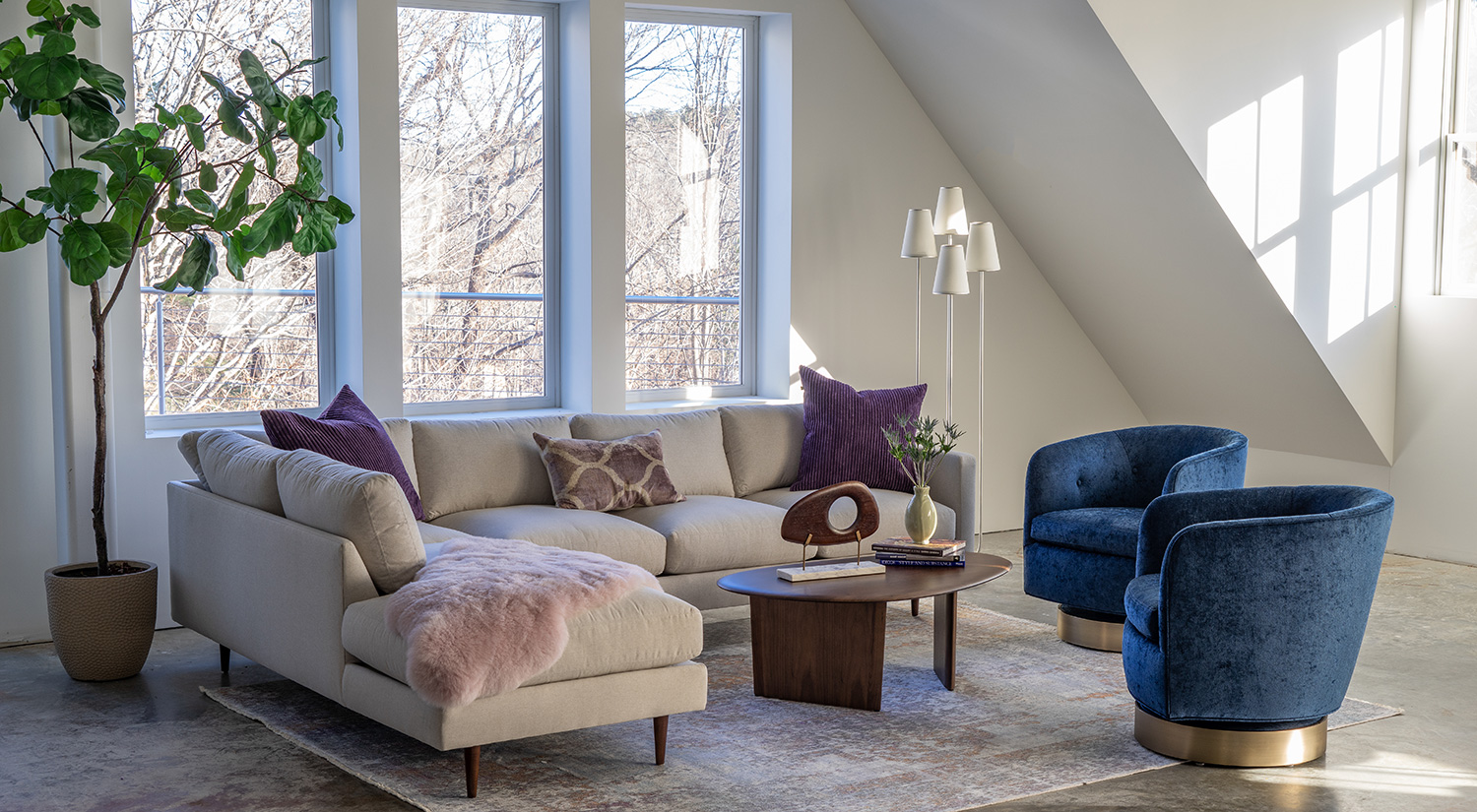 Who is it not for?
We hesitate to say that Thayer Coggin isn't specifically for anyone. Betsy notes that "anyone can enjoy it, it just depends on the piece."
Because there are so many customization options, the frames are really versatile. However, there are a few factors to consider when deciding if it's right for you.
The first is your budget. Thayer Coggin is a higher price point; you're paying for the quality of the materials, the craftsmanship, and the iconic design. So, depending on your budget, you may look in a different direction for that mid-century modern look.
Finally, the upholstery tends to sit low which can either be a great thing or not, depending on your preference. That's why we always recommend trying your upholstery in person.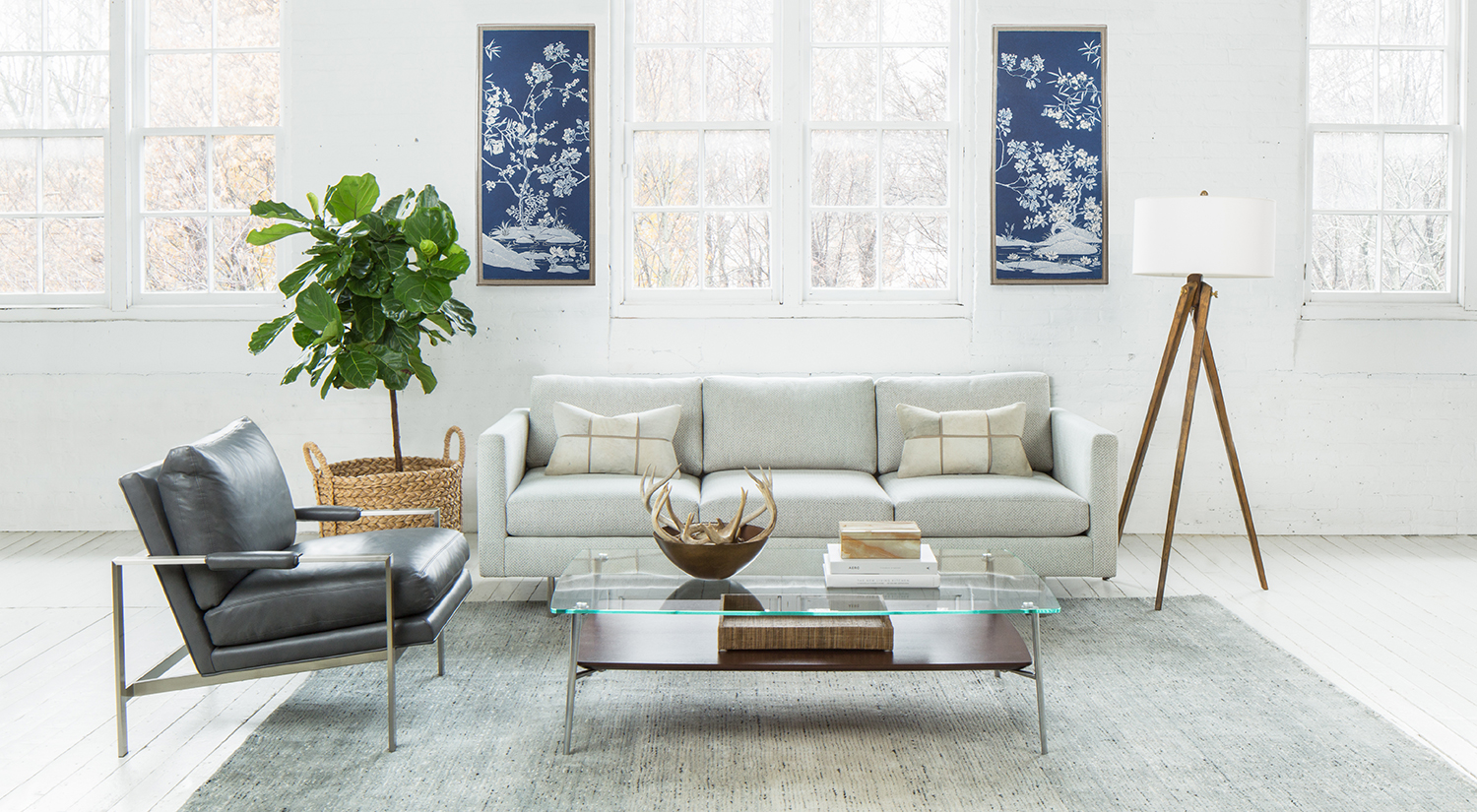 Come into a showroom
Thayer Coggin the brand may have been born in 1953, but that doesn't mean the styles are dated. Betsy says, "I think with Mad Men and the resurgence of mid-century modern it's become really popular again. But I don't know that it ever went out of style because the pieces are so classic."
And for the people who love that look—they really love that look! Cheryl describes, "We had a customer who had a Design Classic sectional from the '70s. She loved the sofa so much and had so much trust in Thayer Coggin that she bought a new version of the same sofa over the phone."
Thayer Coggin continues to focus on lasting styles that are made with high-quality materials and attention to detail—from the cushion core to the design.
If you've ever been curious about Thayer Coggin, check out our collection online and then come into your local showroom to see the pieces in person. Our Design Consultants have a wealth of knowledge and can guide you in the right direction.
Author: Julia Maiman
Julia is a writer, blogger, and believer in the smell of old books. She has been crafting stories since she could put pen to paper. She is also a lover of dogs, traveling, and Led Zeppelin.