The sofa is an important piece of furniture in the home. It sets the tone for your decor, it's where you curl up to read a book or watch TV, and it's most likely a piece you'll have in your home for years.
That being said, there a lot of factors to consider before you decide to make a purchase. We're giving you the most important things to know before you buy a sofa so you can be ultra-confident in your decision-making.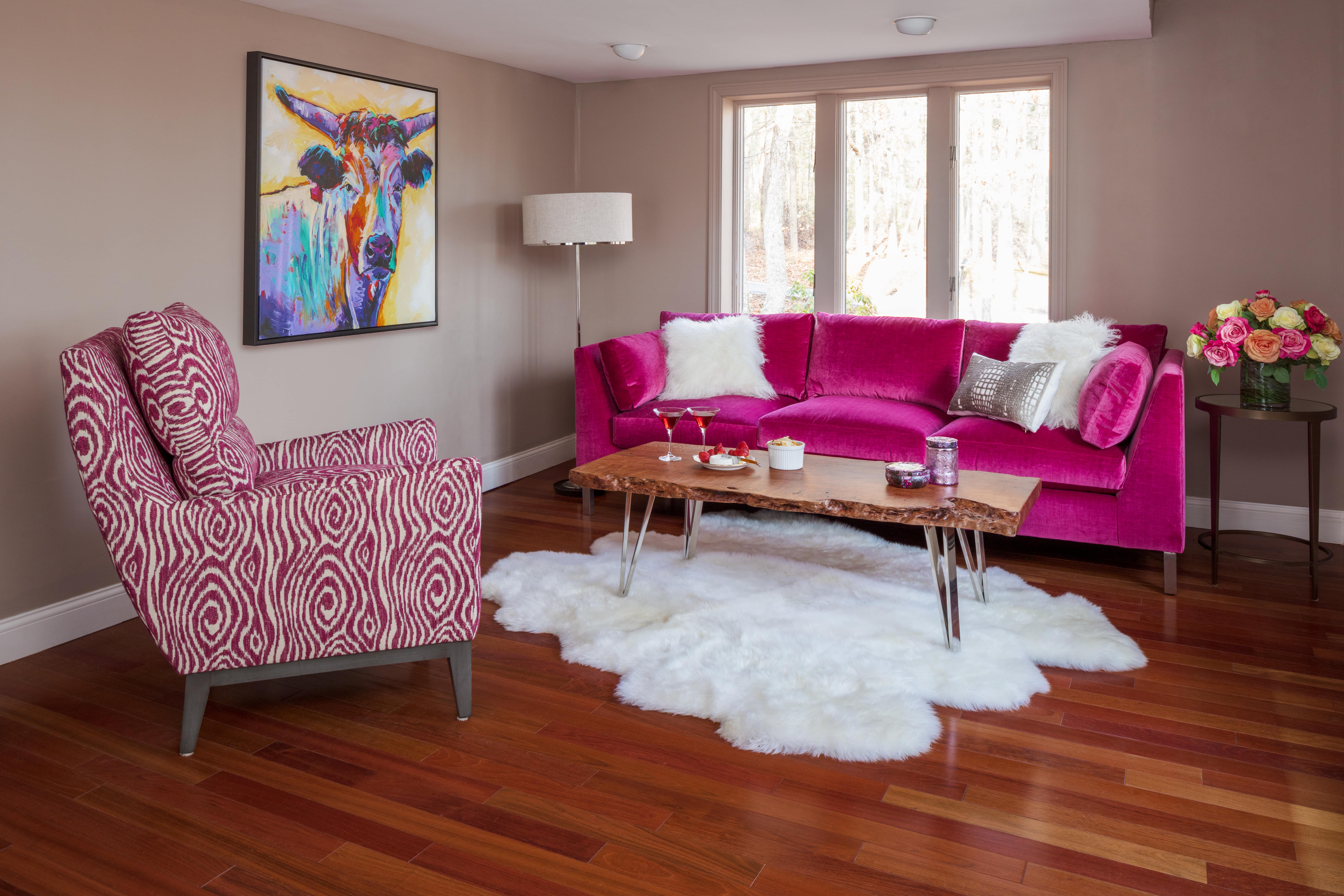 Seat Height
Seat height seems like a minute detail on a sofa, but it's important to pay attention to. The seat height of your sofa can vary from 18" to 21", depending on the style. Mid-century modern sofas tend to be low to the ground, which makes for a streamlined appearance.
However, it's important to consider comfort and ease of use rather than just focusing on a style you love. If you're particularly tall or you prefer a sofa that you can easily spring up from, it's best to stay away from sofas with low seats.
On the opposite end, if you're petite, you won't be as comfortable on a sofa with a higher seat. You want your feet to touch the floor when you're sitting down.
Cindy, our store manager in Middleton, explains, "Seat height is also connected to the cushion core, so if you have a down-filled softer cushion then you'll sink down into the sofa more. If you have trouble getting up from sofas, you'll want a higher seat and a firmer seat core."
Ultimately, it's about comfort and personal preference. The best way to determine the right seat height for you is to try out various heights in person.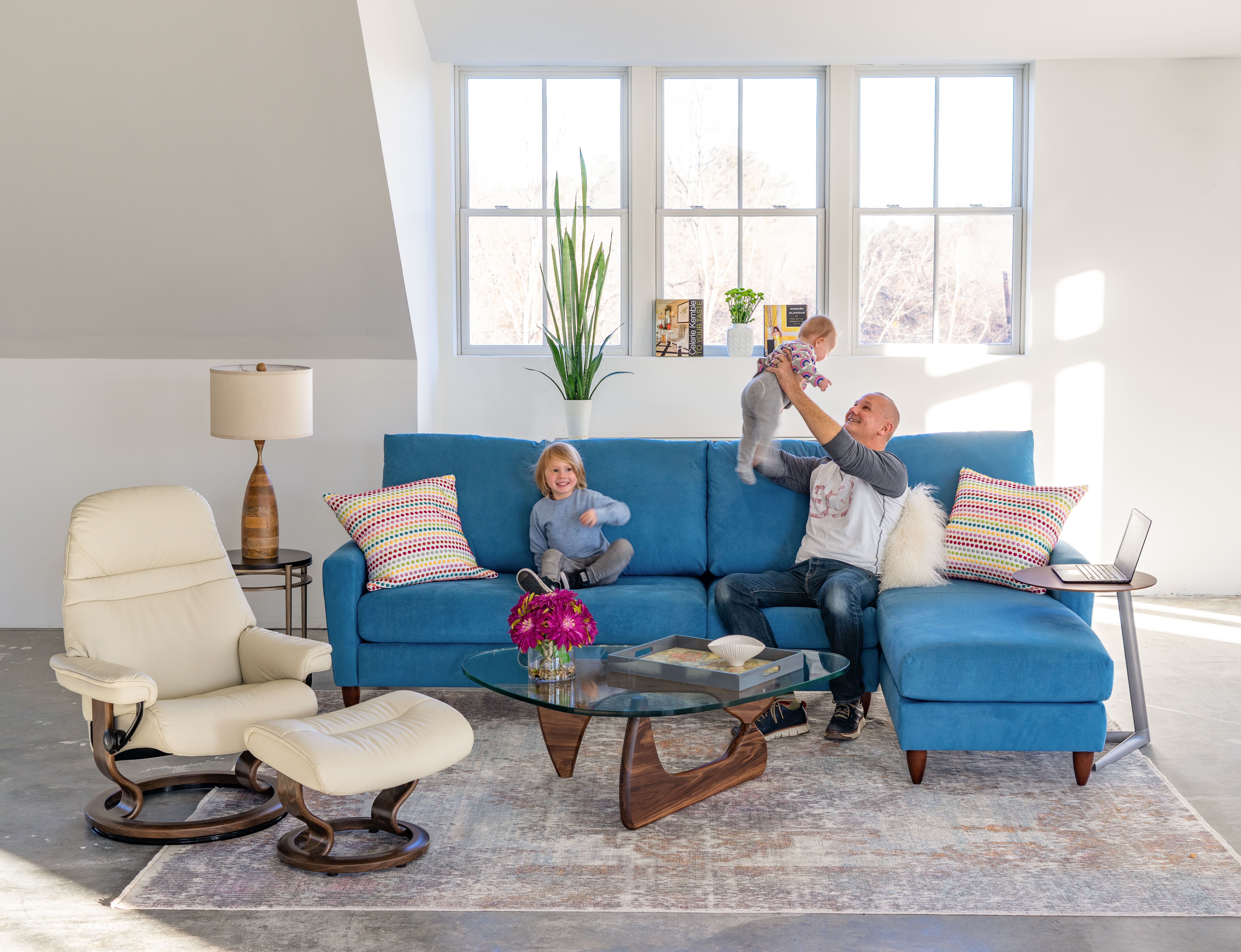 Construction
Construction is immensely important when purchasing a sofa. If you don't know what you're buying and you choose to purchase a cheaply-made sofa online, it's very likely that the sofa is not going to hold up well over time.
Cindy recommends looking for sofas that are "Hardwood kiln dried with construction that consists of corner blocking, double doweling, and gluing and screwing. These frames will give you the best, long-lasting support."
When it comes to suspension, 8-way hand tied coil spring is a classic system. However, it's not the only quality suspension system, there's also cross-webbing or unidirectional webbing. The important thing to remember is that you should get information on the quality of the construction before making a purchase.
Cindy describes, "If your sofa isn't constructed well your cushion cores can bottom out and sink over time. You can even end up with a sofa that's constructed with cardboard in the arms."
Read More: 8-Way Hand Tied Sofas! Plus 3 More Sofa Constructions You Should Know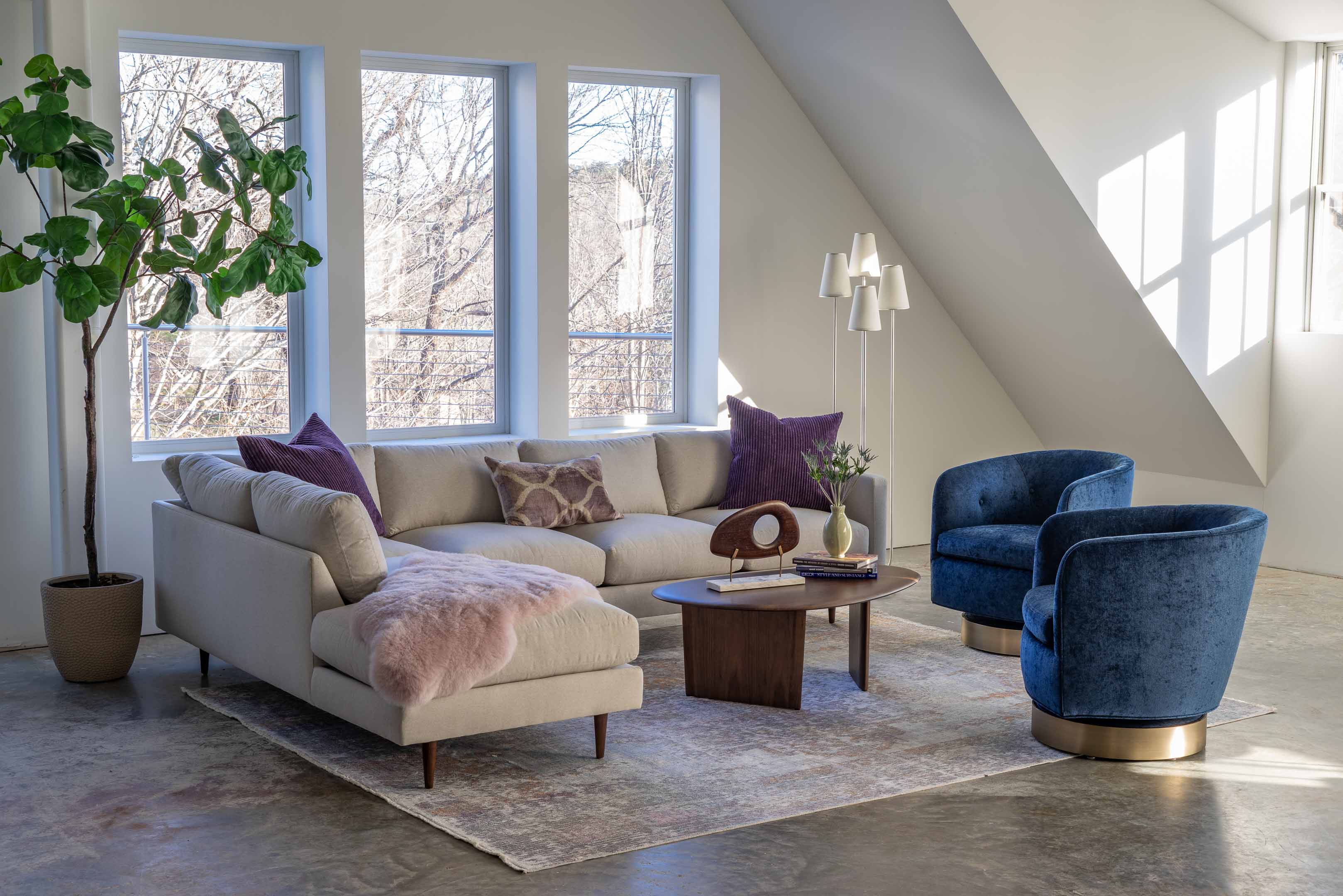 Depth
After construction, the next thing to consider is the depth of your sofa. In other words, how wide it is and how much room you have on the cushions. The depth you choose will depend a lot on how tall you are. Sofa depth ranges from around 35" to 42". The deeper a sofa, the more space you'll have to cuddle up on the couch.
A deep sofa might not be the best option for a shorter person, but it all depends on your personal preference. Cindy explains, "A deep sofa usually has a deeper seat cushion. It goes hand in hand with a person who's looking for something softer and slouchier. It's perfect if you want the extra space to curl up on. Or if you're very tall, you'll need the extra depth."
A shorter depth is better for petite people or anyone with less mobility. You should also take into account how much space you have in your room and make sure there's enough space for comfortable traffic flow.
Read More: Sofa Style Guide: Defining Terms
Fabric
The fabric you choose for your sofa shouldn't be an afterthought. Depending on your lifestyle, there are several points to consider before you make a decision.
Material
First, you'll want to think about your lifestyle. How relaxed do you want to be? Do you have small children? Cindy says, "Performance fabrics are really in right now. People want a worry-free sofa."
Sunbrella, Crypton, and Ultrasuede are the most well-known performance fabrics available. Sunbrella is the best option if you're looking for fade resistance whereas Crypton shines in its stain resistance.
Read our review of these 3 leading performance fabrics to learn more.
Colors and Patterns
As far as patterns and color goes, Cindy describes, "Most clients are buying sofas with smaller prints and using larger patterns on pillows, chairs, or ottomans." Centered patterned fabrics add a traditional quality, whereas a random pattern has a more casual, relaxed feel.
If stains are your primary concern, Cindy recommends staying within a medium to a darker toned fabric. However, light fabrics can make a room look bigger and have an airier feel. If you're drawn to lighter colors, a fabric in Crypton is a wonderful option.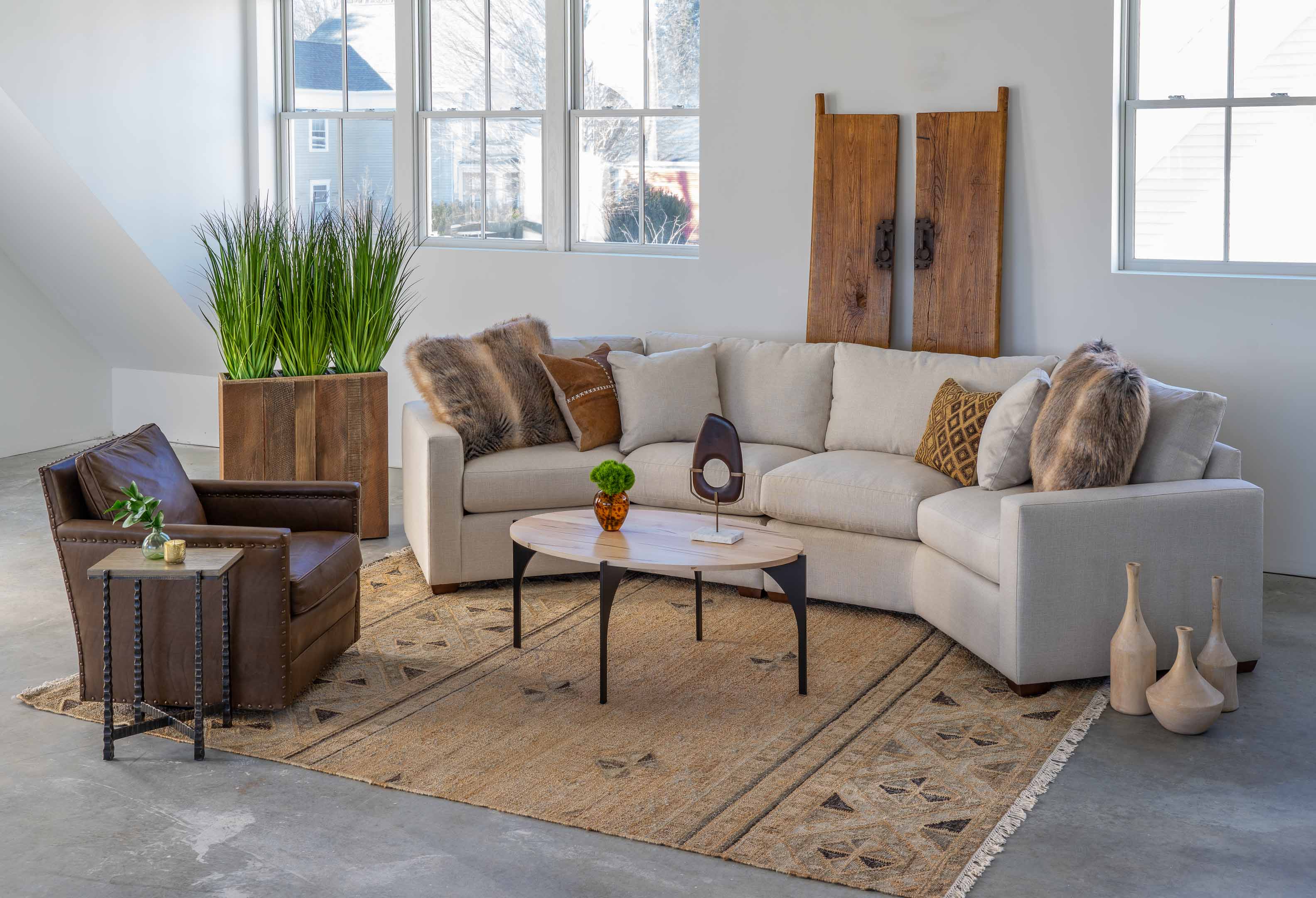 Cost of fabric
Cost is also an important factor when it comes to fabric. An intricate, detailed fabric will add to the price of a sofa, as will a performance fabric.
Custom ordering a fabric is the most expensive option. It's important to remember that the starting price of a sofa may not be the final price when you factor in the fabric. Read more here about how fabric affects the cost of your upholstery.
Size
Finally, it's important to choose the right size sofa for your room. Smaller rooms can easily be overwhelmed by a sofa.
Cindy says, "Sleek, low arms are recommended for smaller spaces. Tuxedo arms are a great option as well. If you have contemporary decor, a long, low sofa can look really nice in a smaller space. The lower the sofa, the less it overwhelms a room."
On the other hand, if you have a large room or high vaulted ceilings, you can bring in a higher sofa or a rolled arm sofa, both of which have the tendency to take up more space in a room. Cindy explains, "It's all about proportion and scale."
Read More: The Ultimate Guide to Space Planning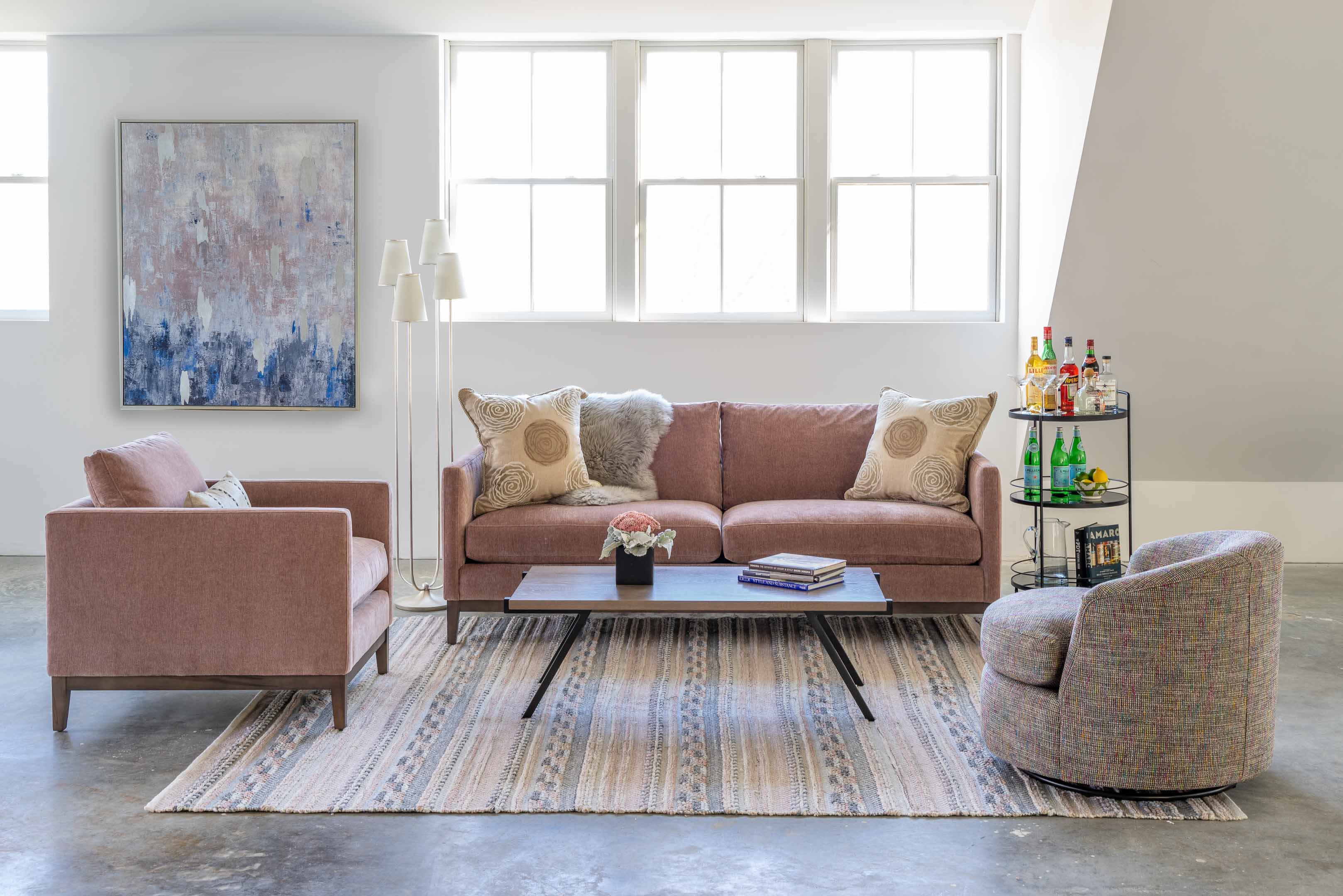 Talk to a designer
Coming across a sofa style that you love is exciting, but not always a reason to buy it. It's equally important that the sofa will function in your home and work for your lifestyle. In many cases, it's the small details that you wouldn't think about that end up playing in the biggest role in whether or not you love your sofa.
The best course of action is to talk to a knowledgeable designer that you trust and come in store to test out sofas for yourself. It may be a quick decision, or it may be back-and-forth for weeks. Either way, we're here to help you along the way.
Check out our selection of sofas here.
Shopping for a sofa can be complex. Here are some articles to help you on your journey: