Picture it:
You're approaching your home on a cold night that's hinting at the possibility of snow. The lights in every window twinkle "Hello" as you pull into the driveway. As soon as you start opening the door, it all hits you: a crackling fire that warms your insides, the smell of sweets baking in the oven, and that familiar song you know oh-so well.
It's the holiday season.
No matter which holidays you celebrate, this time of year is always special, and sometimes it's the comforts of home that remind us why. With that magic lingering in the air, our team has shared what they love the most about their homes during the holidays.
It starts with the decorations…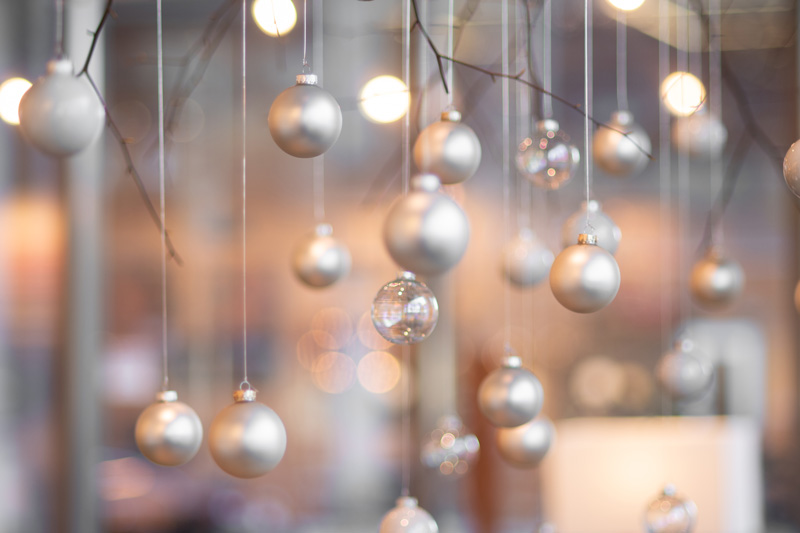 There's something about holiday decorating that makes it feel as though you're experiencing it for the first time even though you do it every year. We don't know what it is, but it's exciting!
To get into the holiday spirit, Jonathan Boyle, our VP of Operations, enjoys colorful decorations and holiday music. His favorite song, you ask? "Feliz Navidad!"
Our VP of Stores, Catherine Willey, is all for bringing the outdoors in with fresh greenery, pine cone decorations, and, of course, a Christmas tree. Throw in the smell of cinnamon, lazy days watching football games, and baked goods to share with family and she's in her own holiday heaven.
If you're anything like Maria Nakhle, our VP of Purchasing, then you might use different smells and themes to capture the essence of each holiday you celebrate:
"We decorate our living and dining room full of cute holiday-themed ornaments and figurines from Halloween to Thanksgiving and into Christmas," she shared. "I fill our house with tea lights that start out with pumpkin/autumn fragrances then to pine/balsam during December. Once the sun goes down and it's time to relax and watch a movie, we enjoy the flickering tea lights throughout the house along with some hot chocolate or a mocha latte."
Jo-Anne Lucas, Store Manager in Portsmouth, shared her love for winter-themed decor over traditional Christmas decorations: "I use Pierrot clowns (black and white) mixed with silver and gold tones. I keep this look through Valentine's Day."
For some, brushing the dust off those boxes of ornaments and decorations is like reconnecting with old acquaintances.
"I love unpacking decorations and reminiscing about Christmas past and adding a few new things each year," shared Noelle Chicester, a Design Consultant in Portsmouth.
Paulette Roy-Tata, our Delivery Coordinator, began collecting antique tree ornaments 30 years ago and has collected over 50 tarnished glass ornaments ever since. It's a treat for her to rediscover them every year (there's that holiday magic again):
"Opening these old boxes and peeling away the tissue paper is like unwrapping a beautiful surprise year after year. It brings back memories of decorating the tree with my brothers, and later with my own daughter when she was little.
"One of my most precious ornaments is one my mother gave me several years ago. A wedding gift to my parents in 1962, this ornament came in a box of four and is the only one remaining - it has survived 60 years. I have childhood memories of these ornaments hanging on our family tree.
"Unfortunately, through the years there would occasionally be a "bulb casualty" (I can still see my mother cringing as she would reach for the broom and dustpan). I'm happy to have the one remaining ornament from this set of four. Having lost my father in September, this ornament will be cherished even more this year when I come across it in those old boxes. I will make sure that this special bulb is placed in the most perfect spot on the tree in honor of him, and all the holiday memories I hold close to my heart."
Sprinkled in with cozy moments…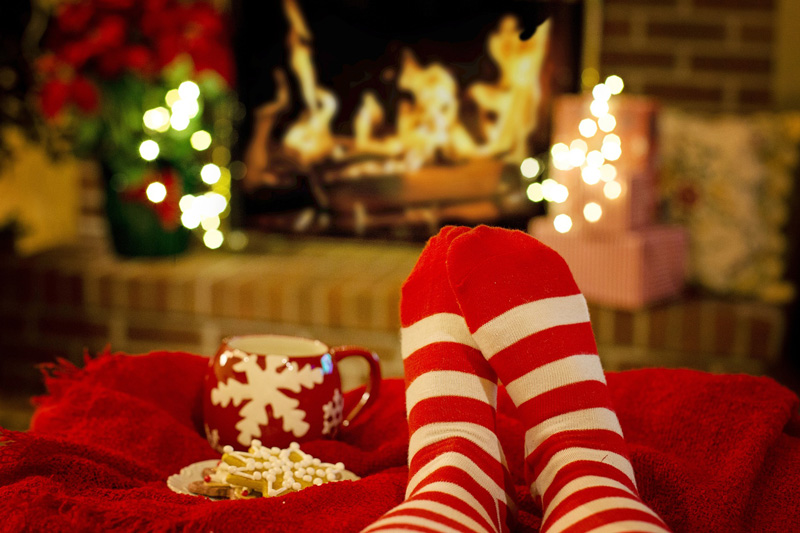 The crisp fall air and frosty signs of winter give the holiday season a coziness that's easy to curl up in and stay a while. It also inspires many to fill their homes with cozy elements.
"I like the coziness of the decorated living room dimly lit with our little village set up and holiday scented candles burning," shared Normandy Carroll, our CFO.
Kara Consigli, our VP of Marketing, still enjoys the warm and fuzzies of her childhood home:
"What I love most about my home during the holidays (well, my parent's home) is the cozy feeling of the lights on the tree, the smell of hot cocoa, baking cookies with my mom, and watching a cheesy holiday movie on the couch with a warm blanket and a candle burning."
(Who else is going to throw some cookies in the oven and light a candle after reading this?)
There's also the assortment of mouth-watering treats…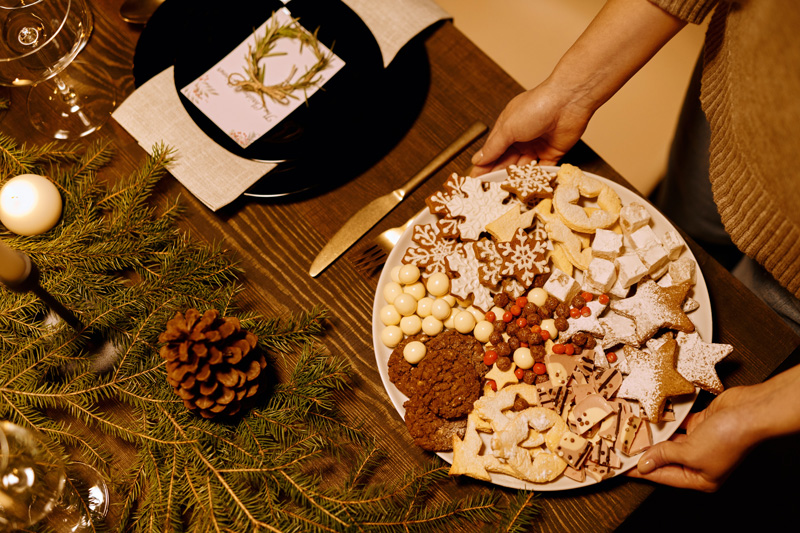 Sometimes food is what people look forward to the most when the holidays come around, and we don't blame them! Both Amy Masone, Store Manager in Framingham, and Chelle Roseman, a Design Consultant in Framingham, can't get enough of the smell of savory potato latkes while their menorahs shine beautiful and bright.
Design Consultant Anita Munoz, who works in Cambridge, loves "the refrigerator slowly filling with traditional Christmas food. In my house it's the bottles of Coquito, our idea of egg nog with a kick, or pasteles in the freezer, traditional vegetable pie stuffed with meat and cooked in banana leaves."
For Curt Lestan, our Videographer, a sweet treat baked by his wife is always appreciated:
"I love when she gets bored and makes apple crumble because the whole house smells wonderful. I also enjoy dressing our dog, Milo, up in his elf and/or reindeer costume because he hates it and refuses to walk." (Sorry Milo!)
And finally, the joy of spending time with loved ones…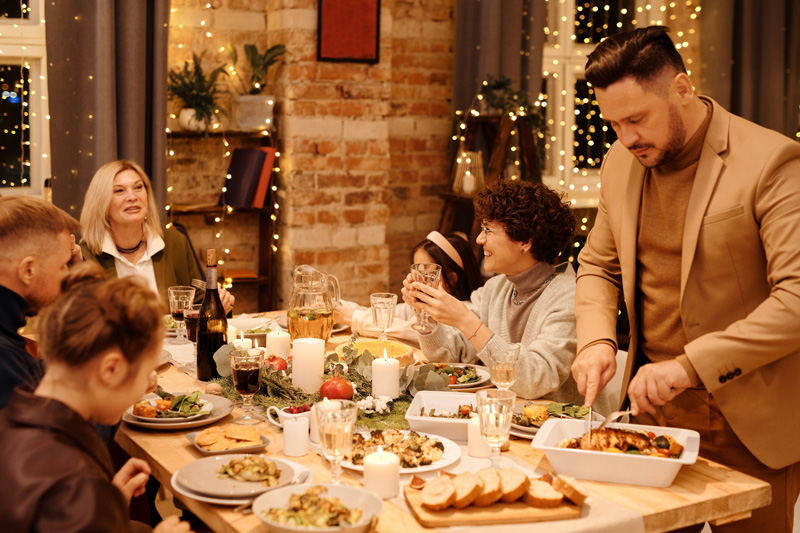 Slowing down and enjoying the company of family and friends is something to cherish, especially if it's one of the few times throughout the year when you're all able to be together.
"What I like most is just being with family and especially my kids. It is so rare that we are all together in the same place at the same time!" said Betsy Johnson, Store Manager in Pembroke.
On top of that, you get to take a break from the norm and just focus on being with family. Richa Sinha, our Cambridge Store Manager, particularly loves "a dining table filled with family, food, and laughter. It gives us a reason to meet and not worry about work or traffic!!"
Not only is it about quality time with family, but it's sharing little moments and creating memories that can make the holidays even more meaningful:
"I love trading out the tablescapes I make on my dining room table," said Cindy Rubenfeld, our Middleton Store Manager. "Every year I strive to make it look different and I want to see the joy that it brings to my family and my two grandsons. Also, I love making Christmas cookies at my daughter's house with grandsons Zander and Blake."
Maybe you have cousins, aunts, and uncles coming to visit from out-of-state. Or perhaps you're the one hopping on a plane to spend the holidays with relatives. Regardless, there's nothing like being surrounded by loved ones during this magical time of year.
Our team at Circle Furniture wishes you and your family a joyous holiday season.
Author: Marycatherine Karcich