Since the COVID-19 pandemic, dining rooms have taken a backseat in our homes. However, this year marks a turning point as families regain the confidence to come together and celebrate holidays together again. With Circle Furniture's special dining table promotions throughout September and our commitment to quality craftsmanship and sustainability, now is the time to reimagine your dining room and rekindle the joy of gathering. Our expert interior designers are ready to guide you to find the perfect dining table that aligns with your style, needs, and space.
Selecting the right dining table is crucial, considering various factors beyond aesthetics. Your dining table is a functional piece of furniture and a centerpiece for family gatherings and celebrations.
Of course, our incredible interior design consultants are always available to provide free advice and create room plans and furniture selection, but understanding the basics is always helpful too.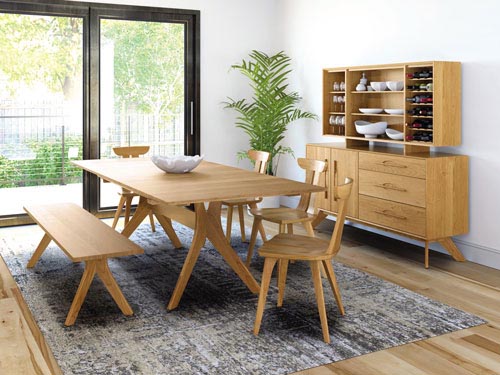 Here are some key considerations to keep in mind as you shop for a fresh new look and the perfect dining room table.
Considerations when purchasing a new dining room table
Assess how you'll be using the table. Your dining table may be used for multiple tasks if you live in a smaller space and be more of a showpiece in a dedicated dining room mainly used for special events. Size does not mean you need to compromise style. If you are in a small space, the table needs to be flexible as well as the seating.
Flexible use: An extendable design might be optimal if used primarily for weekend dinners and parties. For a table that also serves as a versatile workspace, opt for a tabletop material that can withstand daily activities.
Stability and Construction: Fortunately, all our dining tables are hand-constructed using only the finest wood, glass, and iron. Most of our tables are crafted right here in New England. Sustainability is central to the construction of all our tables. There are no glues, staples, or hidden cost-saving quality reduction measures. A dining table is an investment meant to last. We take sustainability and quality seriously at Circle Furniture.
Matching Shape and Room: It's essential to ensure that your table shape complements your dining area. Square and circular tables work well within square rooms, while rectangular and oval tables are suited for rectangular spaces. Our designers are fantastic at helping you determine the optimal table shape for your room.
Your Floor Plan: Considering the differences between an open floor plan and a separate dining room is important. If you have an open floor plan – consider coordinating the style and finishes with the tones you set in your living/seating space. This will allow the overall aesthetic to flow nicely. If your dining room is separate, you can create a different look and feel from other rooms.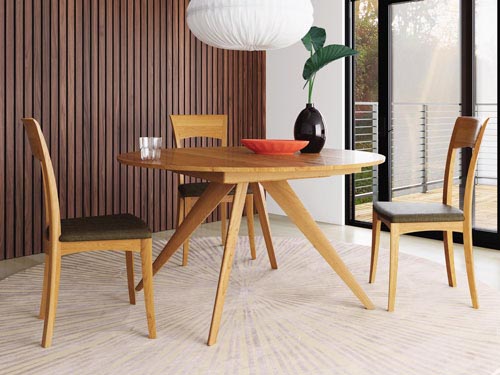 Size and Space: Measure the available space for your dining table and factor in at least three feet of breathing room on all sides. Consider the number of chairs you'll need and their dimensions.
Visual Weight: The visual weight of the table matters in a room. Consider the table's height, size, and how it fits alongside other furniture. Use painter's tape to visualize its dimensions on the floor. For example, a circular glass-topped table can be a winner if you have a smaller dining room because it is more open and airy.
Flexibility and Seating: Consider tables with extendable leaves if space is a concern. Round and oval tables can accommodate more people due to their lack of head-end constraints.
Material Selection: Wood is a timeless choice for dining tables. There is nothing like the exquisite and enduring quality of a rock, solid maple table from trees grown in Vermont. Focus on sturdy construction and reliable joinery for durability. Inspect connection points and corners for signs of weakening. Fortunately, you do not need to worry about quality construction when you shop with us at Circle Furniture. The highest quality is inherently built into every table we sell.
Consider Formality: This plays a role in the vibe you want to capture when you have guests over. If you spend hours planning and prepping a dinner party, do you like to linger over after dinner, drinks, and conversation in the dining room or move to the living room for board games and dessert? If you do plan to have your guests linger at the dining table, you will want comfortable chairs that your guests will enjoy.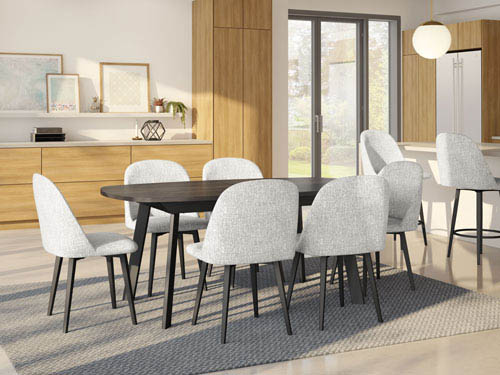 Here at Circle Furniture, our expert interior designers guide you through selecting the perfect dining table that aligns with your style, space, needs, and budget. We work with you to think through the details. With our commitment to sustainable craftsmanship, the time has never been better to meet with one of our interior design experts to create a fresh and inviting dining room setting that you'll feel great entertaining and living in each day forward. What are you waiting for?