Our collaboration with local artist Carolyn Mackin was a natural fit. We previously partnered with her in 2019 for a painting workshop she led in our Framingham showroom where we've displayed her work. This past summer, we decided to expand our collection and offer framed Carolyn Mackin originals.
Laura Nickerson, our Merchandising Manager, was the creative driver behind the scenes deciding which pieces would work with our furniture and resonate with customers. She visited Carolyn's studio to create multiple customized series for our Acton, Cambridge, Framingham, and Middleton showrooms.
Read on for more about the selection process and which collections Laura chose to focus on!
The selection process: Emotion, color, and space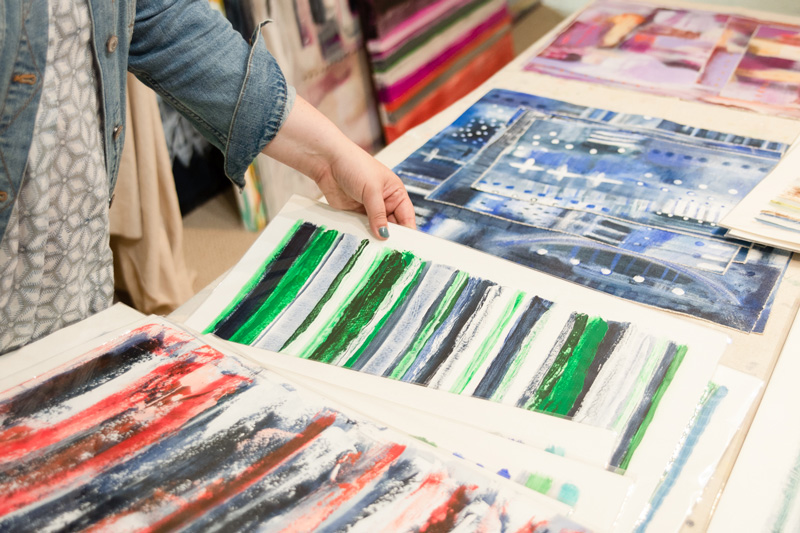 Laura approached the selection process with a few things in mind: emotional response, color, and where the art would live within a space. To check all three boxes, she spent time carefully looking over her options and playing around with different combinations to create each series.
Despite having a generous number of paintings to choose from, Laura ultimately narrowed in on Carolyn's "From the Fray" and "Cape Cod Stripes" collections:
"The color stories are consistent between the two collections, which made coordination really easy," she explained.
"The available sizes were also an important aspect. We were able to select matting and frames that elevate the look of the pieces while maintaining a size that will easily fit into most homes, whether they are placed in a bedroom, living area, or a hall/stairway."
Laura also wanted to make sure the paintings spoke to a large majority of our customer base. Both collections are rich with vibrant hues yet differ in their visual effect – "Cape Cod Stripes" has a clean, minimalist vibe while "From the Fray" takes on an edgier look that can evoke different reactions.
After choosing the two collections, Laura curated three-piece arrangements that reflect each showroom where they would be displayed.
"Middleton can lean coastal so I went with various shades of blues and whites," she explained. "Cambridge has an edgier city vibe, so they have pieces that consist of black, white, and grays with a touch of metallic gold. Framingham and Acton are both fun and show more color on their showroom floors, so they each received varying combinations of pinks, purples, and oranges."
The process was like doing a puzzle and trying out different pieces to see which ones fit together. Nonetheless, Laura said "it was a lot of fun to find the right color combinations across the two series."
Read more: Fields of Color: A Conversation with Carolyn Mackin
How Carolyn Mackin originals complement Circle Furniture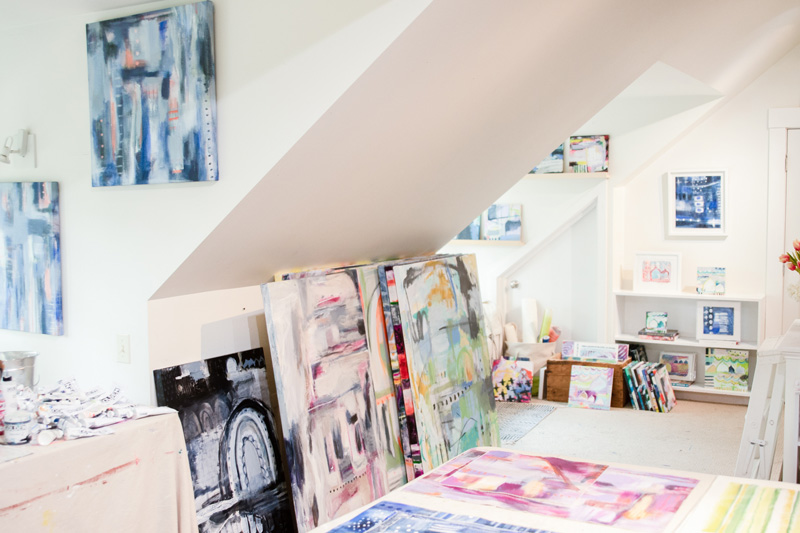 Pairing Carolyn's artwork with what we sell at Circle Furniture was an easy decision:
"We love color!" Laura expressed. "The abstract/minimalist nature of the two collections easily translates to the varying styles and types of furniture we sell."
As for her favorite Caroyln Mackin piece?
"I am lucky enough to own an original painting from the "From the Fray - Strength" series," she shared. "This piece is currently living in my bedroom and while the color story of varying shades of greens, yellow, and grays brings the outdoors in, my favorite part is the extra bit of strength it adds to my day!"
Whether you're looking to bring a pop of color into your home or you enjoy supporting local artists, visit our Acton, Cambridge, Framingham, or Middleton showrooms to see how Carolyn's paintings would look in your space!
Author: Marycatherine Karcich