Color is exciting. It's energetic, enigmatic, and also extremely personal. One person's favorite color is another person's nightmare. And while some of us prefer neutral, earthy tones with minimal pops of color, others choose to go bold.
Catherine Willey, our Store Manager in Framingham, walks us through all the different ways to incorporate bolder color in your home, whether you're color shy or not.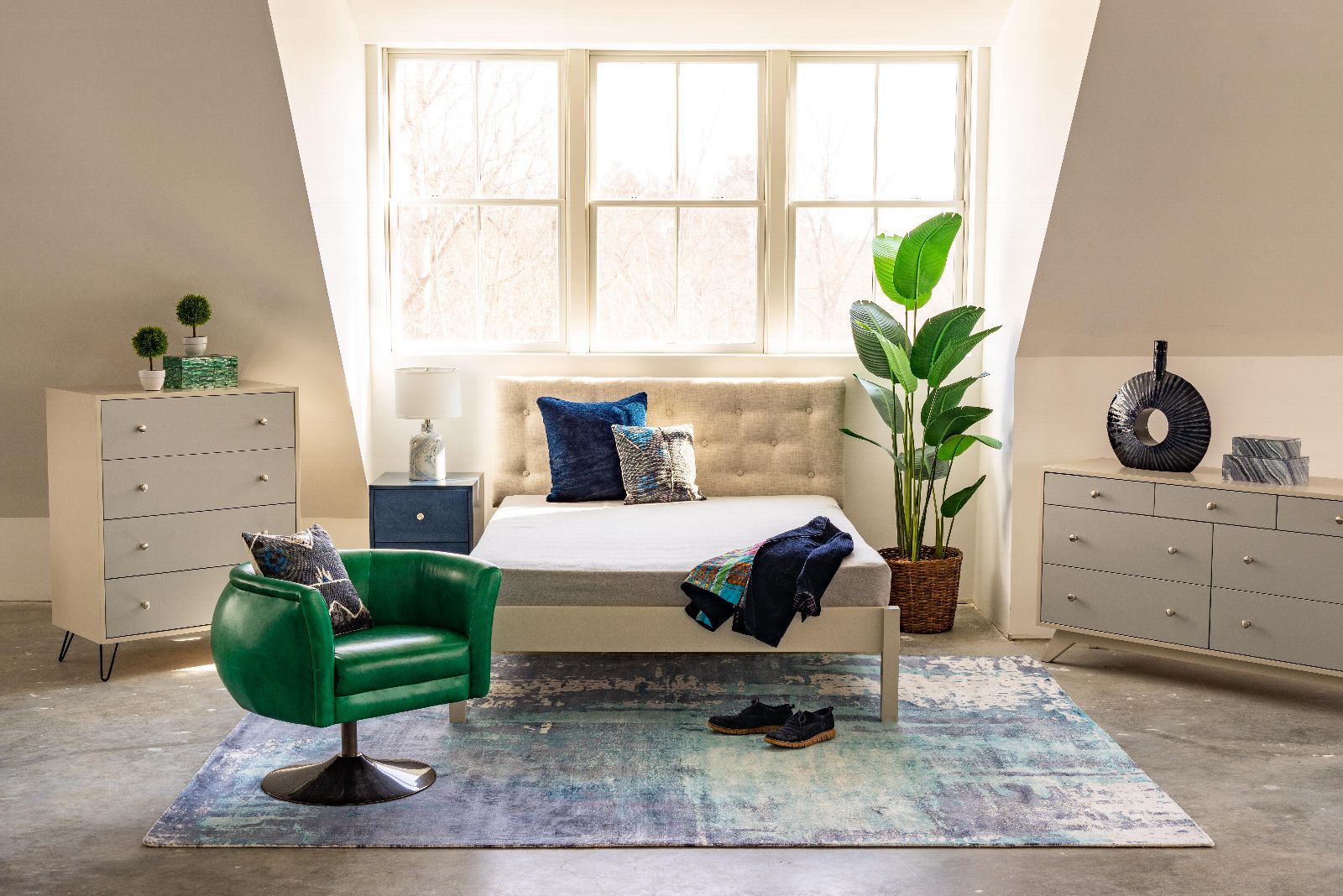 Why use color?
This question can be better answered by thinking about a world without color. Color is life! Every color brings a different energy to your home in the same way that you feel empowered, energized, or soothed by a rich green forest, a blazing fire, or a tranquil blue ocean.
Without color, our homes would lack dimension. But more importantly, they would lack character. After all, your living space should reflect you!
Catherine says, "When I'm working with clients I ask them what colors they love. Either in general or in their wardrobe. Or sometimes it's as simple as asking what colors they definitely don't like. From there, we can head in a direction."
If you're color shy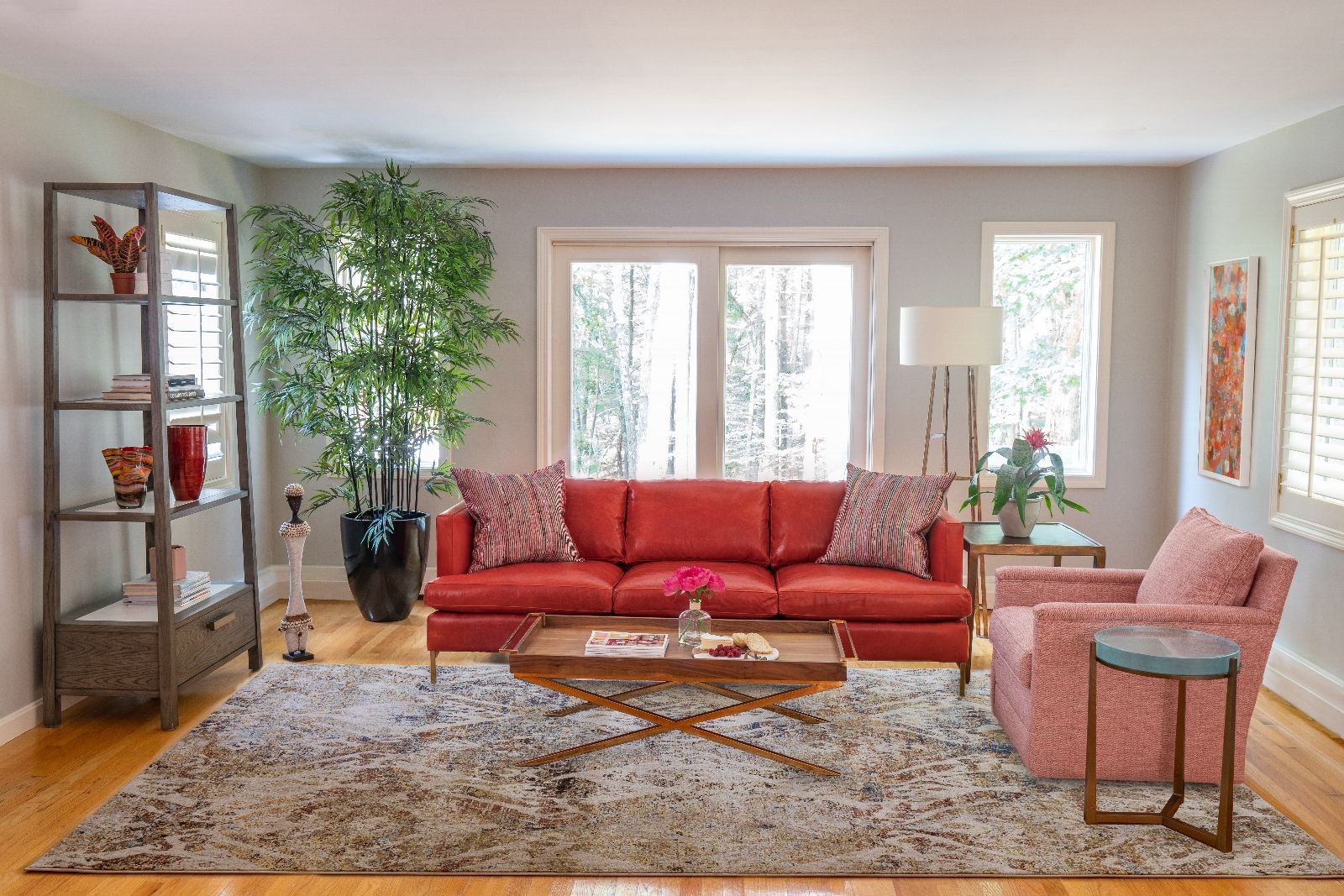 There's no shame in being afraid of color. There are a lot of ways to bring in bolder color in a subtle way—enlivening your home without veering over the edge into Lisa Frank territory.
Catherine says, "There are so many opportunities to add bold color to a room without it being overwhelming. I might use one color in several places of the room; in glass, ceramics, toss pillows, wall art, and maybe an area rug. That way, the color is dominant without it being on the largest pieces, like the upholstery."
If you tend towards neutrals, incorporating color in this way won't feel overwhelming. You can also focus on a few tertiary colors that are in the same family rather than just one.
When it comes to choosing colors, focus on earthy tones or colors that read neutral. Catherine explains, "I love to work with deep plum and aubergine colors, especially with folks who are hesitant about color. It's so deep it can work as a neutral. It doesn't scream 'I'm purple.'"
If you want to maintain a soothing environment in your home, opt for shades of blue. "They have that mentally calming effect," explains Catherine, "so it's an easier way to introduce color."
How to go bold without going overboard
On the other hand, you might not be color shy at all. And here at Circle Furniture, we're all about color (take a virtual tour of our showrooms to see for yourself!). There is, however, a way to incorporate a lot of color without going overboard.
Catherine says, "If you decide you want to go bold with color, you can have a sofa in a color that compliments wall art or an area rug. The key to a space not being overwhelming is to ensure that the colors are talking to each other."
You also want to be careful to not choose a color scheme that incorporates too many colors. For example, if your rug has 6 or 7 colors, just focus and pull out 2 or 3 of those colors.
Another tip if you want your larger upholstered pieces to be bold is to go more neutral on the wall color. "Revere Pewter from Benjamin Moore is a really popular choice here in the Northeast," says Catherine.
You can also have a feature wall in a deeper, bolder version of a color that's in the space. She says, "You're taking the tones from the room and accentuating it in a few shades deeper on the feature wall."
As far as where to place your feature wall?
"In most rooms, there's a focal point already, like a fireplace or a great view when you walk in. That's typically where you'd put a feature wall." You can also put a feature wall in a conversation area in a room that's lacking a focal point.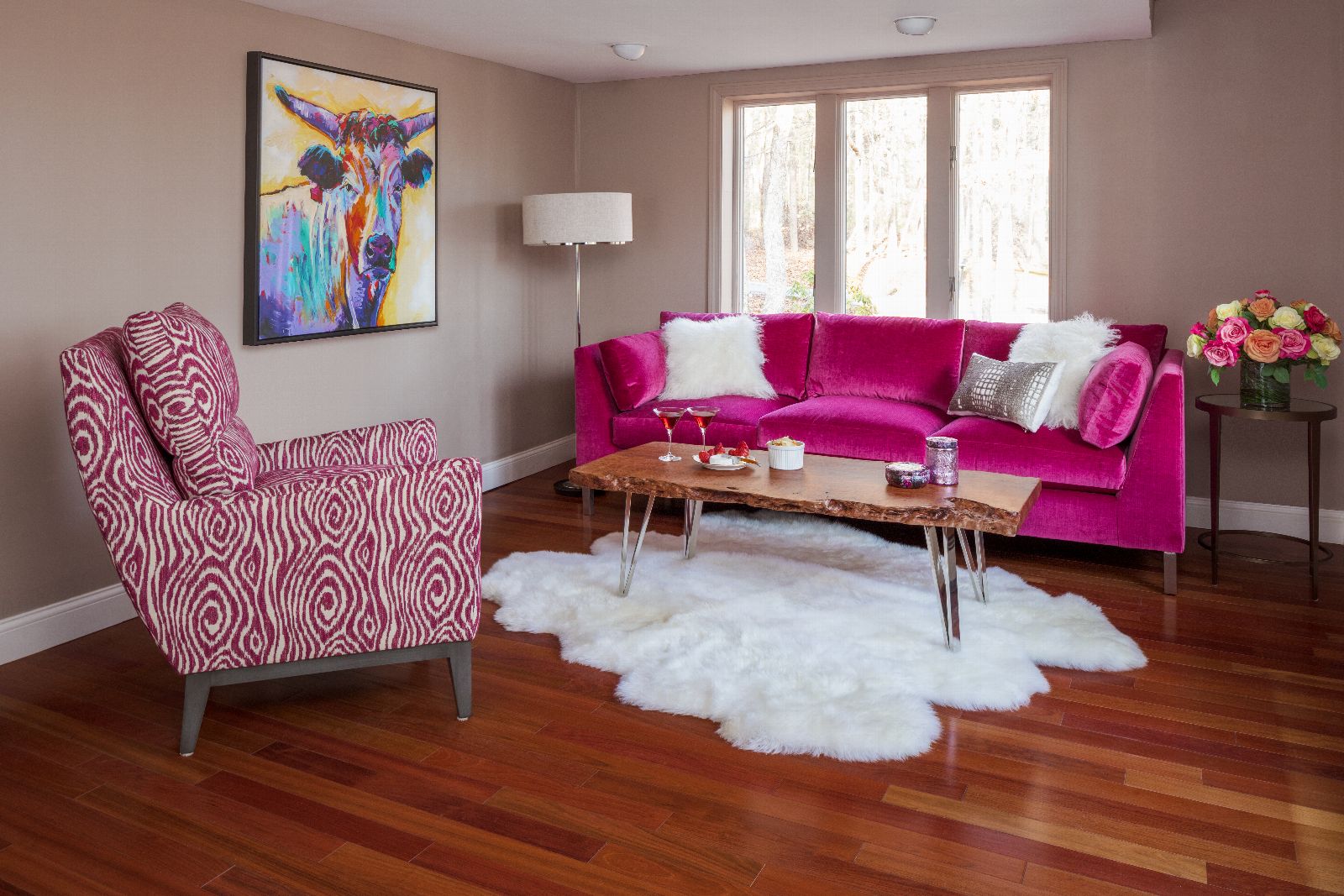 Find inspiration
Whether you're color shy or you love color, bringing color into your home should be a fun, non-stressful process. Ultimately it's about finding inspiration, enlisting the help of a trusted designer, and incorporating colors that you truly love—regardless of what's trending.
Catherine's personal favorites? "I love the more unusual shades of blue like cerulean and turquoise. Here at Circle, we love natural cherry and it looks so beautiful with cool tones like blues and greens."
She also recommends looking to the fashion world. "There's usually a cycle between clothing fashion and furniture fashion, furniture usually falls right behind those trends."
Even if you're not a trend follower, it can be a great place to find inspiration.
Come into one of our 6 colorful showrooms to get inspired and chat with a designer!
Author: Julia Maiman
Julia is a writer, blogger, and believer in the smell of old books. She has been crafting stories since she could put pen to paper. She is also a lover of dogs, traveling, and Led Zeppelin.