There's nothing like a home that's open and bright, giving off feel-good vibes that you'll love walking into everyday. If you've ever been in a generally dark room, then we imagine you weren't getting those warm and fuzzies.
With that being said, bringing light into the home is important because it affects the overall energy of your space. It can be done in two different ways:
Physically: How much light does a space get?

Visually: How does a space feel?
Achieving both of these will allow you to transform any dark space into the bright, vibrant home of your dreams. Find out more below!
How to establish physical light
A home filled with sunlight can be hard to find, but a lack of light doesn't mean a lack of life. Even if you don't have multiple south-facing windows and the sun streaming in from every angle, there are ways to bring more light into your home.
Use the mirror trick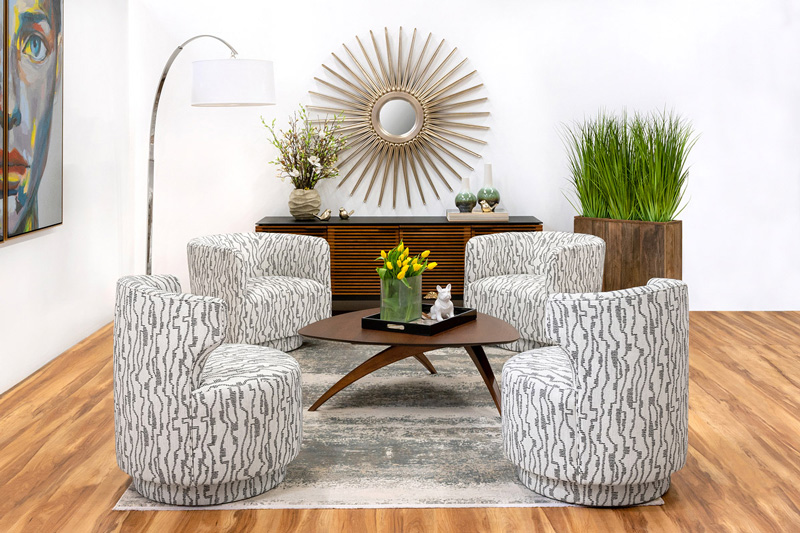 Unless you're doing some major renovations, a lot of the time bringing light into the home is about tricking the eye.
The mirror trick isn't a new one, but it works! Incorporating a mirror in your space moves the light around the room, making the space look bigger and brighter. And it doesn't just have to be mirrors. Reflective surfaces, like chrome, in your furniture will have the same effect.
Quick Tip: To take full advantage of the light in a room, place the mirror opposite a window or a strong light source.
Be strategic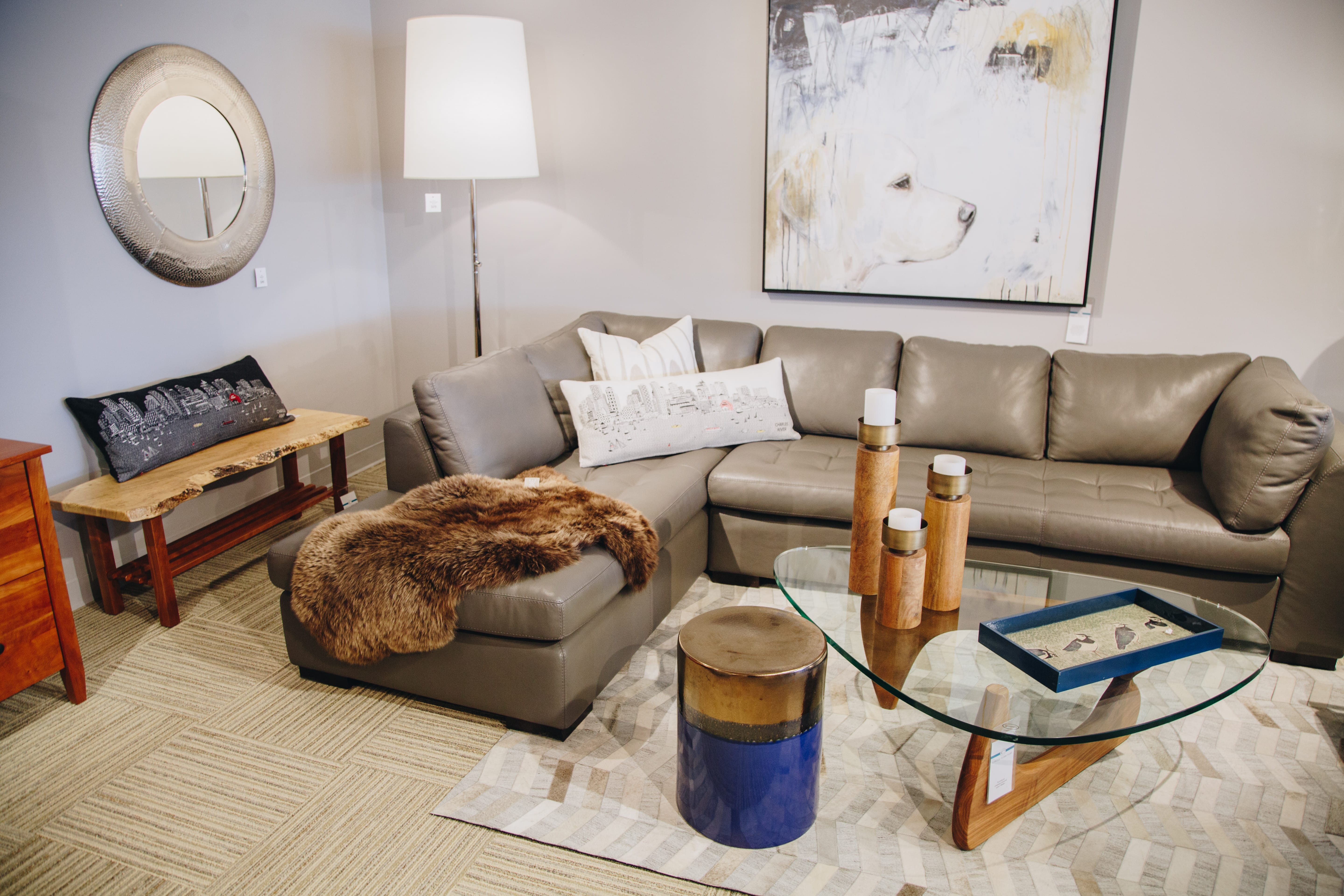 When you're lacking natural light, the key is to use artificial light in a strategic manner.
Focus on where your light is coming from (like the floor or ceiling) and how much of it is coming from those areas. Strictly overhead lighting is not only unflattering, but it won't provide enough multi-dimensional light to a dark space. Anne Bugatch, a Design Consultant in our Boston - Back Bay Design Center, suggested lighting up corners with plant lights and lamps that shoot light up the wall.
Your strategy should also include the tone of your lighting:
Anne explained, "You can choose between cool or warm light depending on what you're responding to and what you prefer. It really does affect your mood so it's important to pay attention to the tone of the light."
Quick Tip: The simple addition of fairy lights is a beautiful way to add a soft, warm glow to a room.
Play it by season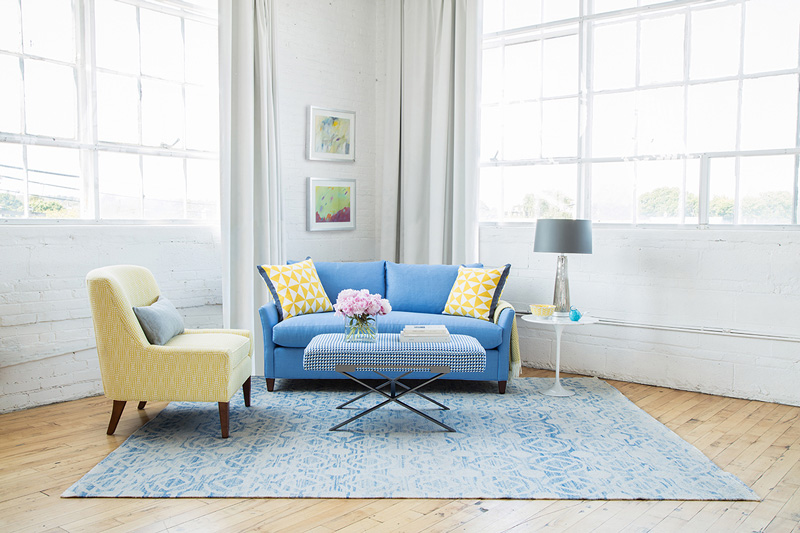 If you're in a region that experiences all four seasons (like New England!), then the time of year can impact the light in your home.
"Depending upon the seasons, lighting should change," Anne shared. "I just moved to a studio a few months ago and noticed that different seasons really impact the way I light my space. I put a lot of ambient lights in the space to create a cozy atmosphere in early March as we were getting into spring.
"Moving towards summer I don't use any of these lights. I use the wonderful daylight as we move into the summer months. Once August hits, the days start to get shorter and the lighting will again change."
Read more: Interior Design: Small Changes, Big Impact
How to establish light as a feeling
Scale back on anything dark and bulky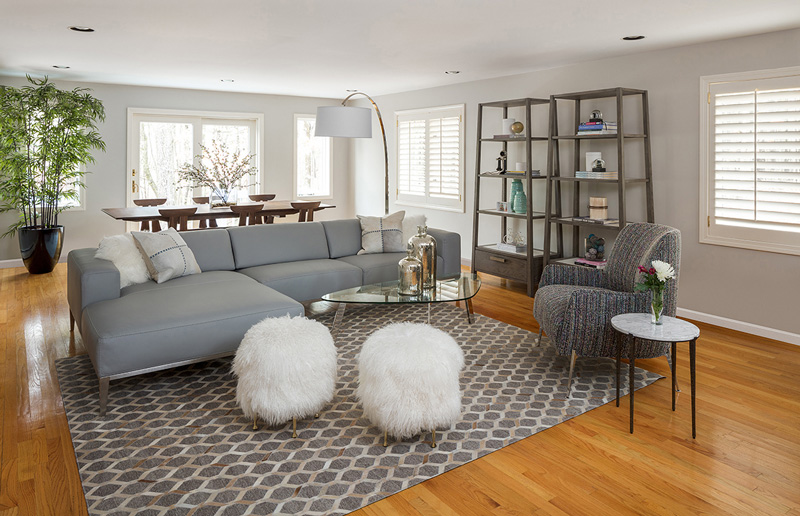 Furniture that's dark, bulky, or both can make a room appear, well, dark and bulky (especially if it already doesn't receive a lot of natural light). Instead, you want to focus on pieces that detract from any darkness. As Anne explained, "A sofa that's boxy and close to the floor is going to appear bulkier than something up on legs."
In other words, avoid furniture that's visually dense. This could mean opting for a storage piece that you can see through, like an etagere instead of a bookcase, or a glass table over a solid wood coffee table.
This can also apply to window treatments so you aren't blocking out the light that does come in. Anne suggested plantation shutters, slatted wood shutters, or a half-window treatment. You can even opt for UV gel blockers in lieu of window treatments to get as much light as possible.
Another way to create lightness is through color. You don't need to choose only white, but wood tones like ash and light colors on walls and decor can help keep your home from feeling too dark.
"You can have darker elements, they just won't be the main pieces," Anne explained. "You want the bigger pieces to be light feeling and light looking."
Finally, consider your floors. Anne said, "If you have gray, sterile floors, you'll need to lighten them up with a rug."
Quick Tip: Sometimes a simple change makes the biggest difference. Switching the frame color in your artwork from black to white will bring light to your space.
Bring life in

Short of knocking down the walls in your home, creating light in your home comes down to bringing life in. What does that mean exactly?
To put it simply: incorporate pieces that give you energy. If your space is mostly neutral, brighter colors will add dimension and vitality. A rug, for example, is more of an impermanent piece and gives you the ability to use color in a fresh and exciting way.
Quick Tip: Take advantage of natural resources, like plants and flowers, for your decor. Anne loves bringing in a bowl of lemons to add a pop of color.
Read more: How to Add Color, Texture, and Life to Your Home
Chat with a designer
If your home lacks light, whether physically or visually, use this as an opportunity to revive your space. Even if you're only looking to make small changes, you may be surprised by the effect of these simple additions.
Talking to a designer you trust is always a great place to start. Come into a design center, chat with one of our design consultants, and find inspiration on how to establish light in your home.