Buying your first home is exciting for so many reasons and it's oftentimes the biggest purchase you'll be making to date. We're here to help make furnishing your first home a fun, non-stressful process. We enlisted the help of our store manager in Cambridge, Georgianna Stevens, to get her top tips and expert knowledge on buying furniture for a first home.

First step? Plan, plan, plan.
Especially when furnishing a home from scratch, it's important to take time to plan. Space planning is necessary when it comes to making your home functional. You can buy all the attractive furniture in the world, but if the set-up (or the furniture itself!) isn't functional, your space won't be livable.
It's a good idea to consider your lifestyle, how much space you'll have, and the mood you want to create in your home. It's also important to take an inventory of what you have now, what you're keeping, and what you're throwing away or donating.
But because this process can be overwhelming, Georgianna recommends starting at the most basic level, "Begin by identifying the things you can't live without. Everyone needs a surface to eat on, a sofa to relax on, and a bed. Start with the staples and then build around them as you need to."
She adds, "It's a good idea to talk to a designer to help complete the rooms and create a functional plan. When you work with a designer and determine what components you're going to be investing in ahead of time, you're spared making impulsive purchases that you have to work around."
A designer will keep in mind details like traffic flow, conversation areas, and then, further down the line, adding color, dimension, and texture to your home.
Read More: The Ultimate Guide to Space Planning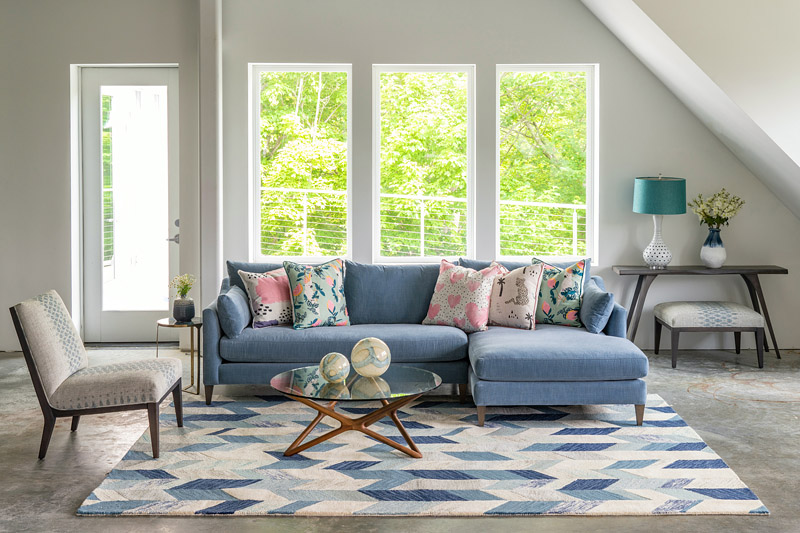 Invest in the important pieces
Buying a house is a sizable purchase; one that might not leave you much wiggle room for furnishings just yet. That's why it's important to be conscious of how you choose to invest your money. And it all comes down to lifestyle and priorities.
"Not everything has to be a showpiece," Georgianna says, "There are certain pieces you should invest in because you're going to be using them regularly and for a long time. What's worth the investment will differ for everybody."
She adds, "If you have a big family and entertain often, then a serviceable and attractive dining set is going to be very important. Because that's where your memories are being made."
And although a high-quality sofa or dining table may feel expensive at the moment, the benefits of ownership will make up for it in many ways. Georgianna explains, "You can save money by buying something inexpensive or you can save money over time by investing in a higher-quality piece that will last."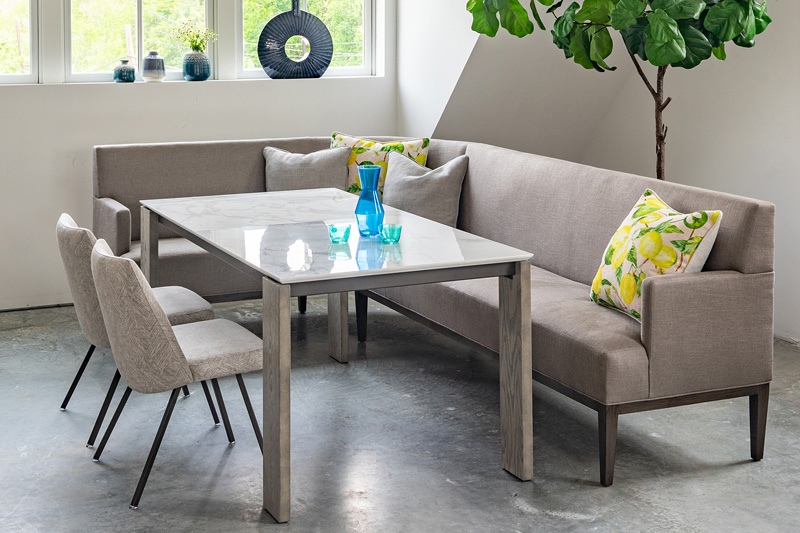 Stay true to your style
Because of the overwhelming nature of furnishing a first home, it can be easy to lose your style in the process and be led astray by trends and even the influence of friends or family.
Georgianna says, "Your house is for you, it shouldn't be designed to mimic something else. Let it be an expression of your life, your experience, and your taste."
Communicating and enlisting the help of a designer at the onset will help you stay on the right path and achieve your design goals. But when it comes down to it, it's all about having a firm sense of what you love and what you want your home to look like.
"The process goes a lot smoother when you have faith in your taste and your goals;" she says, "Enlist the help of people you trust and then trust those people instead of seeking approval from everyone you come into contact with."
Read More: How to Define Your Home Style:The Ultimate Interior Design Style Guide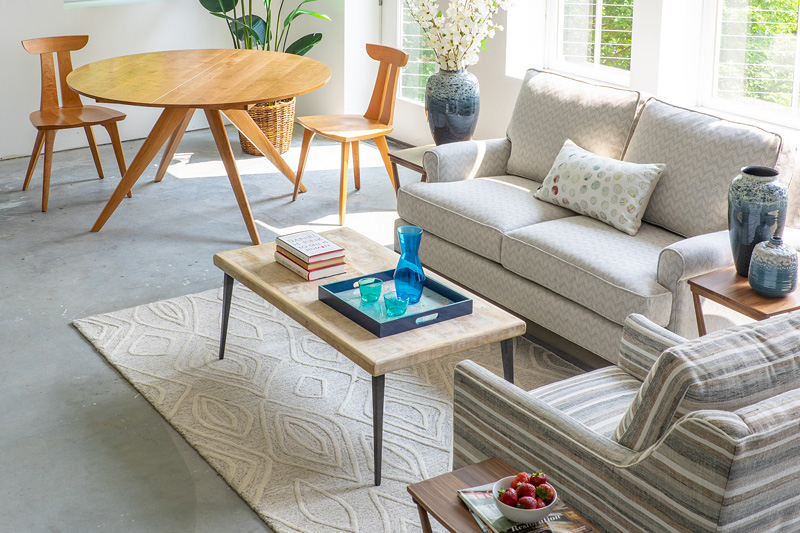 Expert Tips
Georgianna's first tip when it comes to buying furniture for a first home is to make peace with the process and don't have too many expectations. "It's a long process and it'll develop over time."
She also recommends "living in the space as long as you possibly can before making any big moves so you can understand how you're living in the space. Because there will be surprises."
If you want the feel of a more finished room without making a big investment, Georgianna recommends buying an area rug. "Rugs anchor a room and set the tone for the style. Huge strides have been made with area rugs and man-made fibers; you can find stylish rugs that aren't expensive."
"Finally," she says, "Leave a little room for what life brings you. Maybe the piece missing from your hallway console is a memento from your honeymoon in Barcelona. The best houses to me are the ones that speak to the character of the people who live there."
Get inspired and talk to a designer!
Whether you've just signed the papers or you're a few months in, it's always helpful to find style inspiration to start the process. Read magazines, watch TV shows, and scroll through Pinterest and Instagram to get inspired.
Then, find a designer you trust to walk you through the process and help you make decisions that will serve you in the long-run.
Meet Georgianna and the Cambridge Team.
We're here to help!
Author: Julia Maiman
Julia is a writer, blogger, and believer in the smell of old books. She has been crafting stories since she could put pen to paper. She is also a lover of dogs, traveling, and Led Zeppelin.