We're always overjoyed to hear the amazing feedback we get from our customers about their experience shopping with us. We spoke to Megan Lynch, a Circle customer from Concord, about her charming renovated home and why she loved working with us.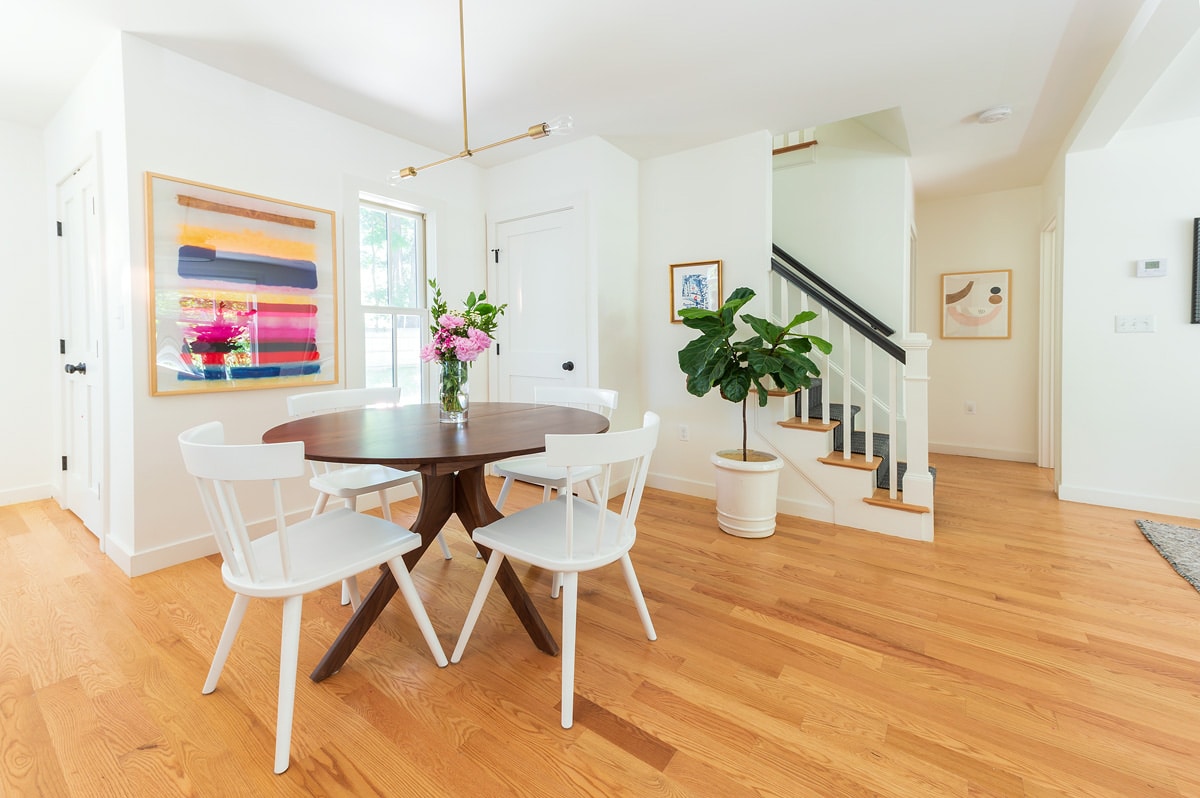 What she was looking for
Megan and her family of 4 moved into their newly renovated home in West Concord in January. She says, "We had lived in a 2-bedroom condo in Cambridge and were looking for renovation properties within walking distance of West Concord center."
Because they were starting from the ground up, there was a fair amount of furniture that needed to be purchased. "We knew we needed new living room furniture""a couch, a chair, and a rug, a new dining table and chairs, and a sleeper sofa. It's not a big house so we tried to use every square inch in the best way possible."
Of the research she did beforehand, she says, "I'm pretty obsessed with Interior Design so I did a lot of my own research on Instagram and Pinterest. It's always been a hobby of mine, I got Domino Magazine back in the day and I really love interiors."
And her style "I had a pretty good idea of where I wanted to be in terms of design. It's kind of Scandinavian. I didn't want it to be traditional but I also don't like a really modern look. And I knew I needed furniture that was going to hold up to my kids and the dog."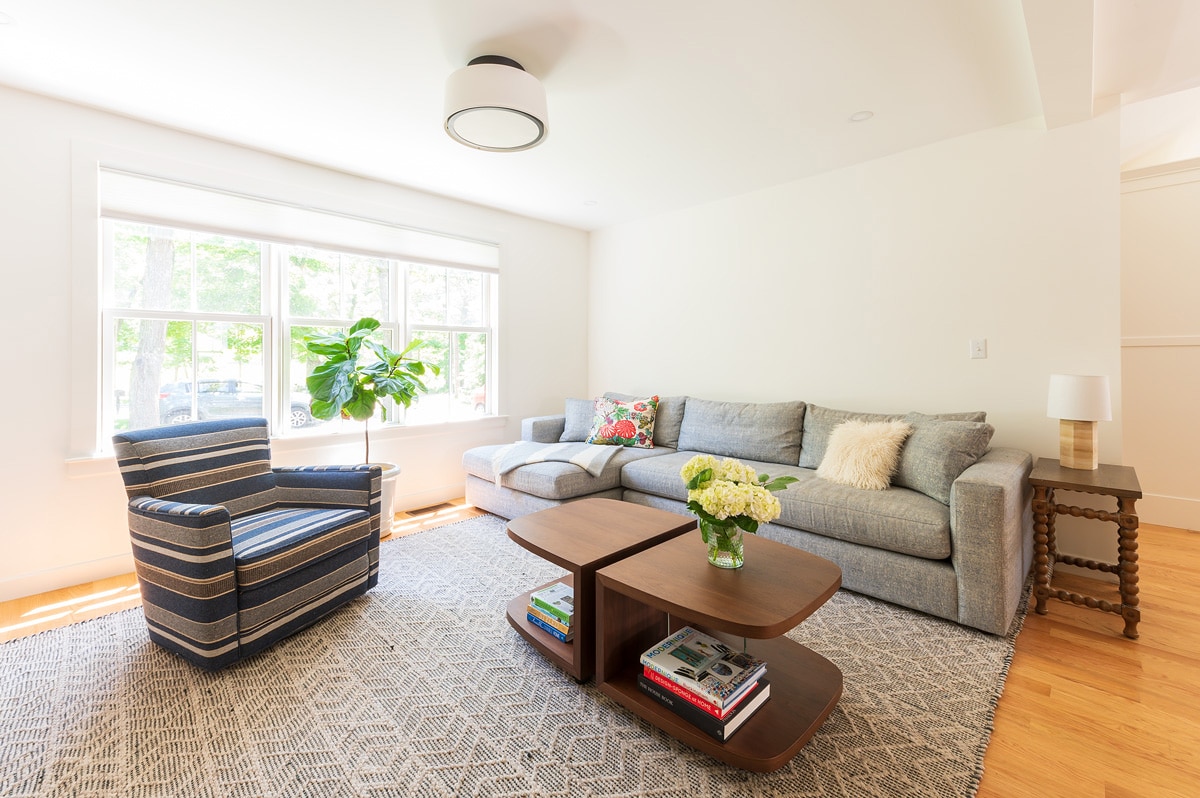 Read More: 5 Things to Know Before a Home Renovation
What she bought
For the living room, Megan chose the Putnam Sectional, a Trent Swivel Chair, and a rug. "We did the couch in a Sunbrella fabric; it's really soft and super easy to clean. I wanted something deep and comfortable to lounge on and it's been awesome."
For the chair in the corner, she was looking for something really comfortable. "We have a view of the golf course from the window, so I wanted something cozy where I could sit and drink my coffee. We went with a wool stripe which I love and it's held up really well."
She says of the rug, "It's been awesome. It's a neutral rug but it still hides a fair amount of dirt. It's been really easy to keep clean."
For the dining area, she chose the Catalina Dining Table and Lana Chairs from Gat Creek. "I wanted a modern Windsor style, and I went with white to contrast against the table." She opted for a natural wood finish on the dining table because it will wear better with heavy family use. As opposed to paint which would chip and reveal a different color, dents and scratches blend and add character to a natural finish.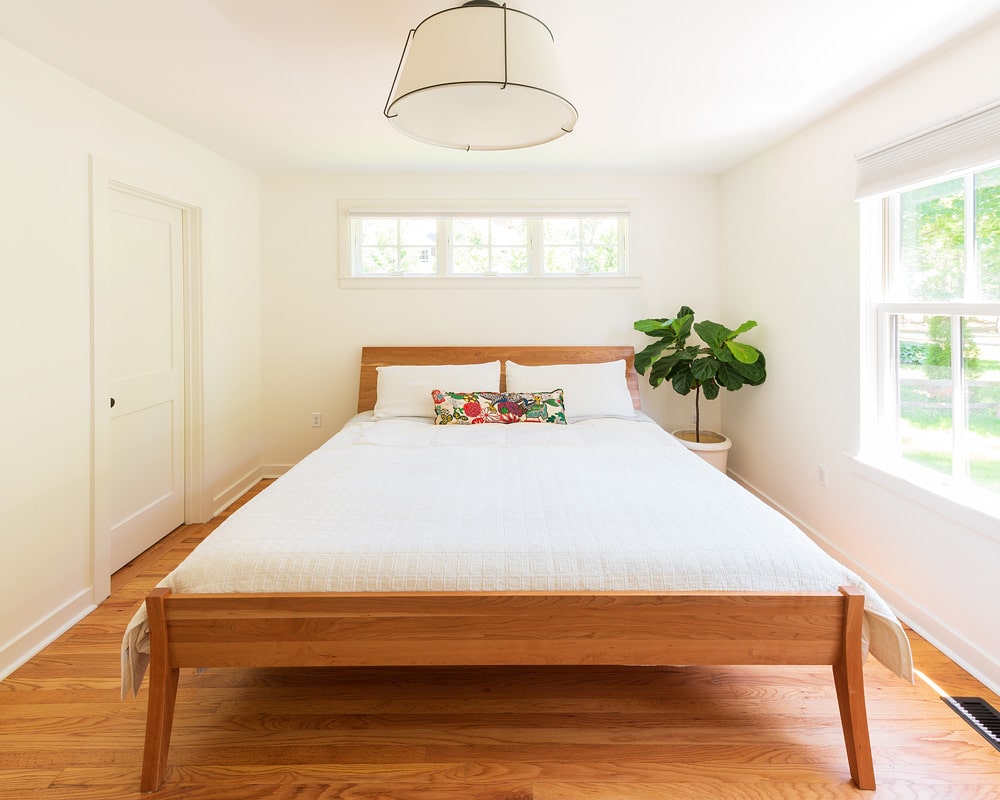 She also chose the Perry Sleeper Sofa. Her husbands family is from Ireland, so they wanted something comfortable for his mother's extended stays. It's petite, a perfect scale for the house, and she chose a fun fabric to add interest.
Read More: A Guide to Wood Finishes: Paint, Stain, and Natural
Why she chose Circle
When it came to choosing furniture for her new home, she had a few main concerns. She describes, "I would say style and function are key. I would much rather pay more for something that I know is going to last a long time. I really wanted furniture that would be timeless and that I can have in this house for 30 years and feel happy about it."
So, why did she choose Circle "The ability to customize furniture and choose custom fabrics was great, and I appreciated the number of choices that you have. That's not something you're going to get at a big box store."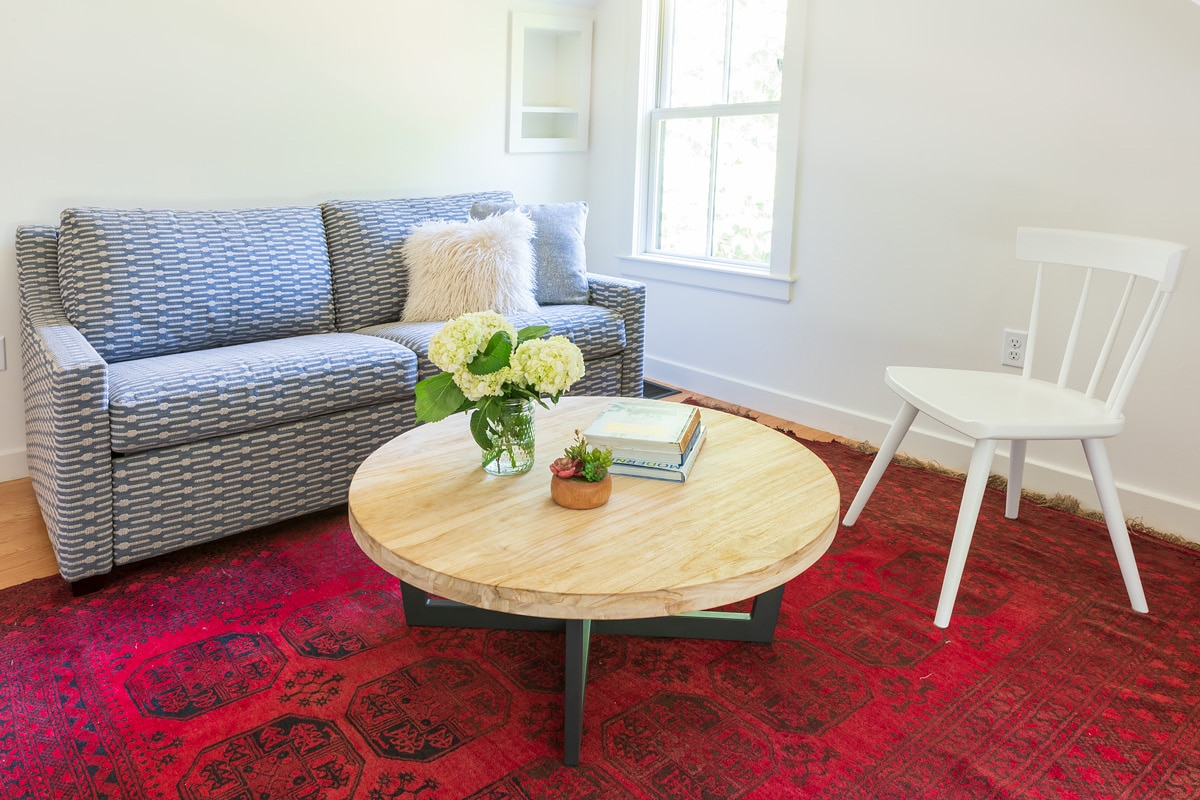 Her experience shopping with us
This was Megan's first time purchasing with Circle, although she'd visited the stores before. "I like the store a lot," she says, "Everyone was super helpful. I loved the fact that they let me sit in the fabric room for hours and would check in on me and make sure I was ok. But I never felt pressured."
She worked with Ann Marie, a Design Consultant in Framingham, who was "really helpful" and gave her guidance on fabric choices.
Overall, Megan has been thrilled with the new additions to her beautiful home. The 3 words she chose to describe Circle Furniture "Friendly, quality, and choices."
Come visit us!
If it's been a while since you've visited one of our beautiful showrooms, come on in - we are always bringing in new products and setting up stunning vignettes to inspire you.
We're lucky to have a team of dedicated, knowledgeable, and charismatic Design Consultants who can help you along your design journey - whether you're looking for that one perfect piece or you have a whole room to furnish.
Take a virtual tour of our showrooms!


Author: Julia Maiman
Julia is a writer, blogger, and believer in the smell of old books. She has been crafting stories since she could put pen to paper. She is also a lover of dogs, traveling, and Led Zeppelin.