Each of our design centers is home to a diverse collection of furniture meant to meet the needs of different lifestyles. In our Cambridge location is the Elran 7000 Series, a top choice for Richa Sinha, our Store Manager.
If you were to ask Richa, she would say that furniture is an important element in a room that you shouldn't be thinking about upfront once it's there, but rather feel confident knowing it's going to provide you with comfort and support. Let's find out how the 7000 series does just that (and more!).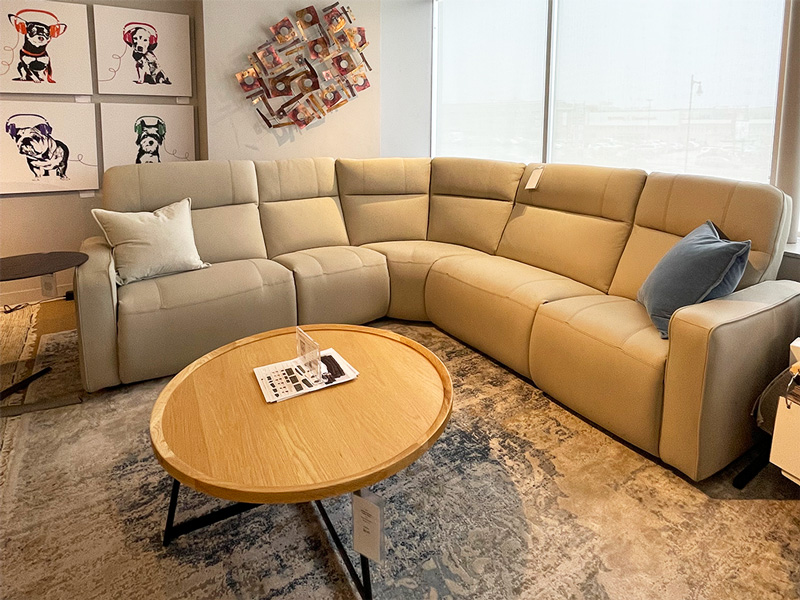 Everything to love about the Elran 7000 Series
It's comfortable
When words like "warm and inviting" are used to describe a piece of furniture, as Richa did for the Elran 7000 Series, you can't help but think it must be good. Not only does it welcome you to kick back and relax, but you'll have a comfortable, supportive seat for any occasion.
"I can sit and my feet touch the ground, and I'm 5'1" if I like to be on my good days!" Richa joked. "Also, I think that it gives you really good lumbar support so you don't feel like you need extra toss pillows behind you or you don't need to add anything extra to the piece to make it more comfortable. It's comfortable the way it is.
"I'm a big football fan, believe it or not," she continued. "I love that sometimes you're sitting at the edge of your seat, getting to the final touchdown, or you're just relaxed and watching a movie. Either way the Elran is perfectly supporting you whether you want to sit firm or sit back and relax."
Not everyone likes a firm seat, and not everyone likes a soft seat. Fortunately, the 7000 Series lets you choose. If you prefer a firm feel when you sit, you can go with their standard foam. For a little more give, you can get memory foam.
"For me, there's nothing better than coming home at the end of the day, curling up on my sofa with my feet up on my ottoman, my dog on my lap, and my cup of tea right next to me while watching football!"
It's versatile
Thanks to its many design features and customization options, the Elran 7000 Series is incredibly versatile. It checks all the boxes, whether you need the complete sectional for your entire family, cup holders for your beverages on movie nights, or wider seats for extra room.
Versatility also means that the 7000 Series works in just about any space, no matter what the design. Four different arm styles are available with the option to add nailheads along the trim. Looking for a sleek, contemporary piece? The 7000 Series can meet those needs. Prefer something that takes on a more traditional look? You got it!
"It's so exciting to be able to create exactly what your customer wants in one piece," said Richa.
Something else you might like about the 7000 Series is that it's not bulky or overwhelming. It becomes part of a room rather than standing out or feeling as though it's too big for that particular space.
It's a quality-made
Quality furniture means you're likely going to spend more, but with the 7000 Series you still get a well-made piece without paying an outrageous price. Add that to Richa's reasons why she loves it!
"The best thing about it is the price point. It's not excessively exorbitant for the kind of quality that you're getting. You're getting full aniline leather or whether you do fabric they're all performance fabrics, so it's very high-quality at a very good price point."
It's really no surprise that the 7000 Series is regarded as quality furniture. Headquartered in Montreal, Elran is a family-owned company who has the customer at the forefront throughout their entire design and manufacturing processes.
"What I like about a family-owned business is they have pride in their work and then they make sure that the customer is always happy with whatever they get," said Richa.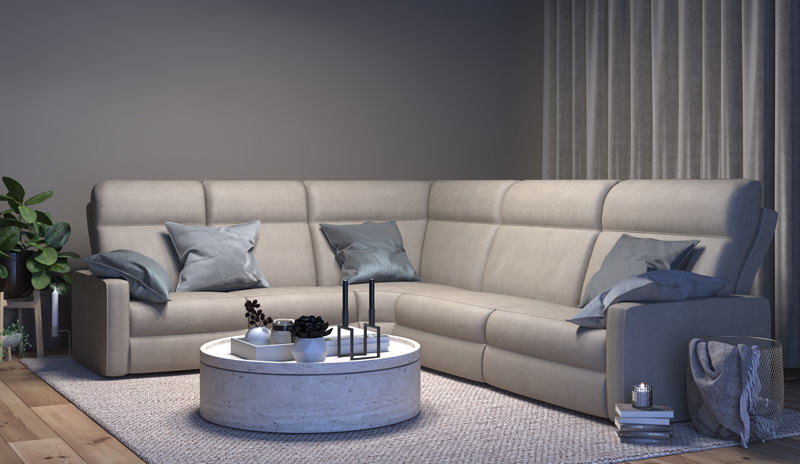 Shop the Elran 7000 Series
The Elran 7000 Series is in our Cambridge design center where Richa can show you more about one of her favorite pieces.
"Whenever someone asks for a recliner or a reclining sectional, this is the first one that I would think of because it has so many options," she said. She's done it all - theater seating, sectional, loveseat - and can walk you through all the different configurations and customizations to help you make it your own.
If you aren't close to our Cambridge location, you can also try it out in our Middleton, Framingham, and Pembroke design centers.
Author: Marycatherine Karcich