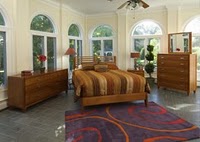 We would like to point out a new collection from one of our FAV vendors, Vermont Tubbs. The Chelsea collection is featured in birch, a less grainy and more attractive wood for contemporary designs. The pieces are still available in all the same great finishes and, most importantly, made using new methods that help Vermont Tubbs continue to make headway on being sustainable and GREEN. Here are a few things that may be important to the Circle Furniture customers and readers. We use sustainable woods. We harvest our woods from local mills within 150 miles of our factory making us a bit greener than anyone importing lumber. We only do business with reputable mills that don't clear cut and that have regenerated forest growth. We use Sherwin Williams paints that have no lead or metallics. What that means is our filters that once had to be removed as hazardous waste can now be dumped into a local landfill. There are no formaldehydes in our paints. We use a water based glue. We use renewable, biodegradable materials for our packaging. We are about to launch a few water based finishes. We currently manufacture under a private label for a private company product that is recommended by  
Healthy Child Healthy World,  
which is a non profit group helping parents find non-toxic, eco-friendly, products for their children. This same private product we produce is also certified by the Greenguard Environmental Institute, a nonprofit group that evaluates and verifies products that meet exacting low-VOC emission standards.   This is just some of the great green avenues we have already taken and will continue to educate ourselves as well as our customers. Thank you Denise and all at Vermont Tubbs!