Area rugs add warmth, color, texture, and are a great tool to ground your space and delineate between different areas. There's potential for a rug to be the perfect finishing touch. This also means there's a lot to consider when it comes to choosing the right one.
How big should it be? What shape? We talked to Nancy, a Design Consultant in Cambridge, to get her expert opinion on all things rugs to help you choose the perfect one for your space.
Let's start with shape and pattern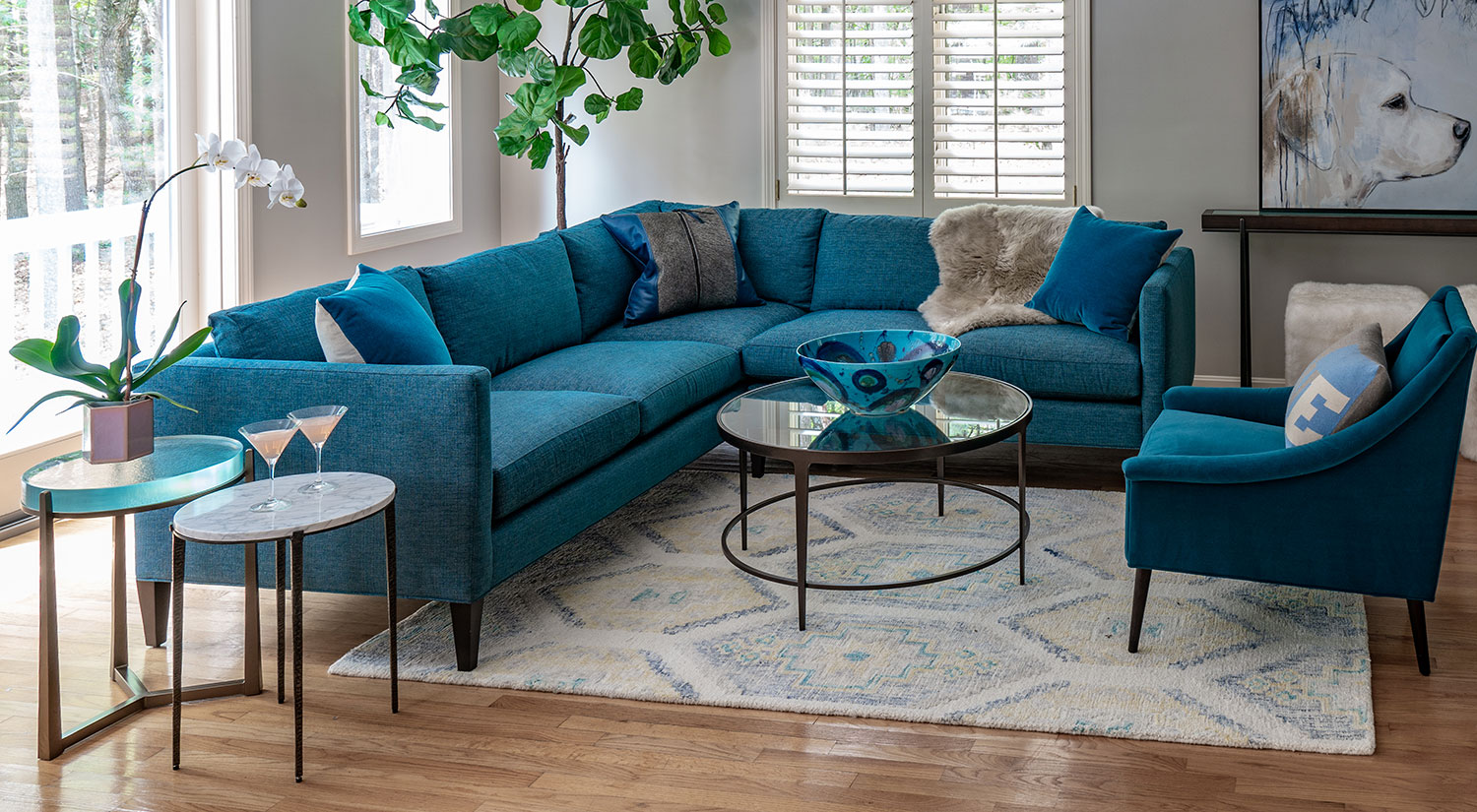 There are some guiding principles to consider when choosing a shape and pattern for your rug. Nancy explains, "Vertical lines create strength and formality and cause you to look up. Horizontal lines mimic the horizon and tend to evoke harmony, causing you to look side to side."
"Zigzag or random lines create energy and motion. And finally, curves and circles soften dramatic architectural features and create a welcoming environment."
Round rugs can also be a great tool to separate a nook within a larger room, or identify a design feature and set it apart. They have the special quality of dividing the room while softening the overall look and creating a cohesive space.
That's one of the reasons Nancy loves using round rugs in her design; "They can do all of that while also bringing a pop of color and contrasting texture to any room." She's also found in her life that there's just something attractive about a round rug that pulls people to them:
"When my children were younger I had a round rug in my living room in front of the sofa. There was a wide flow pattern from the front door past the rug into the rest of the house. Every day, my children deviated from the obvious straight flow to walk on the round rug as they passed it.
Now I have a different home and a different round rug in my dining room, which is between my living room and kitchen. Every day, my 9 pound Shih Tsu chases the ball we throw and on the return trip always deviates to walk on the round rug under the dining room table."
Choosing the right material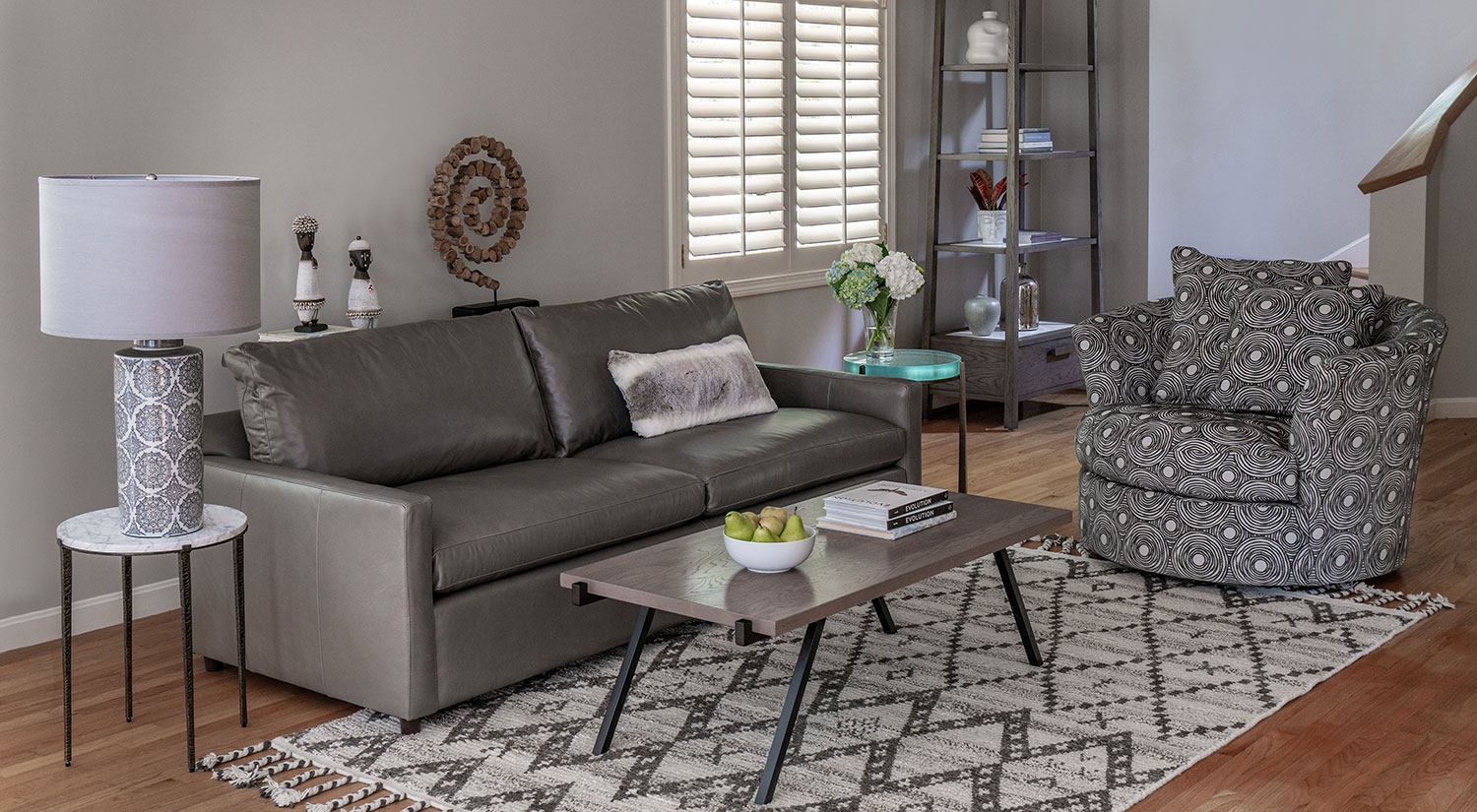 When it comes to choosing the right material, it's mostly personal preference, as well as considering how the room will be used.
Is it a formal room with minimal use? A gathering area with a lot of use and potential spills? A bedroom with light use? You should also consider who will be using the room: adults, children, pets, or people who may be sensitive to certain textures.
Here are the most common rug materials and their features and attributes.
Polypropylene, Olefin, Polyolefin
Synthetic plastics liquefied and extruded into yarn.
Highly durable
Moisture, fade, mildew, soil, and stain resistant
Minimal-to-no shedding or color variation.
Quick-drying and abrasion-resistant
Has a soft wool-like feel
Lightweight, good for light traffic areas
Nylon
Synthetic fiber
Strong, easy to clean, and stain resistant
Resilient, good for high traffic areas
Polyester
Synthetic fiber
Very durable and resistant to stains
Holds up to wear and tear
Oil will stain
Wool
A natural fiber rug, made of fleece spun into yarn
Has a soft natural sheen and is soft due to the natural oils from fleece
Has some shedding
More resilient and durable than synthetic fibers
Good for high traffic areas
Absorbs and retains dyes well
Self-extinguishing and naturally resistant to fire, water, and stains
Resistant to dust mites
Jute, Seagrass, Sisal
Plant-based, natural fibers spun into yarn
Moisture resilient
Tough and durable
Has a more coarse feel
Low cleanability
Viscose
Synthetic fiber and natural cellulose spun together into yarn
Looks like silk for a lower price
Soft and silky feel
Doesn't hold up to heavy traffic
Has a tendency to shed
Stains can be hard to clean
Silk
Natural fiber
Gives rugs a beautiful sheen
Works well in combination with other fibers, not durable on its own
Regardless of the material you choose, Nancy recommends always using a rug pad.
She says, "Not only will rug pads soften your stroll, but they also enhance the look of your area rug and protect from tiny particles of dust that will scratch your floor and breakdown the threads of the area rug."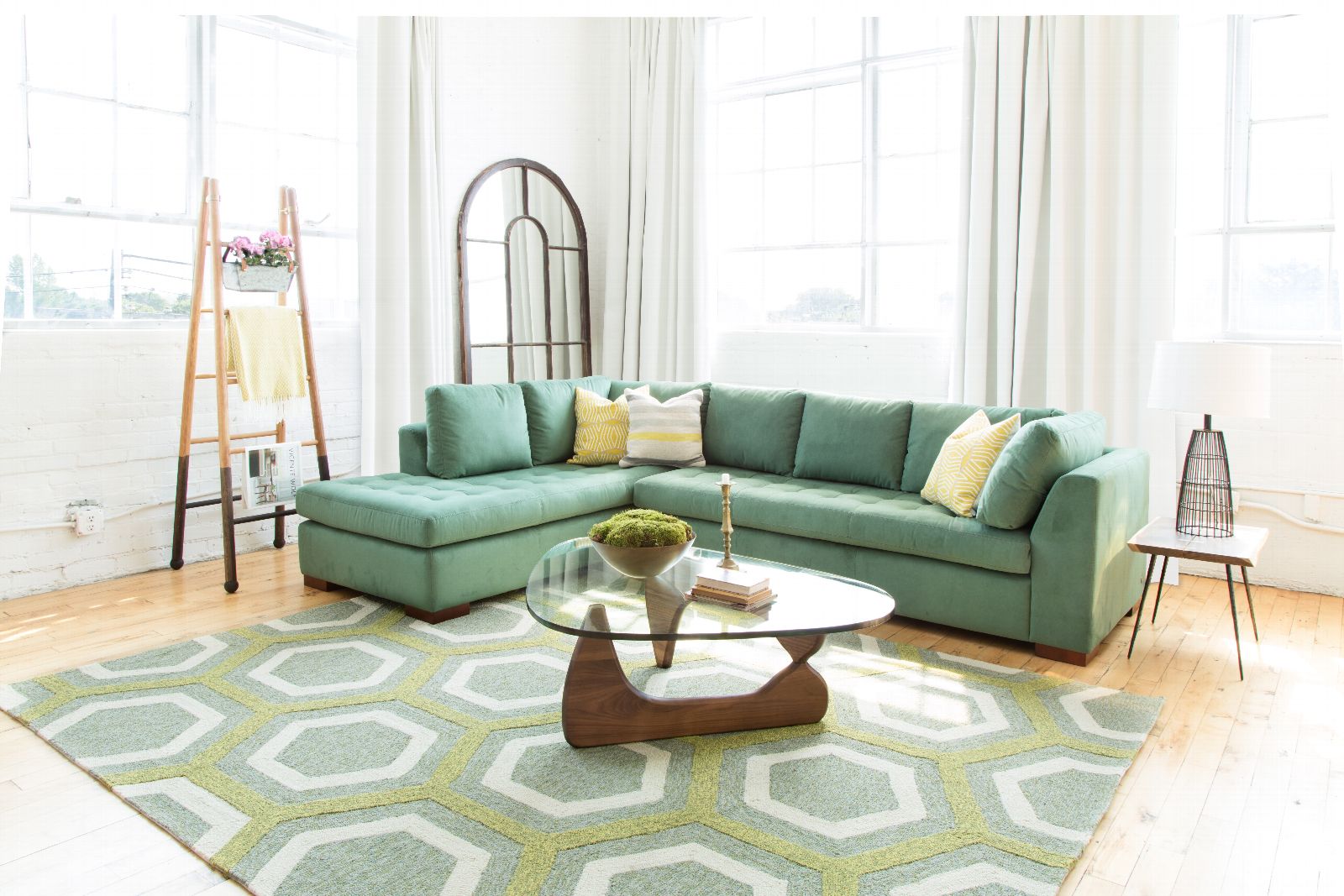 Choosing the right size
When it comes to choosing the size of your rug, Nancy says it's mainly a design choice. "I believe one of the jobs of any area rug is to connect a specific area by having all the items touching the rug. I'm a fan of placing two-thirds of the sofa on the rug and keeping the back floating."
For an in-depth look into choosing the right rug size for a specific room, read "How to Choose the Right Size Rug for a Room."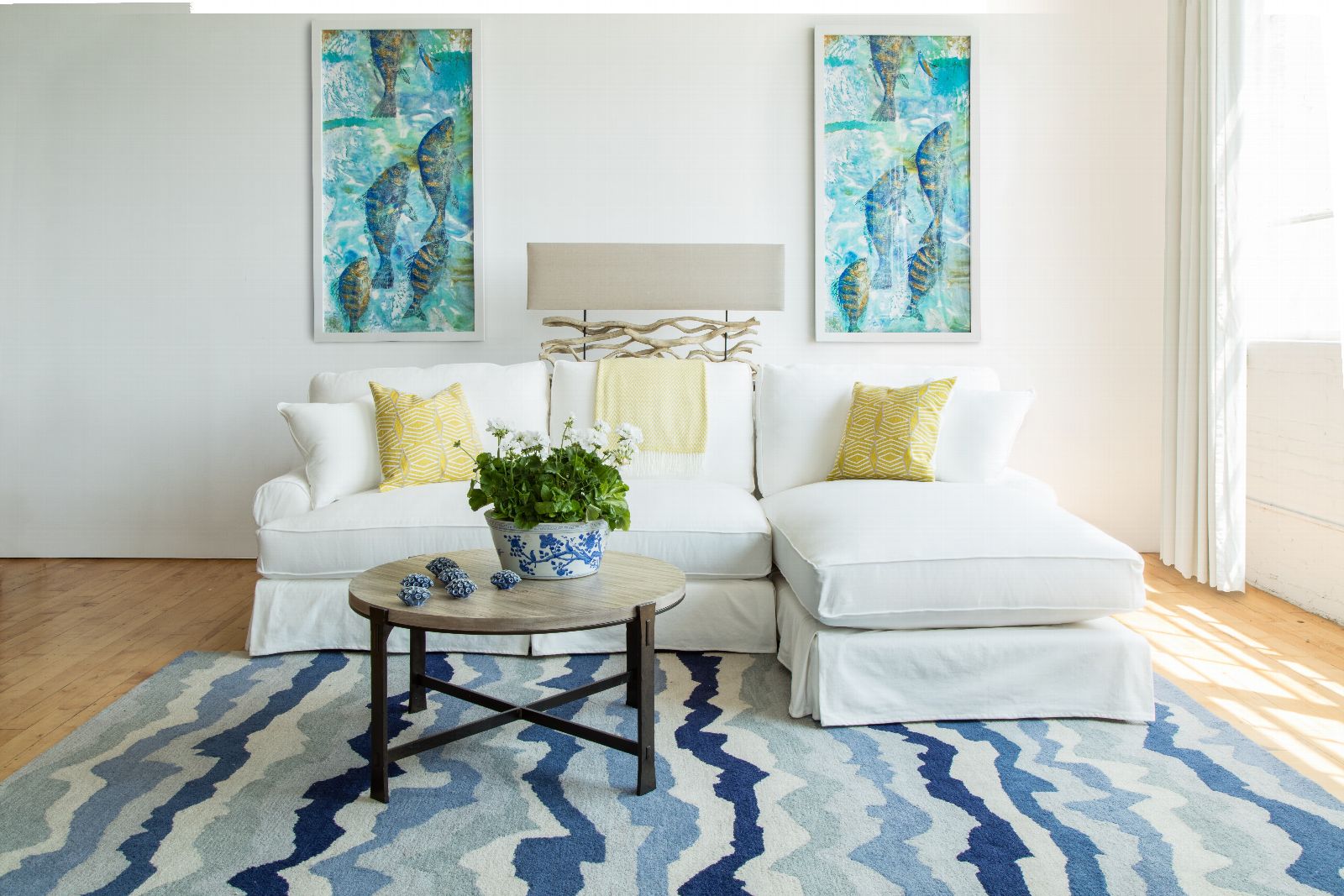 Talk to a designer
Rugs can often be overlooked and thought of as the last step in a design. But they can make all the difference in how your space looks and feels. Nancy says, "I use the analogy that if you walked into our showrooms and there weren't any area rugs, it would look like a warehouse full of random furniture."
Rugs add color and texture, bring design aspects together, soften harsh architectural lines, create an inviting environment, and separate areas into defined groupings.
Need help finalizing the vision of a room in your home and choosing a rug that works for your space? Our designers can help!
Visit Nancy in Cambridge or make an appointment for a design consultation (virtual or in-person) with any of our design consultants at our 6 showrooms.