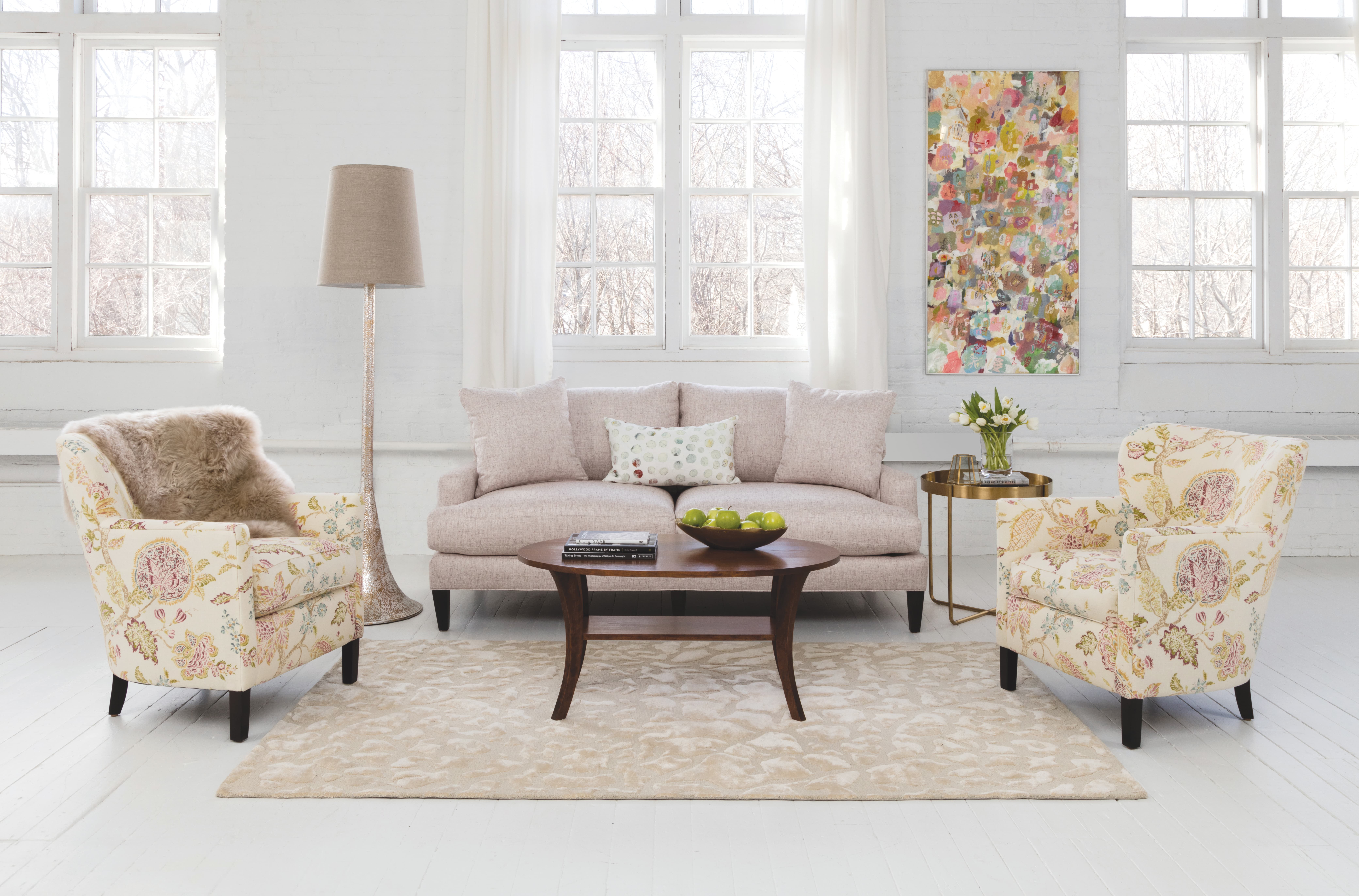 With a wealth of information out there, shoppers are more educated and prepared when looking to invest in a big purchase like furniture. In that research and preparation, there are a few key questions you need to ask yourself: What is the style or look that best reflects your taste What is your budget And, very importantly, is there a specific date or time frame that you need something Here at Circle Furniture, we specialize in made-to-order upholstery and case goods made right here in New England. Some of these items come with a lead time of 6 - 10 weeks, but we do have many things in stock if you have guests coming next weekend that have nowhere to sleep. So before we answer the question of how long will it take to get your customer furniture, our first question is - when do you need it If you need it ASAP, we have a few great resources such as our Outlet Page and some of our Made in MA natural cherry wood beds. Check out this beautiful staging we pulled together for Tilia & EJJ Real Estate from in-stock inventory, sustainably made products for a sustainably designed urban living space in Jamaica Plain. If you are preparing to furnish your room with the unique decor that you have always dreamed of - we can make it just for you. Are you willing to wait for the perfect piece or room setting Let's break down what we mean by lead time and what happens in the time elapsed from custom furniture purchase to arrival.
What is lead time
Once you've made all of your selections, your designer will put your order into motion, and they'll tell you the lead time. The "lead time" describes how long your purchase will take from start to finish "" from the moment that the order has been placed to the delivery and assembly of a piece in your home. The lead time will depend on how and where it will be made, but will usually take between 6-10 weeks. The vast majority of our products are made right here in the United States. The more localized the options, the better for the environment with less shipping distance traveled. We are fortunate to live in New England where many artisans set up wood shops and can source sustainably harvested lumber right here in the region. Our upholstered products come from Ohio, Texas and North Carolina, the hub of the furniture world. First, comes the crafting of each piece - some of our partners use more technology than others - items are carefully packed and sent off to our Acton warehouse. Allowing the flexibility to customize details gives you exactly what you are looking for and, we think, is worth the wait.
Why does getting furniture take so long
We get it; there are a lot of questions to tackle! (That's why you chose your Design Consultant: to make the process as smooth and seamless as possible.) The design process itself takes time, and only after you've finally made the decision and placed the order that another process starts: the construction of your furniture! Many of our manufacturers are less "˜manufacturer' than they are "˜artisan.' We source from quite a few locally-owned, family-run, sustainable businesses; their devotion to an incredible finished product is evident and impressive. Further, there are a lot of details that go into making a perfect piece of furniture, and plenty is made-to-order. So sure, shipping in a cheaper, quicker, mass-produced product may ultimately be cheaper (and faster), but we're proud of the products you'll find here, and here are a few reasons why. In this brief video Linda, Boston Store Manager, discusses the finer details and how that affects your lead time:
What goes into making hardwood furniture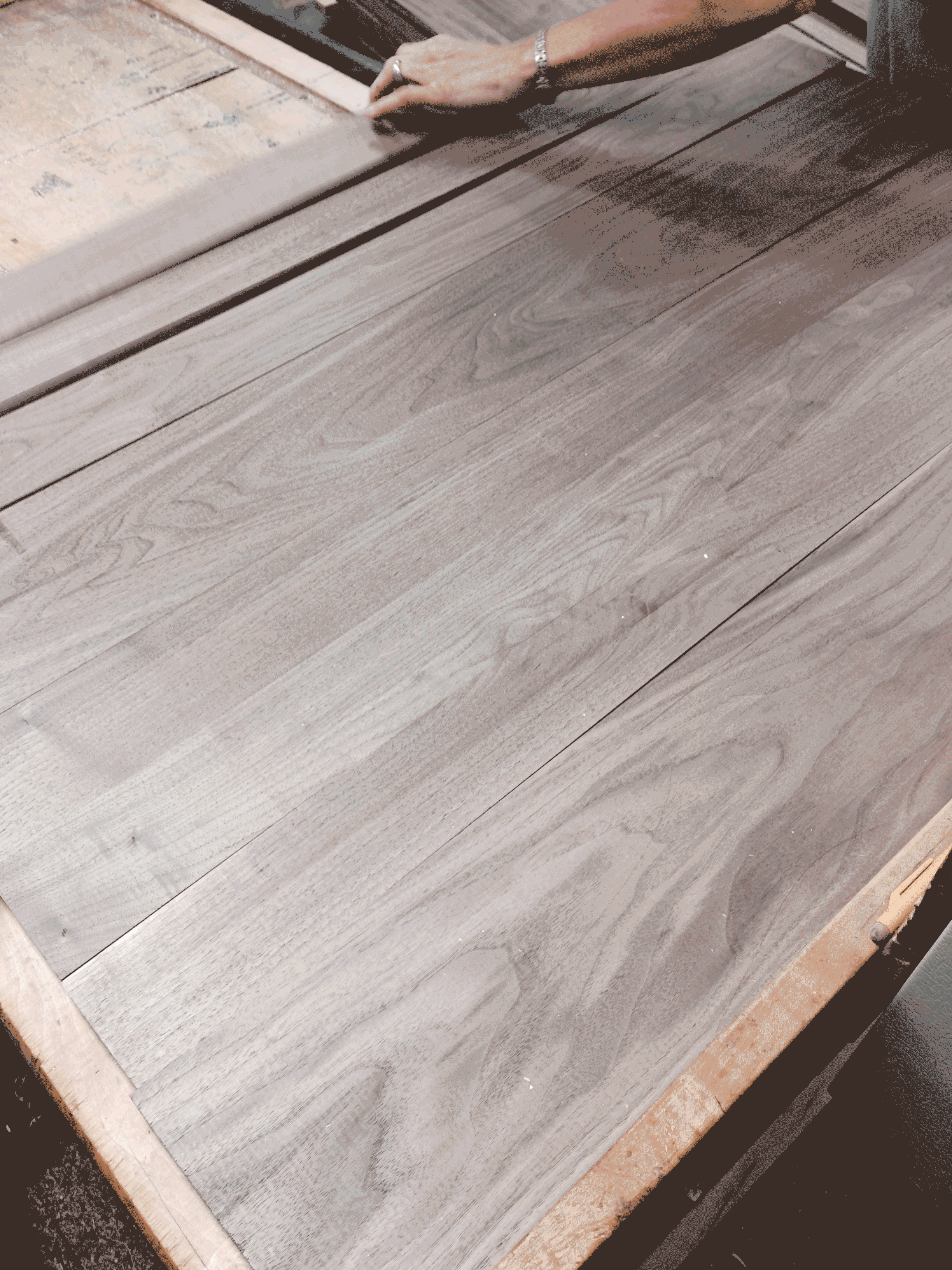 In our case, product creation starts at the time of purchase. This item is made for you specifically. Plus, there is a human element to the production of these products. Human eyes evaluate the lumber for visual approval and hands touch each piece to ensure a smooth finish. All natural wood will have flaws, and that is part of its beauty, but having a pair of human eyes helps to make informed decisions on wood grain look and placement. While, in some cases, standard size lumber may be pre-cut, the overall production is not set in motion until you order. That means the lumber is selected based on each item. The wood will have to be cut, assembled, sanded, stained and packaged for safe transport. Again these items are hand built, so each drawer is constructed, each leg is cut, sanded, quality checked, hardware applied, and finished by humans who keep an eye out for the integrity of the piece from start to finish.
What affects the time frame of your custom upholstery
As with the wood furniture, these items are not coming off a rack somewhere, they are put into motion the day you make a purchase. We work with a variety of upholsterers and have established these relationships based on their design aesthetic, quality, reliability, price points, and environmental stewardship. Some of our partners have built brand names, such as Lee Industries or Thayer Coggin, and reputations that are known for making furniture in a traditional, artisanal way which would include bench made, eight-way hand tied craftsmanship. Other partners create designs that are slightly more standardized and, therefore, add value with regards to their timeliness and price point. Our Design Process will help take the mystery out of these options, but knowing your time frame will help our Design Consultants lead you in the right direction. Again, there is a human element to this process as well. Bench made means that one passionate craftsman is building this piece from start to finish. Often, your artist signs the piece and sends a card that says, "I made it!"
How will you know when it is ready
Your Design Consultant will follow your order from purchase through delivery. During the lead time, your Design Consultant will reach out with periodic updates on the expected arrival date and address any additional needs. Do you need fabric swatches for other home finishing details like paint, etc. We can have those sent to you. If anything comes up in the interim, please reach out to your design consultant directly. As soon as your furniture arrives at our warehouse, our Delivery Coordinator will call to schedule your delivery. In anticipation of the big day, we have a short video on what to expect from our white glove delivery team.
In a nutshell:
Know what time frame works for you and be upfront with your Design Consultant on your needs.
Plan ahead! If you are ready for the perfect room than allowing the time needed to create those unique heirloom quality pieces.
Your Design Consultant will be with you every step of the way to keep you informed and prepared.
Ready to take the next step Meet our Circle Furniture Design Consultants or take a look through some of our recent design projects.
Author: Erica Tubman
Erica is a fourth generation family member at Circle Furniture. She loves bold colors, natural wood grains, and the individuality Circle Furniture allows their clients to explore in their homes. Outside of work she wrangles dogs, kids, and loves the snow!