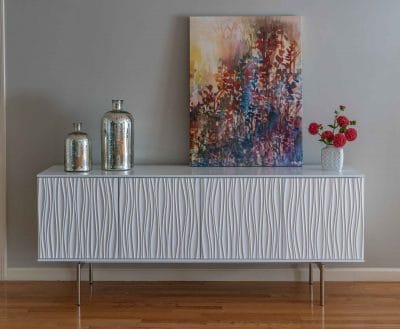 You may be under the impression that storage is one of those necessary evils in the home. Useful, functional, but maybe not the most interesting. We invite you to think again. Storage doesn't have to be boring, and in a lot of cases, it can be the focal point of a room. Meet the new storage credenza from BDI: The Tanami Console. With clean lines and textured, sculpted doors, the Tanami is a dramatic and multi-functional storage option.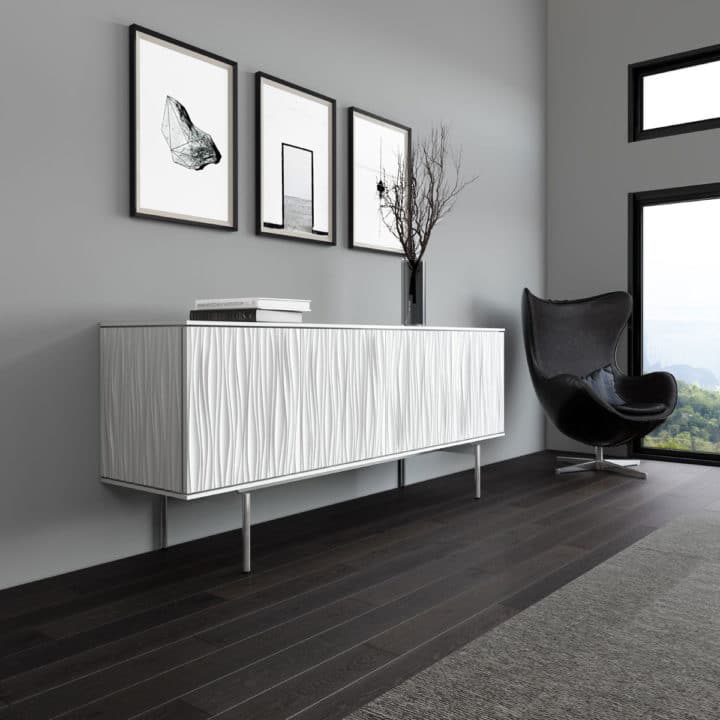 Multipurpose, modern storage
The inspiration behind the Tanami was the Tanami Desert, and it features, in the company's words, "dune-like waves across the door fascia and side panels." Linda Maguire, store manager in our Boston showroom, loves it for its versatile capabilities. She says, "The Tanami has been purchased as a media storage piece but also as a dining room storage cabinet. You can use it in your front entry for seasonal storage, or even for shoes if you put a mat on the bottom."
In the living room, it can be featured as the main media piece with a flat-screen TV over top, or it can be used in an open-concept space to delineate two areas. Because it has a stylized yet clean look, it's a modern take on storage""it wouldn't look out of place in a bedroom. The Tanami functions as both a dramatic focal piece or a simple and clean take on storage""depending on how you use it in your space.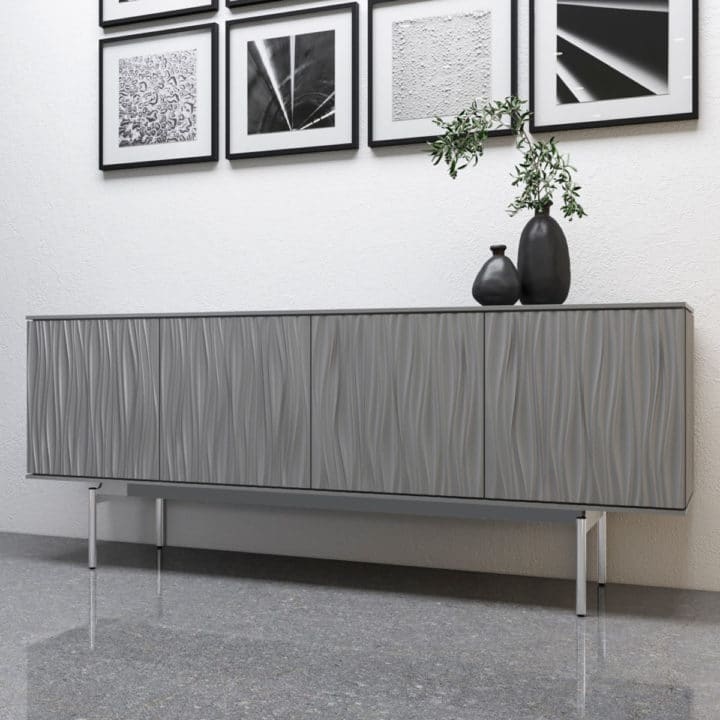 Linda describes, "The panels give you a contemporary feel. And with the beautiful wave detailing, it's a perfect option for a home by the ocean. White is a beautiful, crisp option but it also comes in a grey called Fog which is really pretty too."
Cost and features
"It's multipurpose and great for optimizing storage in a contemporary, clean-looking home." The Tanami Console is $2,399 and has four compartments, each with an adjustable shelf. It features wire management holes in the back cabinet that make it suitable for light media use, as well as a TV safety strap, flow-through ventilation, and polished chrome legs.
Check it out in person!
Come check out the Tanami Console in one of our showrooms along with tons of new and exciting products that are working their way to the floor!