It's a bold claim to say that there's one color *everyone* needs to incorporate in their home in 2021. But, after careful discussion and research, we feel confident that we can make that claim.
We chose a color that remains timelessly elegant. That somehow manages to be both bold and neutral. That fits into any home and any décor.
That color is navy. I met up with our team in Middleton to discuss why they chose navy and how to incorporate it into your home this year.
Navy, a timeless classic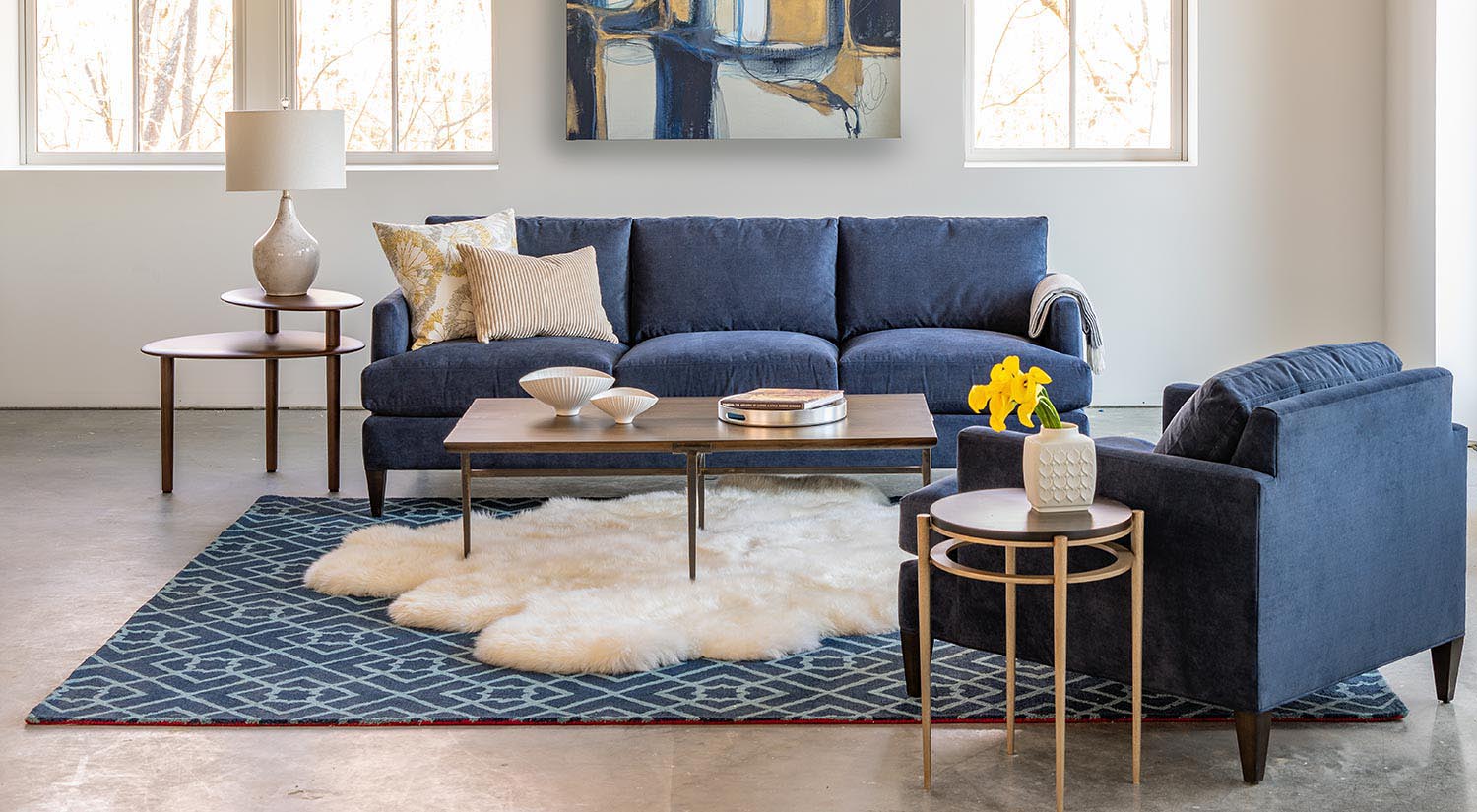 On navy, Cindy, our Store Manager in Middleton, says, "It's the one color you can incorporate into any house. It's a neutral color tone, and it works with most colors; gold, rust, green, hot pink, red. And it's transformative, it becomes whatever you want it to be depending on what you pair it with."
As far as neutrals go, who's to say that grey and cream are the only way to go? Color adds character, depth, and dimension to the home. And if you want to add a pop of bold yet neutral color, navy is a perfect choice.
Robin, a Design Consultant, came around to loving navy when she saw it featured in our showrooms. "I never liked navy. I don't own any navy clothes, it was just never my choice. But I saw this painted chest in navy and I fell in love with it."
When you think of navy, your mind might immediately go to a maritime theme. But the more you see navy featured in different styles, the more you appreciate how versatile of a color it is. "It's calming and elegant," Robin says, "It can be grayed out for a neutral look or featured in a brighter tone."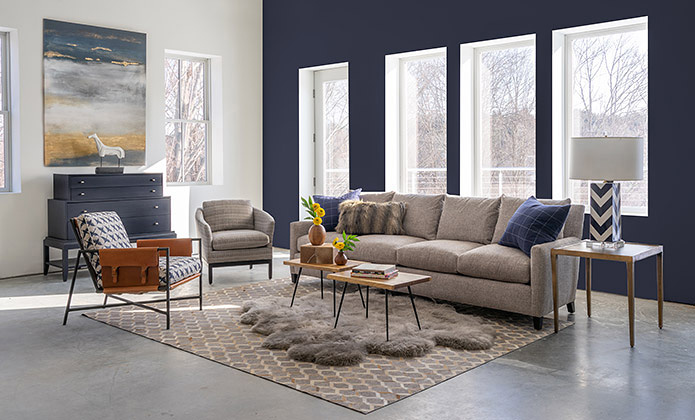 If you have a minimalist space with neutral tones, it's also a great choice for a wall color. "It makes an impact without being overwhelming and creates a beautiful contrast against creamy neutral tones. They highlight each other," Cindy says.
Our picks for navy paint? Behr Starless Night and Benjamin Moore Hale Navy.
Read more: Paint Colors we Love for 2021
Incorporating navy
One of the main reasons navy is the one color you should incorporate in 2021? It's easy!
Robin says, "You can do anything with it. You could go coastal and pair it with white or turquoise, or pair it with jewel tones and neutrals for a modern look."
Some colors are very time-period specific (*cough* burnt orange), but navy manages to be timeless and effortless. And as far as how to pull it in, Robin and Cindy recommend pillows, throws, rugs, wall color, or an accent chair.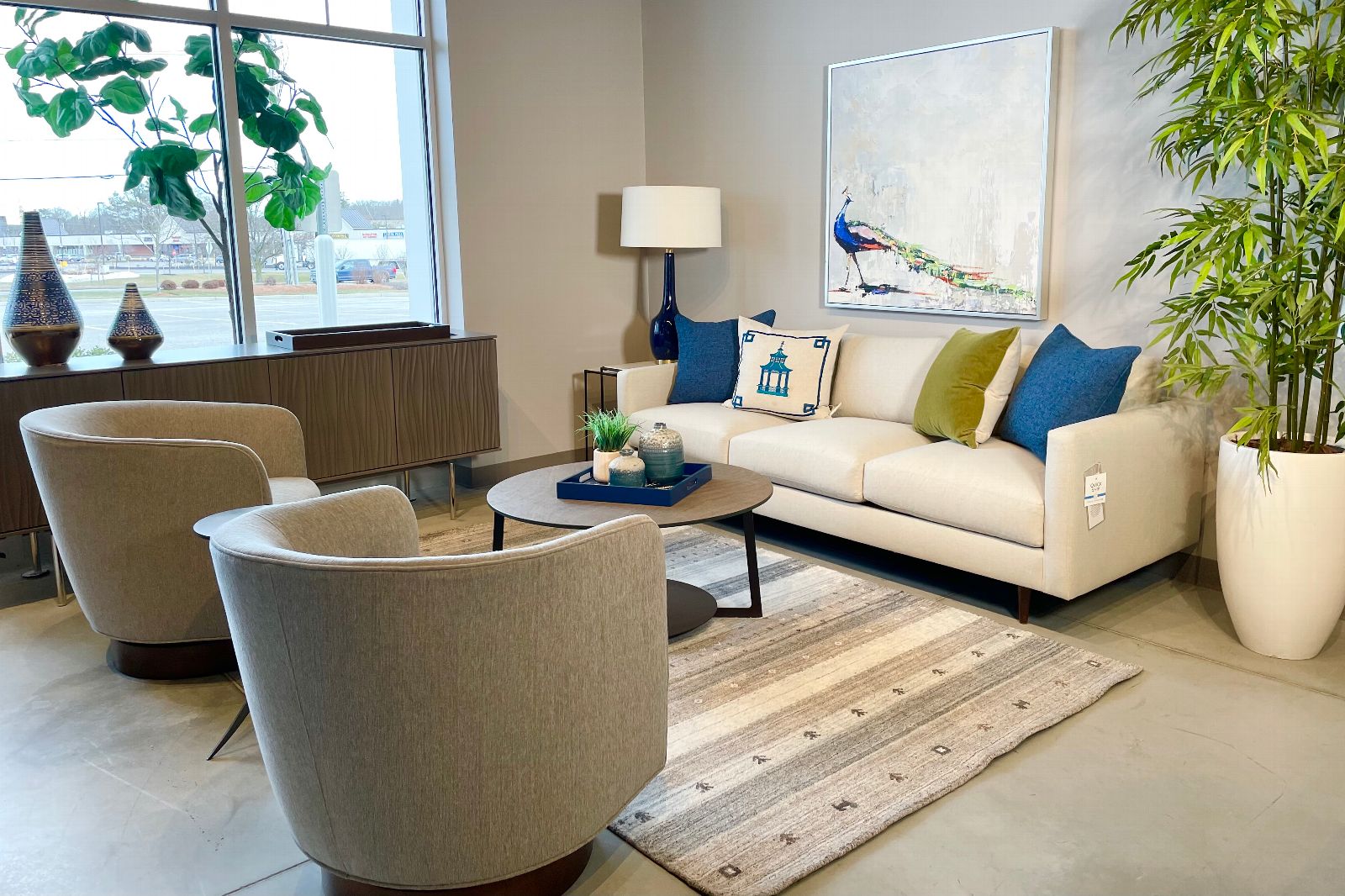 You can also incorporate it using one signature piece, like a sofa or painted chest. From there, you can create a color scheme around it.
Robin's favorite color palette featuring navy incorporates gold metal accents, green (through plants or your décor), and a neutral cream tone to balance the deep navy. She adds, "Silver also pairs beautifully with navy, and you can mix it with gold accents. You don't need to match your metals anymore."
Another unique way to add navy to a space is to get a piece of furniture, like a media cabinet, linen-wrapped in navy. Not only does this add beautiful depth and color, but it also adds interesting texture.
Find colors that make you happy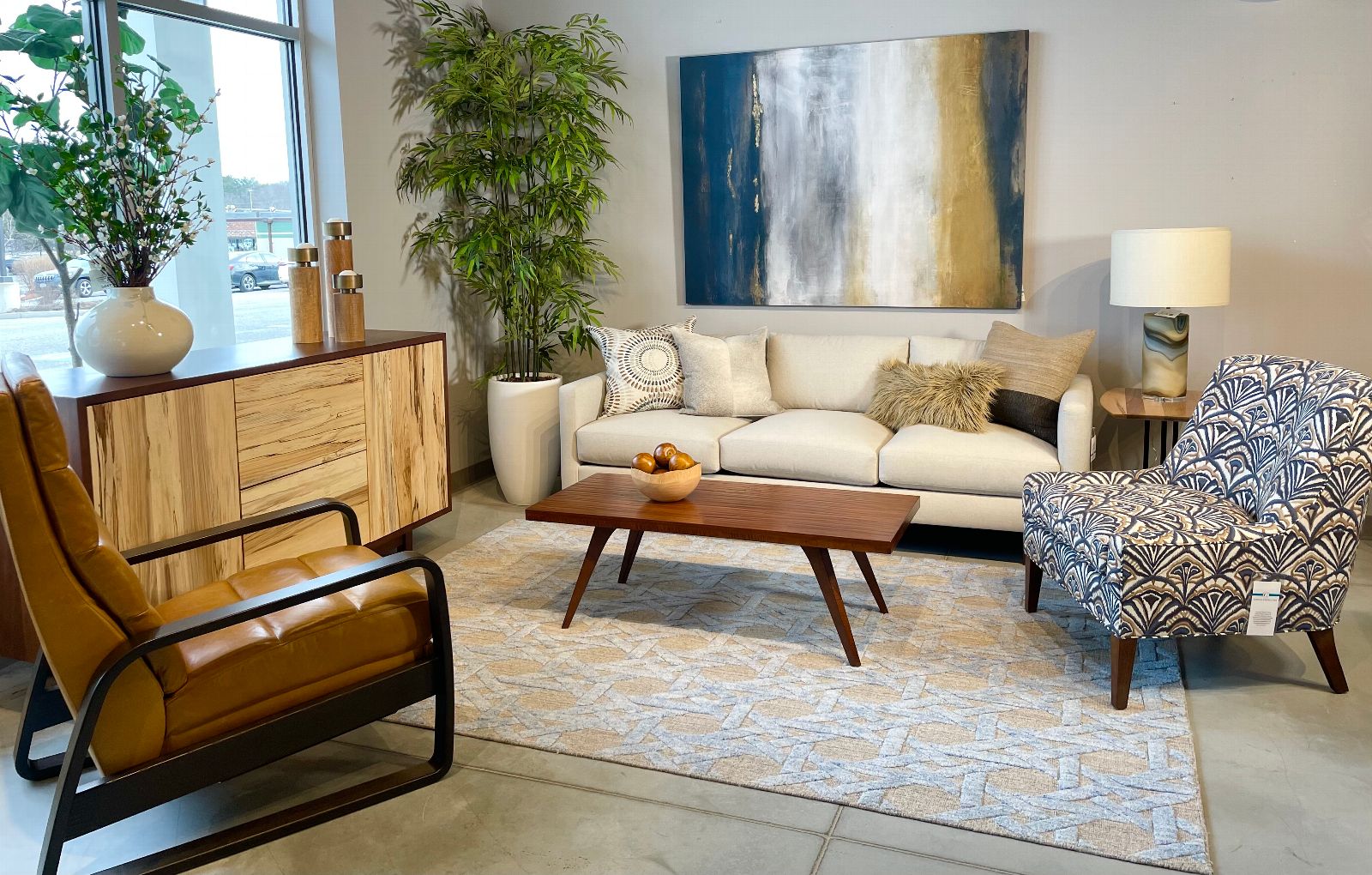 The beautiful thing about navy lies in its versatility. It's a color we feature in all of our showrooms in slightly different ways; coastal in our Pembroke space, and modern in our Middleton showroom. It's a chameleon of a color—it can be whatever you want it to be.
In an era where things can feel quite black and white, we wanted to choose a color that felt fluid. A color that can adapt to your space and add to it without taking away from what you already have going on. It's the new neutral.
And by neutral, we really do mean neutral. Both Robin and Cindy were hard-pressed to think of any color that *didn't* work well with navy.
But, like we always say, color and taste are subjective. The most important element of styling your home is choosing colors and pieces that bring you joy. Stay open-minded, explore the possibilities, and, when it comes down to it, trust your intuition!
Our Design Consultants love talking color. Sign up for a free virtual or in-person design consultation to get expert help on any home décor and color questions you might have. Or, visit our showrooms to see what's new and get inspired.