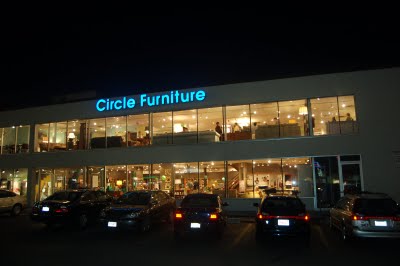 Well, isn't this the best time of year You wake up and the sun is shining. Birds are singing. At night there's no need for the air conditioners on full speed ahead while you sleep. Windows are wide open. Hmmm. Fall. We love it. Ok, so the kids are going back to school. There's that initial shock of homework instead of flashlight tag. Vacations are mostly over, so the traffic, for those of us who commute, is back to "just horrible". College students are flooding the streets moving into their new digs. Everyone is busy, busy, busy. We know how you feel. We also are CRAZY busy here at  
Circle
. So much great stuff is going on that we want to shout it from the rooftops! First off, remember that  
Comfort Sleeper
that I was oooing and ahhhing about weeks ago Maybe not. But I was. It's the Comfort Sleeper from American Leather and it totally rocks. No metal bars, 5" of premium foam; you know, the kind of mattress you can actually get a good nights sleep on. For the first time ever,  
Circle Furniture
is offering special discounts on all Comfort Sleepers, not to mention on all American Leather furniture. Big news also has hit the Circle world. We got  
Libby Langdon
, star of
HGTV's
Small Space, Big Style  to come to Circle Furniture. Yes, Libby will be in the house! She has this fabulous  
new book
, you know, the one that changed my life, and she is coming to our Cambridge showroom to speak to those of us with small space challenges. There's a joke in there somewhere but I'm not touching it. Anyway, she'll also be doing a book-signing and in true Circle style we'll have the wine and cheese flowing. Last but not least, this weekend is the last weekend to save on the
Consul and Ambassador
Stressless recliners from Ekornes. Super deals are available on these outrageously comfortable recliners until September 7th. If you haven't experienced a ride in a Stressless chair, you're missing out. The only recliner, only I say, to be endorsed by the American Chiropractic Association. Pretty cool, huh So if you have any questions about any of the happenings going on, please don't hesitate to  
call
us,  
visit
us,  
email
us,  
facebook
us,  
tweat
us, you can even  
snail-mail
us. We'd love to hear from you. And to all of those who labor...have a terrific weekend!