Stressless has become a popular name in terms of quality, comfortable furniture. Their selection of recliners in particular give you plenty of customizable options to choose from so you get something that best suits your individual preferences.
Our staff shared what their favorite Stressless recliners are and why they love them. Keep reading to see what they had to say!
Stressless Sunrise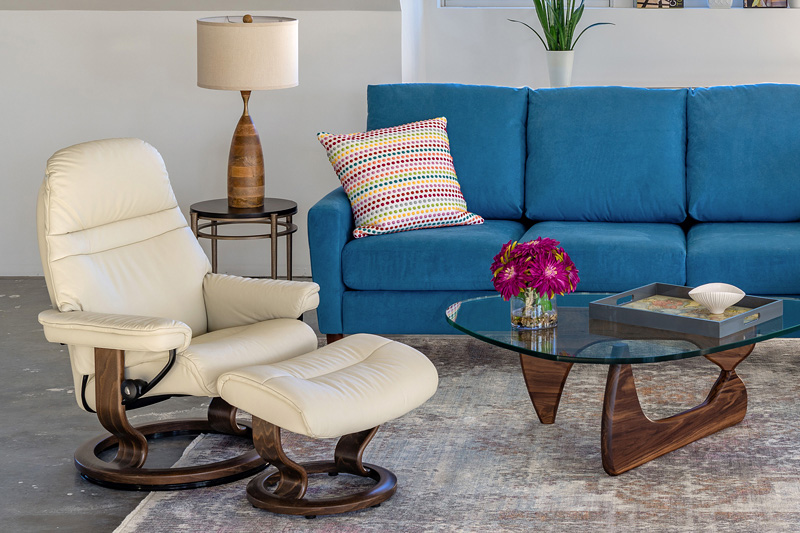 The Stressless Sunrise features the Plus™-System, which offers neck and back support to ensure maximum comfort. It also fits the bill for a clean, simple look. In fact, it's why Robin Lowe, a Design Consultant in Middleton, loves this recliner:
"Sunrise is my personal favorite because I love the lines of the chair. It has a clean elegant line to it and works well in any space."

Robin Lowe, Design Consultant - Middleton
Stressless Mayfair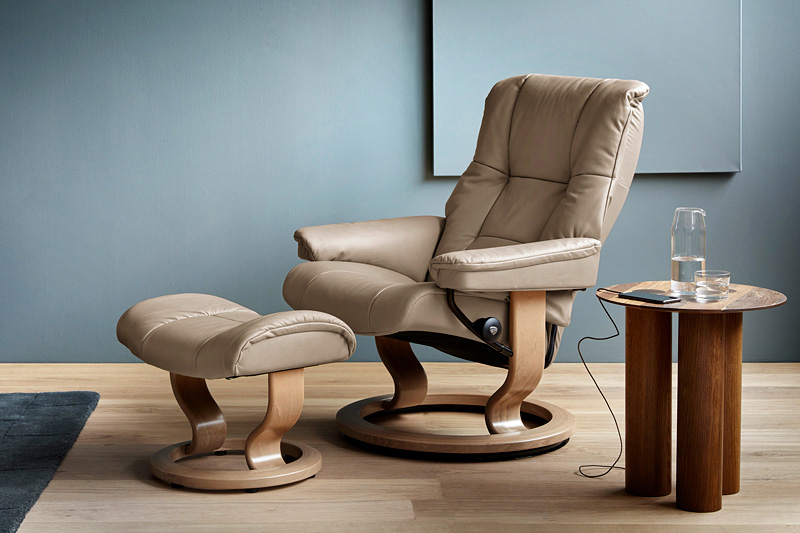 Similar to the Sunrise, the Stressless Mayfair features the Plus™-System and invites you to enjoy its cozy design. There's a lot to love about this chair - just ask Beth Troiano, our Design Consultant in Pembroke:
"I specifically love the Mayfair because of the great support it provides to the lower back. I feel like I am in a very natural position when I sit in this chair. The arm height is just right, and the Signature Base provides the perfect amount of rocking, give, and comfort. The style and inside back stitching look transitions nicely between traditional through contemporary. For a fully reclining chair, this chair does not take up a lot of visual space."

Beth Troiano, Design Consultant - Pembroke
Stressless Tokyo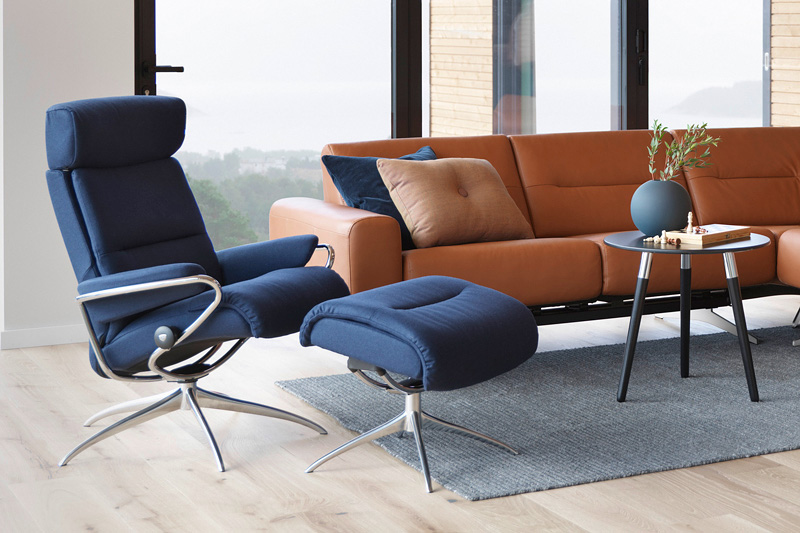 If your style leans more modern, then the Stressless Tokyo may be a better fit for your home. As Amy Masone, the manager in our Framingham showroom, points out:
"It has all the comforts of a Stressless Chair with a bit more character. It does not have a small, medium, large option. What it has instead is a choice of back heights or adjustable headrest. In addition, you can pick a standard or a high base. The high back model has an adjustable neck rest as well. While most Stressless chairs are not known for fashion, the design of this chair with the Star base gives it a sleeker, contemporary design."

Amy Masone, Store Manager - Framingham
Stressless Wing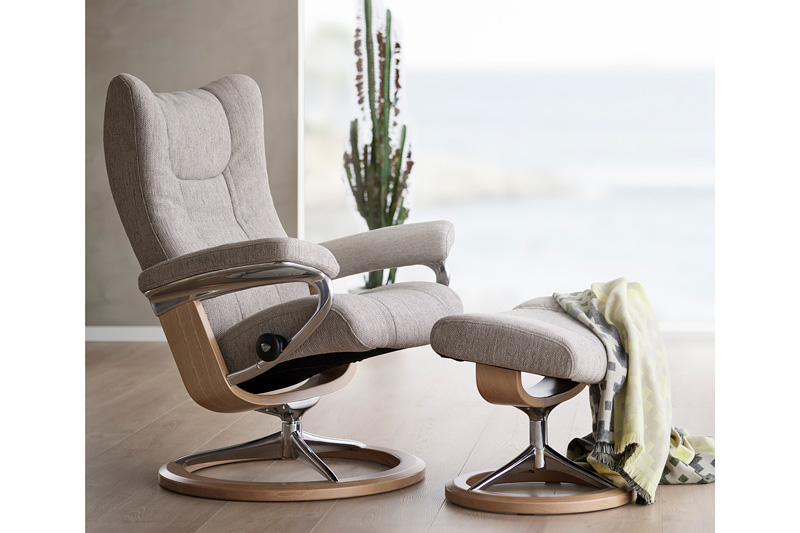 One thing we love about Stressless recliners is they come in a few different sizes so you can choose based on your height. Richa Sinha, one of our Design Consultants in Framingham, finds this beneficial:
"The Stressless Wing Small with the Signature Base is my favorite recliner. It's like being enveloped in a warm hug. It is often hard to find chairs and recliners that fit a small person comfortably as many are too deep and either my legs won't comfortably sit on the floor or my back will not feel supported. The Wing Small is 'just right'!"

Richa Sinha, Design Consultant - Framingham
Stressless View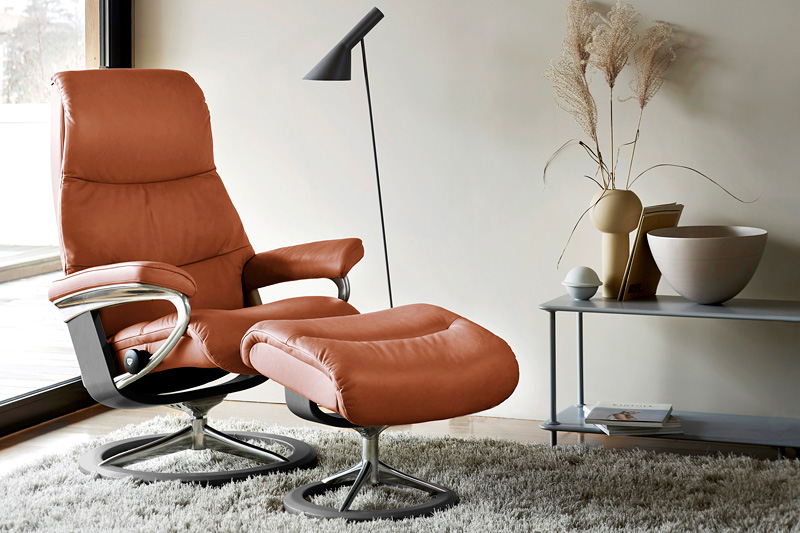 An option like the Stressless View has plenty of cushioning with a clean, sleek look. It's a favorite for our Queen Bee, Peggy Burns:
"The reason I chose the Stressless View recliner is I love the high back and the more contemporary look. Unlike some of the other models, it has wider stitching and it's the least puffy. It doesn't have that saddlebag look and it comes with the Signature Base."

Peggy Burns, Queen Bee - Coporate Office
Stressless Reno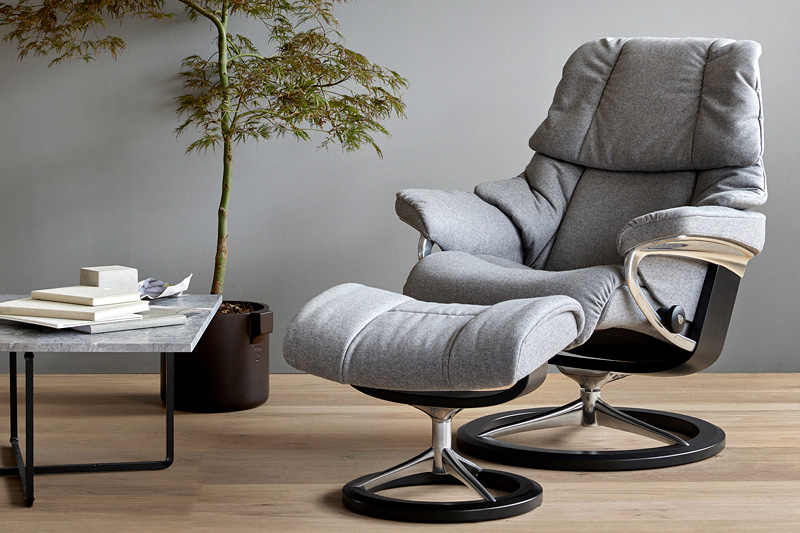 When it comes to a cozy yet supportive chair, you can't go wrong with the Stressless Reno. Our Videographer, Curtis Lestan, is certainly a fan:
"The Reno is my favorite Stressless recliner because I love it's look, support - especially in the arms and shoulders, and I love its name. It's the bad boy of Stressless recliners!"

Curtis Lestan, Videographer - Corporate Office
Stressless Consul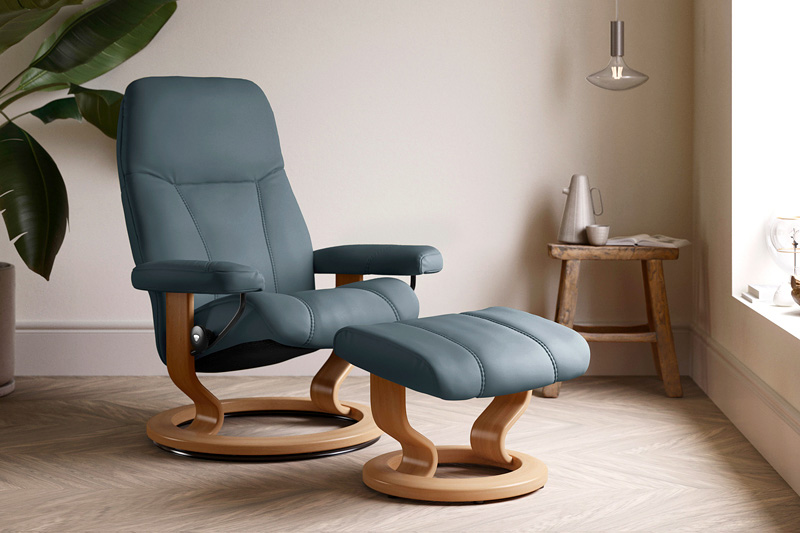 If you want to experience Stressless comfort at a more reasonable price point, then the Stressless Consul is your match. Not only is this a selling point for Eric Bailey, our Digital Marketing Coordinator, but he also likes this recliner for its simple design:
"The chair can work seamlessly in most home styles without raising any eyebrows. For flair, it has some nice stitching to break up the back and seat cushion - enough to elevate the look without making waves. Finally, the price point is great. I would argue that it's the most accessible because of the design and lower price relative to other chairs."

Eric Bailey, Digital Marketing Coordinator - Corporate Office
As you can see, everyone has their favorite Stressless recliner based on design, features, or both! It all just depends on your style and personal preferences.
Visit one of our showroom locations to give some Stressless recliners a try. Our Design Consultants can help you customize your ideal chair so you have a comfortable spot in your home where you can unwind, all day and all night!
Read more: How to Style Your Stressless Recliner
Author: Marycatherine Karcich