We all love color. There is nothing better than throwing a fresh coat of paint on a wall to liven our space. Clean. Fresh. Ahhh. Inspiring, yes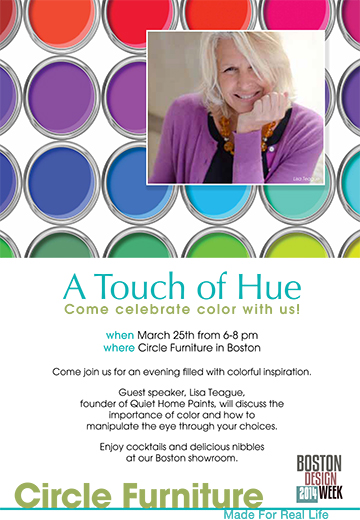 Last week we were thrilled to host an event in our Boston store featuring Lisa Teague from
Quiet Home Paints
. Lisa, and her partner/daughter Andi, teamed up to create a line of paint that boasts vibrant, beautiful colors and is safe for the home. The paints are odorless, solvent-free, no VOC's, and water-based.   They are free of pesticides, herbicides and entirely
non-toxic
.  
Lisa and Andi
have created a fabulous paint line and we want our customers to know about it. In our
Boston
and
Cambridge
stores we have a small kiosk     with samples of QHP's brilliant and refreshing paint colors. Soon we will have the kiosk's at our
Pembroke
and
Framingham
store as well. So stop by your local Circle Furniture to check out these fab paints! Perfect way to ring in the spring, with color, color, color!