It wasn't that long ago that the word wallpaper wasn't synonymous with chic design. But, times have changed. We're no longer living in the paisley days of the 60s – wallpaper has fully caught up with modern design with unique applications, beautiful designs, and the opportunity to add charm and character to your home.
We talked to Cheryl, a Design Consultant in our Pembroke Showroom to get the lowdown on everything you need to know about wallpaper and her favorite trends.
Types of wallpaper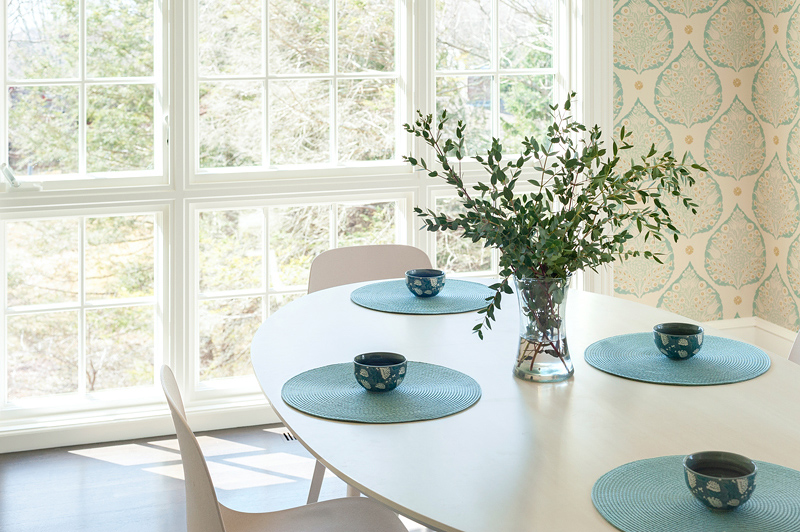 Wallpaper has come a long way since in the 60s, not only in terms of style but also in terms of options. There are traditional wallpapers, pre-pasted, and self-adhesive. The self-adhesive wallpapers are essentially stickers, they make the process easy in terms of application and removal but won't be the longest lasting.
If you're looking for a quick fix to change up the style of a certain room or you live in a rental, peel and stick wallpaper is a great choice.
For a longer-lasting and more permanent option, traditional wallpaper is the way to go. The removal process has become considerably easier over the years, but it's still a consideration when you decide to go the traditional route.
As far as material, there is a huge selection from vinyl to vinyl-coated paper to more natural options like grasscloth. Finishes can be matte, shiny, and everything in between. They can also be textured and have embellishments like studs.
The endless possibilities are what Cheryl loves most about adding wallpaper to a space. "You can do a whole wall of flowers and create a very Victorian look, or choose dots or stripes for a modern touch. It's so much fun and it's an easy way to instantly change the feel of a room."
Where to use it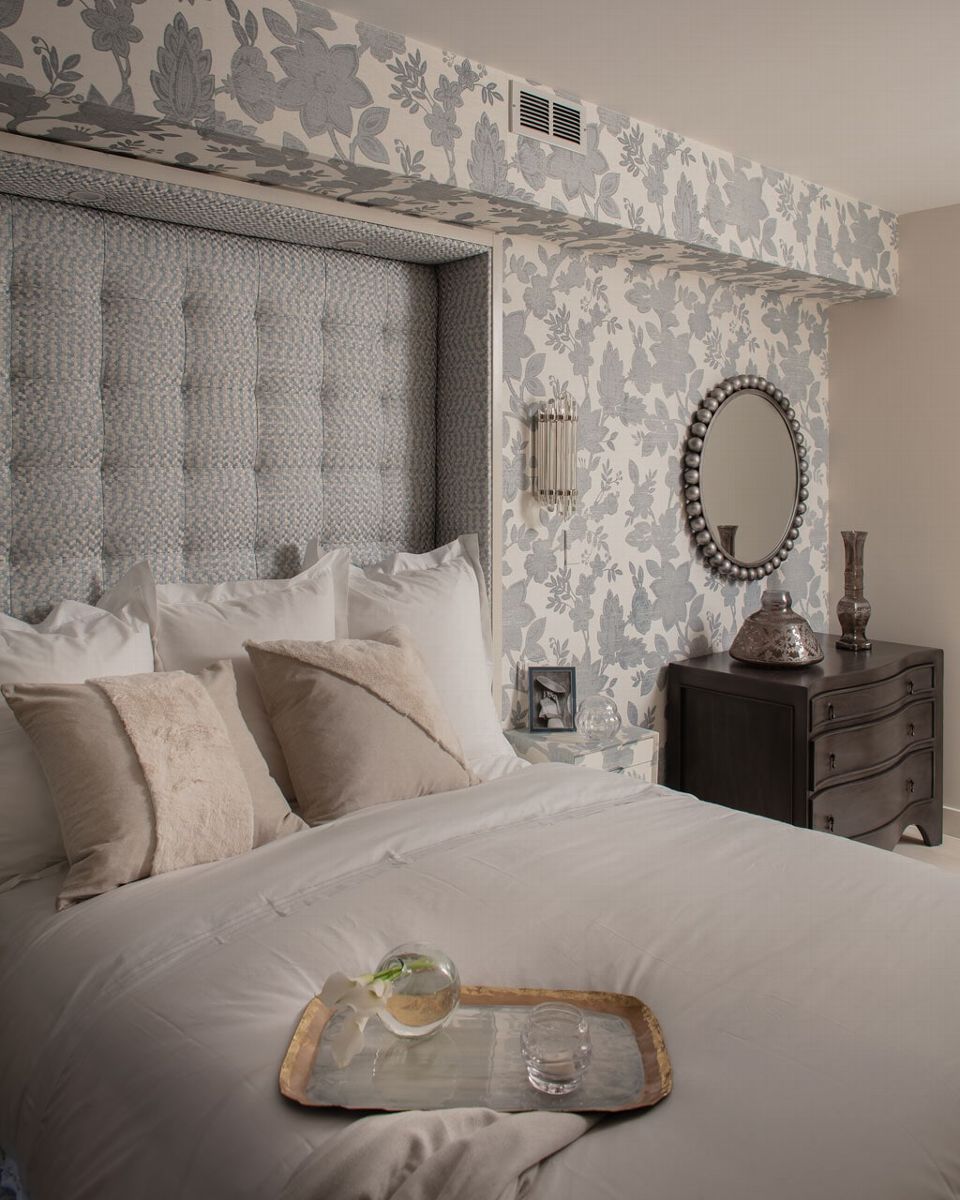 Design and image courtesy of Ana Donohue Interiors
There are no rules as far as where to use wallpaper. Accent walls are a popular way to add color and pattern to a room. Cheryl loves wallpaper in the bedroom, entryway, and a half-bath or powder room. "If you wallpaper a half-bath up to the ceiling it can feel like a little jewelry box."
Any room that feels like it could use a little more character or color is the perfect candidate for wallpaper. "You can even wallpaper the ceiling. A cloud or sky wallpaper would be great for a kid's room."
Need something more in your office or living room space? Wallpaper the back of your bookshelf for a pop of color and pattern. Or, choose two contrasting wallpapers to highlight a feature wall.
Our favorite trends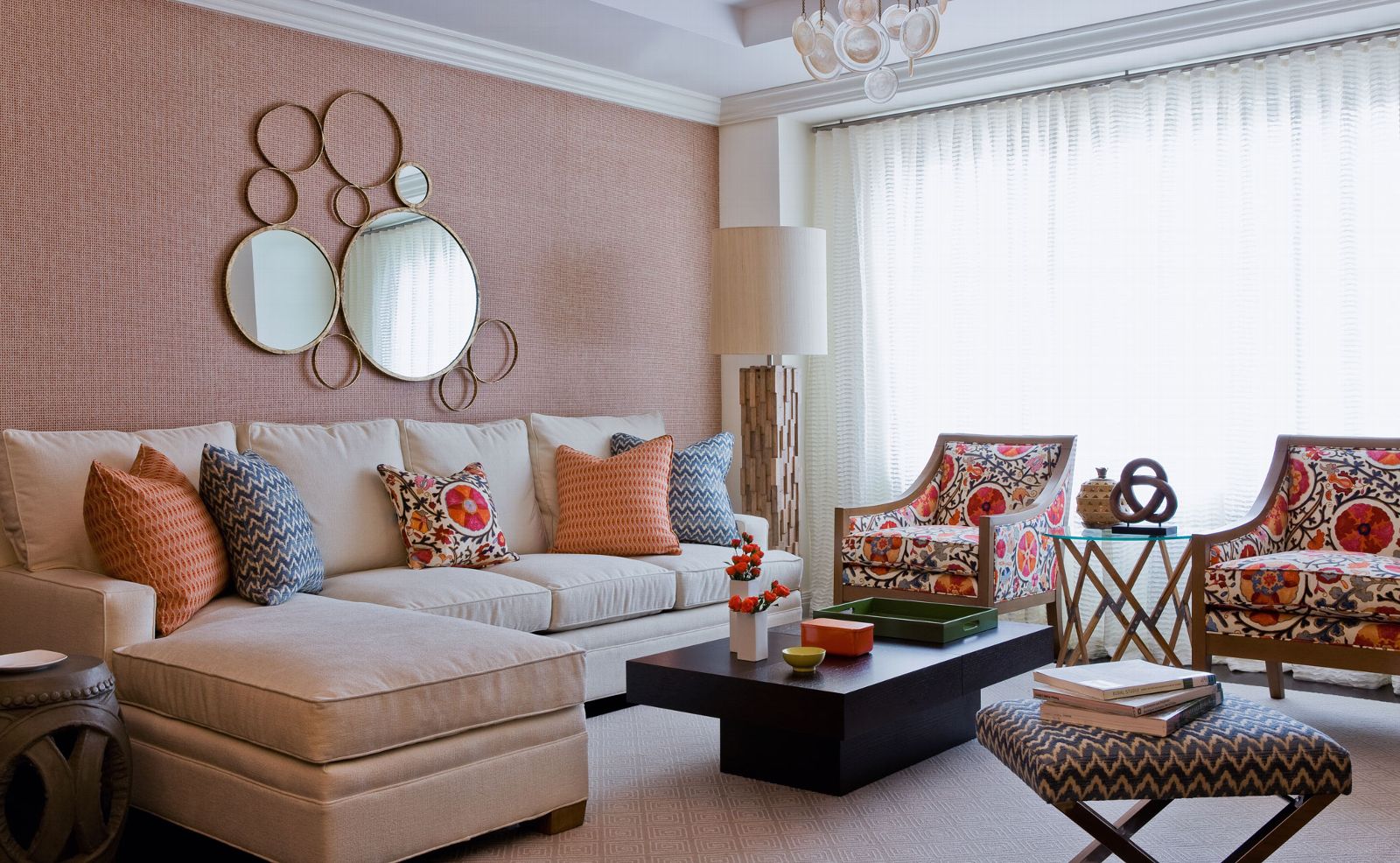 Design and image courtesy of Ana Donohue Interiors
There's something for everyone when it comes to choosing wallpaper – from delicate floral styles to bold graphic prints. One of Cheryl's favorite and more neutral trends is grasscloth. "I love grasscloth in a warm neutral tone with gold flecks in it. It's a beautiful way to add texture in a space."
"I also love animal prints which are really in right now. You can find everything from small zebras to a very graphic jungle print."
Read More: How to Add Color, Texture, and Life to Your Home
Talk to a designer
In a minimal space, adding wallpaper is perhaps the easiest way to add personality, dimension, and character. It can speak to your interests and taste in a way that furniture might not be able to.
That doesn't mean it's always the easiest decision. If you change your mind frequently and you're looking for a quick option, peel and stick wallpaper is a fun home project that doesn't require too much effort.
For a lasting option, traditional wallpaper is the way to go, and a trained designer can be the extra pair of eyes you need to make the right choice. Get to know our designers and make an appointment for a free virtual or in-person design consultation to help with any of your design needs.
Looking for another way to change up your walls in 2021? Read our 2021 Paint Color Trends article to discover our favorite colors going into the New Year.