Have you ever purchased a piece of furniture and expected it to hold up for a certain amount of time, but it fell apart faster than a drive-thru coffee line?
If you've been there, you're not alone! There's a common misconception that furniture lasts forever; however, this isn't the case. Everything has a life to it, including furniture, but we understand that you want to get as much out of it as possible since it's a big investment.
Nancy Tracy, a Design Consultant in Cambridge, offered insight into what can impact furniture's longevity and the things you should think about before you buy.
What to consider about the life of your furniture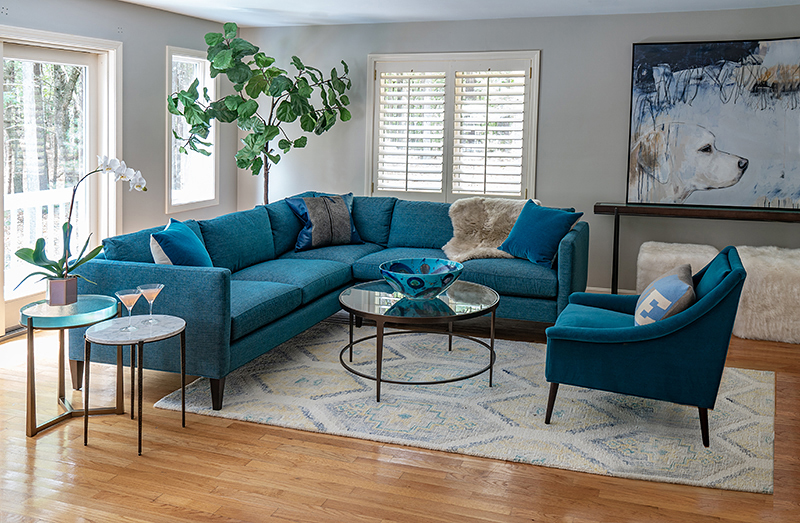 Your lifestyle
The thought that goes into buying new furniture matters, especially when it comes to longevity. Before you begin the process, think about who is going to be using the room you're buying furniture for. There's a difference between 2 adults vs. 2 adults, 3 kids, and a dog.
Setting expectations for your furniture can help you decide what to buy. If you have young children, then the sectional you get for the family room may not have the same lifespan as, say, the loveseat you purchase for the living room.
It all comes down to your lifestyle.
"Everything wears out. It's really a matter of how much you use it," Nancy said.
Another important factor to consider: pets.
Pets are often seen as members of the family, and that's how they're treated. If there's a specific spot on your sofa where your dog always sits, it's going to wear out over time (especially if cushions aren't regularly maintained). That doesn't mean it was a bad piece of furniture; it just means you may not get as many years out of it as you thought.
Your home
Nancy highlighted a few things in your home that can affect the longevity of your furniture.
Let's say you have an open-concept floor plan with the kitchen looking out into the living area. When you cook, some of those oils and smells can gravitate to your furniture.
"It's nothing to be afraid of, but just a normal occurrence," Nancy assured.
Next is sunlight, which can fade fabrics and leather, deteriorate foam, and oxidize wood faster. To prevent these things from happening, you can purchase clear UV protectants to put on your windows or move your furniture so that any fading and aging is more even.
Finally, heat. If you have a fireplace or radiator, the heat coming from it can dry out leather.
If this is a concern for you, be sure to mention to a design consultant where the heating sources are in your home. They can work with you to position your furniture at a safe distance from those sources and take into account direct sunlight to help sustain furniture longevity.
What to look for in furniture that's going to last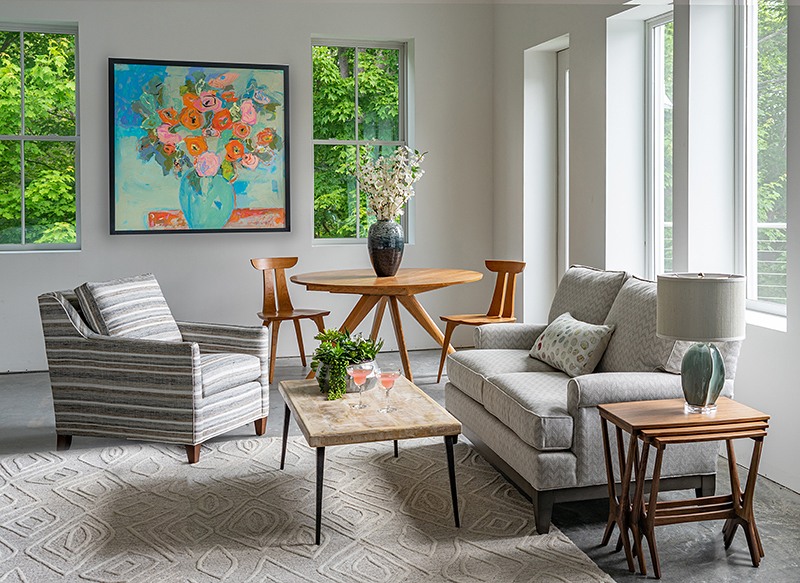 Now that you've given some thought to your home and lifestyle, it's important to understand what makes up a quality piece of furniture. What separates the kind of furniture you want for your formal sitting room from what you might put in the den where everyone watches TV?
Wood
When it comes to quality wood furniture, Nancy recommends looking for hardwoods such as cherry, walnut, or maple - all of which can endure normal wear and tear.
The construction of wood furniture can also make a difference. For example, English dovetails and French dovetails are durable techniques used in wood furniture manufacturing.
"Most of us will instantly recognize an English dovetail where the irregular fingers fit together like a puzzle, making it difficult to pull apart," Nancy explained. "There's also a French dovetail using the same premise, but a single irregular joint built into the drawer front. This is invisible except from under the drawer. This is just as good and strong as an English dovetail."
On the other hand, you want to avoid drawers that were constructed with staples, glue, and mass produced lightweight materials because they're not as reliable.
Since wood furniture ages over time, there are a few things you can do to ensure it ages evenly:
Move around any decor that sits on top of your furniture (like a lamp on an end table or a jewelry box on a dresser) to avoid color differences. If you do notice a lighter or darker spot underneath an object, you can move it and give it time to catch up with the rest of the furniture.
When you get a new piece of wood furniture that may not match the same type of wood you already have, you can put it in a little bit more sunlight for the first couple weeks after you buy it.
If you have an extension table, put the leaf in from time to time and let it sit so that it ages evenly with the rest of your table.
Watch now: How to Identify Quality Wood Furniture
Fabric upholstery
The type of fabric you choose for your furniture can affect its longevity. Quality options like performance fabrics are great because they can handle the wear of everyday life. Sunbrella, for example, is a stain-resistant and fade-resistant fabric that's ideal for outdoor use.
You'll also find fabrics that don't hold up as well.
"If you choose a really pretty printed cotton fabric, it's going to wear like a really pretty cotton blouse," said Nancy. "You're not going to get longevity. Having said that, it could be a spectacular look on an accent chair, a slipcover, or in a low-use room."
Leather
The kind of leather that's on your furniture matters, especially if you want it to last.
Some leathers show a lot of marks or scars. Because of this, they need to be "corrected" and usually have a heavier protective finish on them that can feel like plastic.
Bonded leather is repurposed from leather scraps that were shredded then glued onto a fabric back. It looks and feels like leather, but it peels and won't last more than 3-5 years.
*Note: Circle Furniture doesn't carry bonded leather. We carry leather and leather-like textiles, and we'll be happy to differentiate between the two when exploring them as options with our customers.
The most long-lasting leather you'll find is aniline, which is leather dyed in its most natural form. The dye saturates the hide, allowing unique marks and variations to come through, and protection is limited. With that in mind, aniline isn't ideal for families or heavily-used spaces since it offers the least amount of protection.
To ensure the longevity of your leather furniture, take a look at the leather care section on our website.
Read more: Leather Furniture Q&A: Everything You Need to Know
Foam
For quality foam, you want something with high density (how firm it is) and high resiliency (how easily it bounces back to its original shape when you get up).
Now if you've ever noticed sawdust on or under a piece of furniture, it's because it was made with low-quality foam:
"In the past I've had people say there was sawdust under their furniture, and they thought maybe there were insects in it or something," Nancy explained. "But a very low-quality foam - they literally blow sawdust into the foam to make it bigger, to make it whatever it is."
Tips to ensure the longevity of your furniture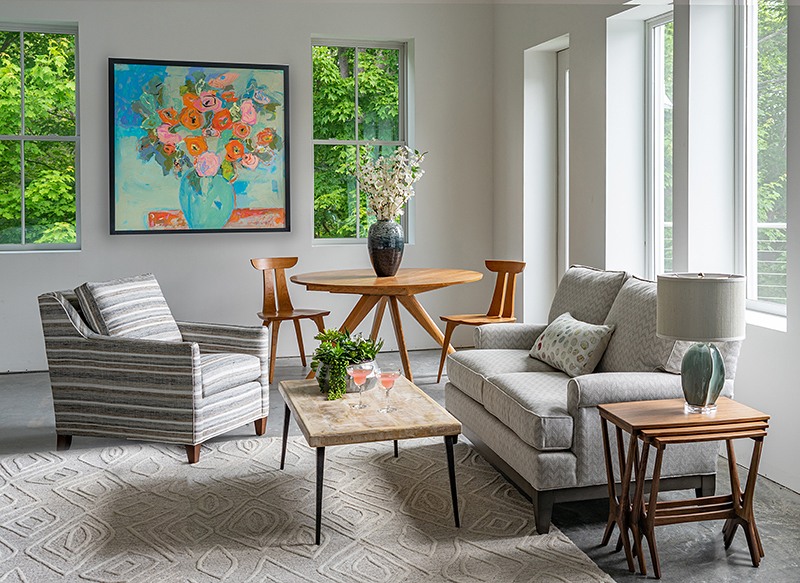 To maintain the life of your furniture, flip, fluff, and rotate sofa and chair cushions. Vacuuming up dust and dirt also helps, but how often depends on how much you use your furniture. If it's the family room sofa you sit on every night and also snack on, then you'll have to vacuum it regularly.
For your furry friends, you can use a blanket to cover any areas where they often sit to help prevent wear and tear.
To read more on furniture care and the best ways to maintain leather, wood, and fabric, click here.
How a design consultant can help
Throughout the furniture buying process, a design consultant is going to take the time to listen to your needs and understand where your priorities lie:
"If they're immediately talking about their 4 kids and 2 dogs, I know that their priorities are gonna be longevity, quality, and endurance," said Nancy.
In other words: be sure to communicate with your design consultant and spare no details. Let them know how you live and what you hope to get out of your furniture.
If you want to ensure you make the best purchase for your home and your lifestyle, schedule an appointment with one of our Design Consultants and they'll help you through the process!
Author: Marycatherine Karcich