Comfort Sleepers
No bars, no springs, no compromise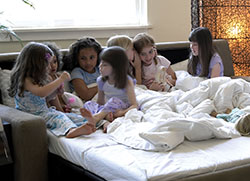 The Comfort Sleeper™ is a home furnishings jewel, blending Comfort and Style with Function and Fashion. The Comfort Sleeper features the patented Tiffany 24/7 platform system topped with five inches of luxury high-density foam. Sit or sleep with total comfort, with no bars, no springs, and no sag.
More sleep space requires less floor space. The patented Comfort Sleeper mechanism folds out from the back of the sofa. When the bed is open, it takes up as much as 9 inches less floor space than a conventional sleeper. And the Comfort Sleeper is the only sleeper with 80-inch mattresses in King, Queen, Queen Plus, Twin XL, Cot, Double-Cot and Sectional sizes, just like all the beds in your home. Conventional sleepers are only 70 to 75 inches long.
Check out our Comfort Sleeper collection.
---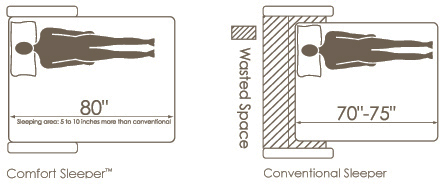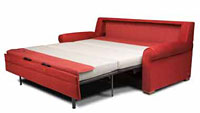 The only sleep sofa available with a Tempur-Pedic™ mattress. The world's best sofa sleeper pairs with the sleep system that's out of this world with comfort. Originally developed by NASA scientists, a Tempur Pedic™ mattress conforms perfectly to your body, allowing your shoulders and hips to sink into the mattress just enough so that support is provided along with your entire body. Also available with a Gel or Premier mattress.
Allergen-free, waterproof and stain-free with the exclusive Crypton® fabric mattress cover. The soft, white mattress ticking is protected by Crypton, a remarkable fabric technology that is anti-microbial, allergen-free and a barrier to dust mites. The waterproof and stain-proof covering adds years to the life of the mattress and ensures that the bed is fresh every time you open it.

Small space? Narrow hallways? No problem. Comfort Sleepers fit the smallest apartments, condos, and cottages. For a small fee, we can even disassemble your sleeper to get it through any tight entries. Perfect for converting any room into a guest room, queen-size Comfort Sleepers come as small as 69 inches wide. The unique design also fits through narrow hallways and doorways.
Dust barrier prevents dirt or dust from ever touching the mattress. Every Comfort Sleeper is protected by a cloth under the shield. When guests arrive, your Comfort Sleeper mattress will fold out without any dust bunnies clinging to the mechanism. they'll never experience a cleaner sleep.


CHOICES. CHOICES. CHOICES.
Choose leather, fabric, Ultrasuede or microfiber. With over 80 leathers and endless fabric options, we can help you create a look you love! Watch this five-minute video on some comparisons, features, and benefits of the Original Comfort Sleeper.

Come feel the difference at your nearest Circle Furniture.