Comfort Sleepers
A New Generation of Sleeper Sofas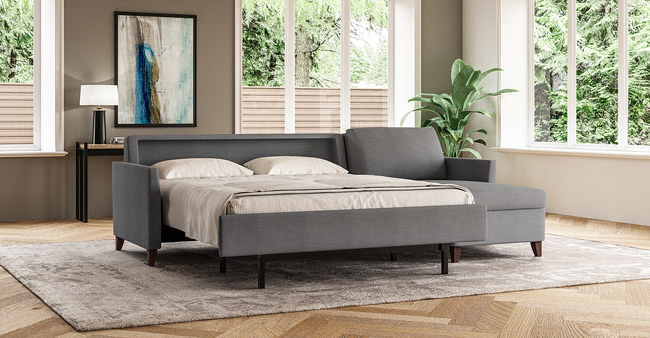 Long gone are the days when a sleeper meant an uncomfortable night's sleep and back pain from painful bars.
The Comfort Sleeper is the antithesis of all your preconceived notions about a sleeper sofa. As opposed to the bars and springs of yesteryear, the comfort sleeper features a patented 24/7 platform system topped with five inches of luxury high-density foam.
Besides comfort and style, the Comfort Sleeper offers practicality and functionality. Because of the patented mechanism which folds out from the back of the sofa, when the bed is open, it takes up 9 inches less than a conventional sleeper.
In other words—it allows you to have flexibility in your space without compromising on a good night's sleep for you or your guests. Unlike traditional sleepers that are 70-75 inches, the Comfort Sleeper is the only sleeper with 80-inch mattresses in King, Queen, Queen Plus, Twin XL, Cot, Double-Cot, and Sectional sizes.
No bars, no springs, no compromise. View the entire Comfort Sleeper Collection here.
More Features of the Comfort Sleeper:
The Comfort Sleeper comes with an allergen-free, waterproof, and stain-free with the exclusive Crypton® fabric mattress cover. The anti-microbial cover adds years to the life of the mattress.
The Comfort Sleeper is the only sleeper available with a Tempur-Pedic mattress. It also comes in a Gel or Premier mattress.
The Comfort Sleeper is designed to fit in the smallest, apartment, condos, and cottages.
The dust barrier prevents dirt or dust from ever touching the mattress.
As opposed to a one-size-fits-all approach, the Comfort Sleeper comes in multiple configurations and you're able to choose from over 80 leathers and endless fabric options.
We know it's important to be highly-informed before you make an investment in furniture. To read our complete review of the Comfort Sleeper along with comparisons and prices, click here.
Here are some more articles and videos to help you as you decide whether the Comfort Sleeper is right for you: