So your furniture's been delivered, and you're sitting at your brand new dining room table or lounging on your perfect new sofa when the thought occurs to you: how did you get here, you beautiful thing, and where have you been all my life?
We service thousands of customers a year at Circle Furniture, and we know that the interior design process can appear equal parts mystical and mystifying. So we thought we'd help.
Here's how your furniture comes into your world, all the way from a dream sketched in a showroom to a piece that quickly becomes a family treasure that you will enjoy for years to come.
Where's the best place to start your Interior Design Project?
So you've selected Circle Furniture as your retailer of choice, and you've decided to buy some new pieces for your home. First thing's first: ideally, you'll come into one of our six Massachusetts locations with the dimensions of the room or rooms you'll be refurnishing.
Even better, you'll have an idea of the styles you like, or perhaps a swatch of fabric or a paint chip. Why bother to bring in fabric or paint? Our designers want to get a sense of your style and aesthetic; and more than that, ensure that your new piece(s) blend seamlessly into the existing design of your room.
To do that, they have to know all the little details. Additionally, you will need to establish a budget and a time frame - we have some items in stock, but the majority of our projects are made to order and come with a lead time of around six to ten weeks.
Your Design Consultant will also sit down and ask a few questions, maybe sketch the room, to get you started on your interior design journey. In this short video Kelly, Senior Design Consultant in our Acton showroom, explains the Interior Design process and how to get started:
Finding the perfect piece of upholstery
After we've whittled down the selection by room, size, and style, you'll go ahead and 'sample' our selection. Here comes the fun part - trying out the selection of sofas and chairs in the showroom! Some considerations:
What kind of chair is the most comfortable?

Which sofas offer the best depth for you? Are you petite or tall?

What kind of coffee table will complement the room setting and what is the ideal height and width for the coffee table to be?

Do you need additional lighting?

A rug to tie it all together?
Additionally, think about the intended function of each piece.
What will be the focal point of your living room?

Is this the home base for all of that fabulous TV binge-watching, or will it be the heart of a formal sitting room?

Would you prefer to sink deeply into a sofa or sit up straight?

Ask your design consultant about the different kinds of

seating suspension

out there?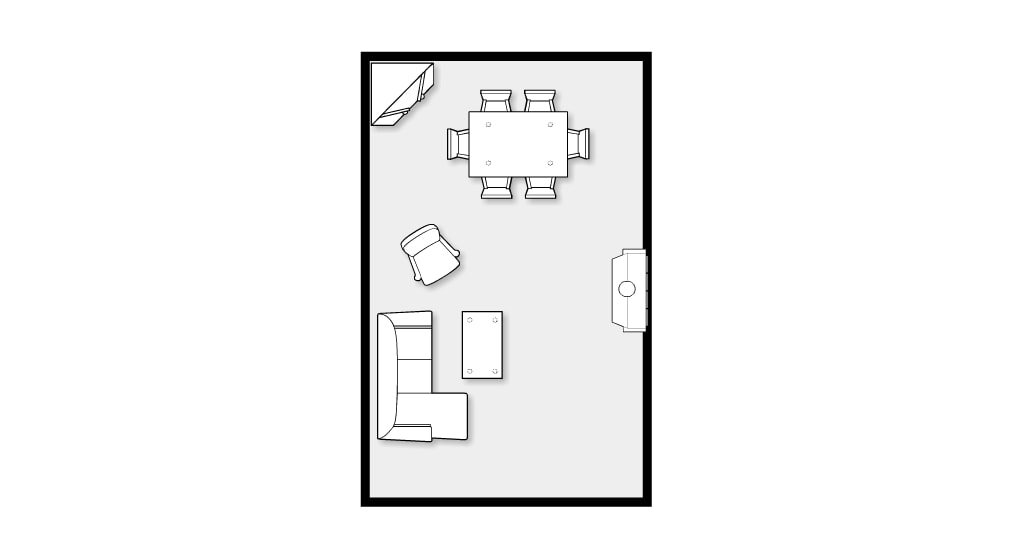 If your new furniture involves upholstery, we'll discuss the fabric or leather cover options that best suit your needs. Will this be fabric or leather? Have you considered a performance fabric? Then we'll recommend the finishing details:
What kind of leg finish would you like?

Would it be appropriate to add nail heads or buttons?

What about the size, shape, and fabric of throw pillows?

If you are complimenting your room with hardwood furniture - what do you need to know?

What types of rug weave and material will look and function best in this space?

What accent lighting is most appropriate?
The process can be overwhelming as you realize there are so many decisions to make - but best not to go at it alone. Find the right match in a Design Consultant, and they will help simplify and demystify the process.
Interior Design is not just about style - take function into account too
Style and fabric selection are fun and exciting, but a good designer also knows to consider the finer details like who will use the room and how.
Room planning is why the photos and measurements come in handy, and if you are starting from scratch, have the designer do a house call to measure for you. Space planning will help keep the room easy to move around in without filling the space with oversized furniture or dwarfing it with items that are too small.
Putting together a room plan helps to complete the whole picture and answers important questions such as:
Is there enough space for a comfortable walkway?

Do you have adequate storage for books, games, electronics or whatever else you may use on a day to day basis?

Will the furniture fit through the doors, hallways, etc. for delivery?

Are there seats for everyone you want to include in the conversation or activity?

Are the items you choose comfortable for your daily activities such as reading, watching TV or conversation?
Again, don't let this process get overwhelming - find someone who you trust to help you navigate these decisions. A trained designer knows which questions to ask and what to consider for each unique space.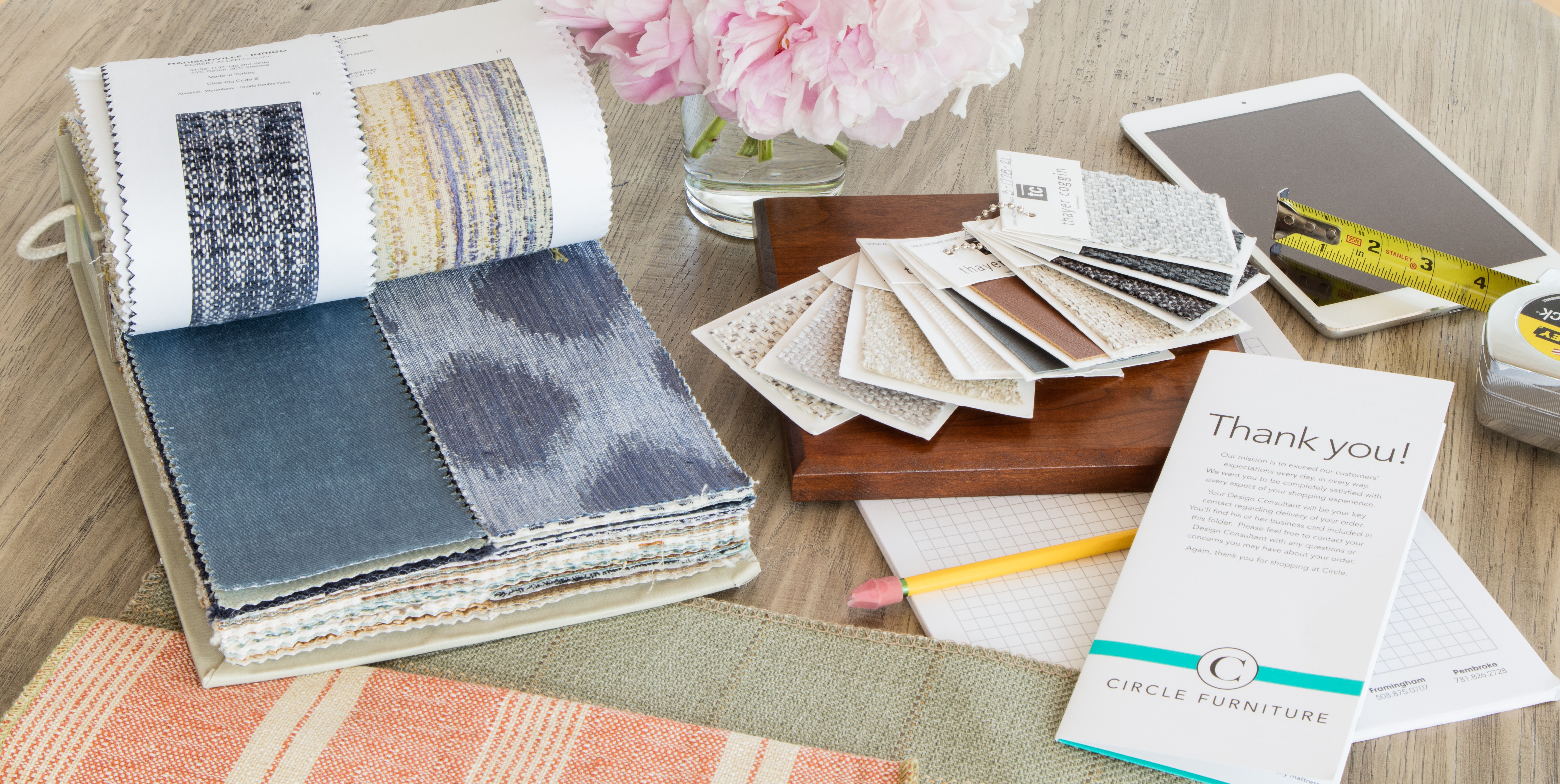 Preparing for your White Glove Delivery
For a successful installation of your new furniture, the room will need to be open and clear to accept delivery. If you require advice on what to do with old furniture, some great local organizations accept donations and even pick up - please ask your Design Consultant or the delivery coordinator for details.
When the delivery team arrives, they will confirm the layout before they set anything down in the house. We encourage you to be home at the time of delivery to inspect each item and verify everything is in good condition.
Please connect with our customer service team within 24 hours post delivery if you have any questions or concerns. Our delivery team will also take a photograph upon completion for your protection.
Some final thoughts; Did you purchase our Furniture Protection plan? Do you need a rug pad or table pad?
Our Delivery Coordinator or Design Consultants are happy to help. Here is a quick, three-minute video about what to expect from our White Glove Delivery service.
Designing your dream dining room
The same basic process applies to designing a dining room as it does a living room - we will start with an overview of what dining sets are on the showroom floor to get a sense of style and function. It is important to think about who will be using this room and how.
here are a variety of materials and finishes, such as catalyzed stains for wood or tempered glass dining tables, that may work best depending on your and your family's lifestyle and design taste.
Your designer can talk you through the benefits and durability of the finishes and materials to make your final selections. For dining rooms, it is important to establish how many people you would like to sit at the table on an everyday basis.
Do you prefer wood or glass? Will you be looking for a solid top dining table or, an extension table for the dining room for the flexibility to entertain a few more people on special occasions?
Extendable tables have come a long way since your grandmother's table where the leaves were stored in a nearby closet and, in order to open and close the table, everyone in the family needed to put some muscle into it.
Leaf extensions now not only self-store but can be opened by just one person. Even glass tables have extension options now.
Chairs can be a big part of any dining room budget. The craftsmanship that goes into each chair is stunning. Many dining chair options are available in a variety of price points to fit within a budget and design style. It is important to think about the style and materials you would like for the chairs.
These choices will affect the daily ease of cleaning the chair and overall lifespan. Your design consultant will be able to narrow down a vast selection based on what is important to you.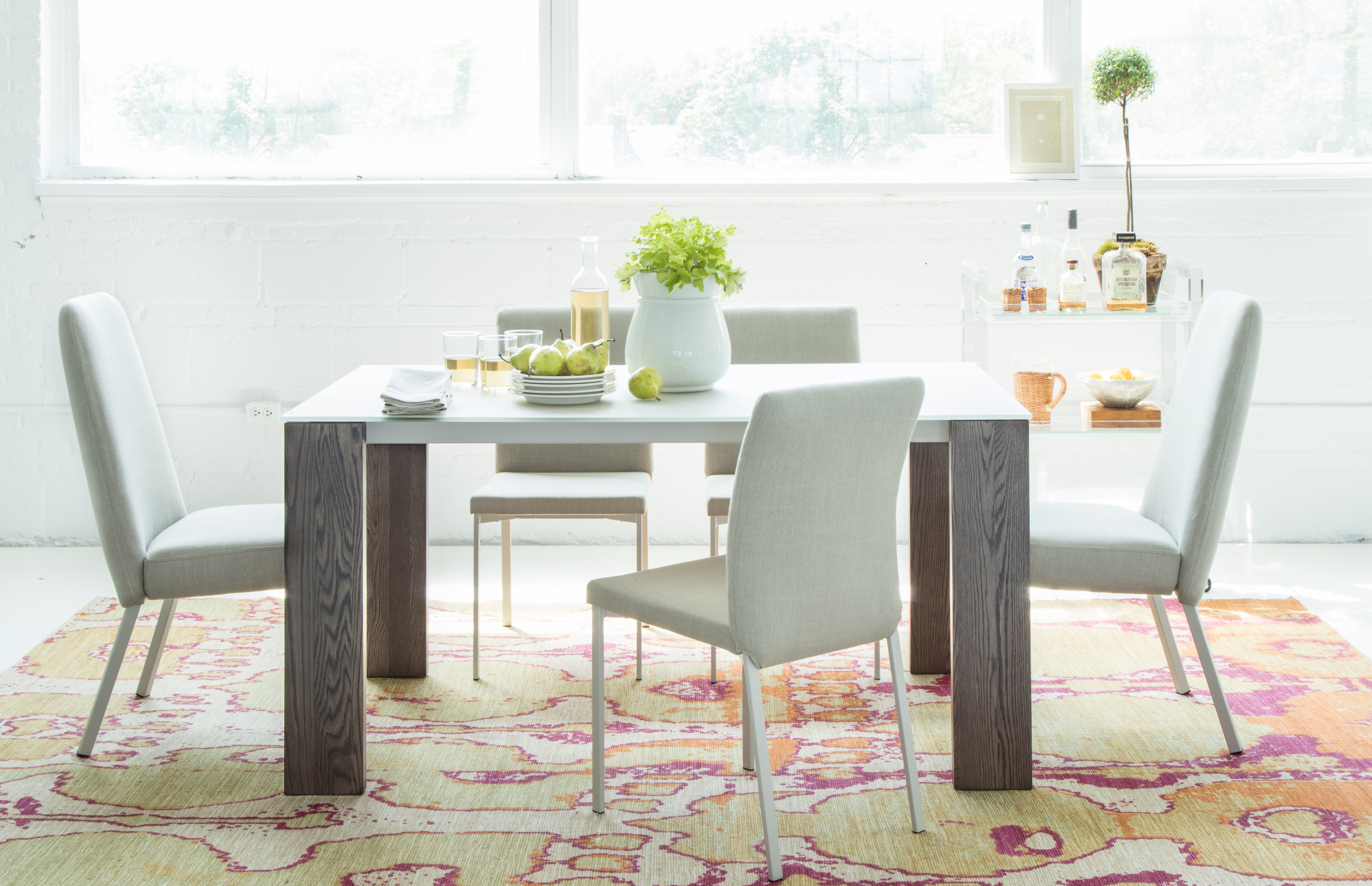 The Empire Table at Circle Furniture
Creating your sanctuary - the bedroom
Your bedroom is the first thing you see every day and the last thing you see at night - does it inspire you? Does it soothe you to a good night's sleep?
In this room, not only is function key but the layout and use of space. Your designer will lay out the room for you to answer a few fundamental questions - what size bed will fit? Is there adequate space for an accent chair or bench at the end of the bed?
From there you can create the perfect space from natural woods or inspired fabrics. Like upholstery, the sampling process is crucial for mattress selection. Our Natural Dreamer collection has three firmness options, and they are all made of mostly organic materials - making it not only comfortable with lifting support, but some will sleep better with that little extra peace of mind knowing the mattress made from natural and organic materials.
We also carry our line of mattresses made right here in Massachusetts which are affordable and come in a range of comfort options. One stop shopping for the bedroom - the bed and the mattress - can mean an easier and smoother experience for you.
Just one delivery to coordinate and one reliable source for the purchasing process from start to finish, plus one central customer service number to call if you have any questions after the fact. We help thousands of customers throughout New England with their interior design projects every year.
To hear from those clients and see some of those projects check us out on Houzz or Yelp. And when you are ready to get started, here is a quick review of what to consider before walking in the door.
In a nutshell:
Know your room's dimensions.
If you can, bring along a paint chip or a swatch of fabric for design inspiration.
Know your budget and time frame.
Get ready to sample!
Try not to fear the details. (They're what make your new furniture so special, but our Design Consultants can filter down to what matters to you.)
One stop shopping helps save valuable time and gives you peace of mind.
If you are ready to get started, book an appointment with one of our Design Consultants today and download our checklist of how to prepare for your complimentary in-store design consultation.