Unless you're moving into a new house, changing the design of your home usually happens in small steps. Sometimes it happens because one day you look up and decide you hate the paint color in your living room. Or, you realize the rug you inherited from your grandmother is starting to look very outdated.
The great thing is – you don't need to make twenty decisions all at once to change the look of your home. Creating a modern home doesn't need to be a huge overhaul. And it also doesn't need to include getting rid of your favorite pieces.
We put together a list of 5 simple swaps, additions, and changes to instantly create a modern look in your home.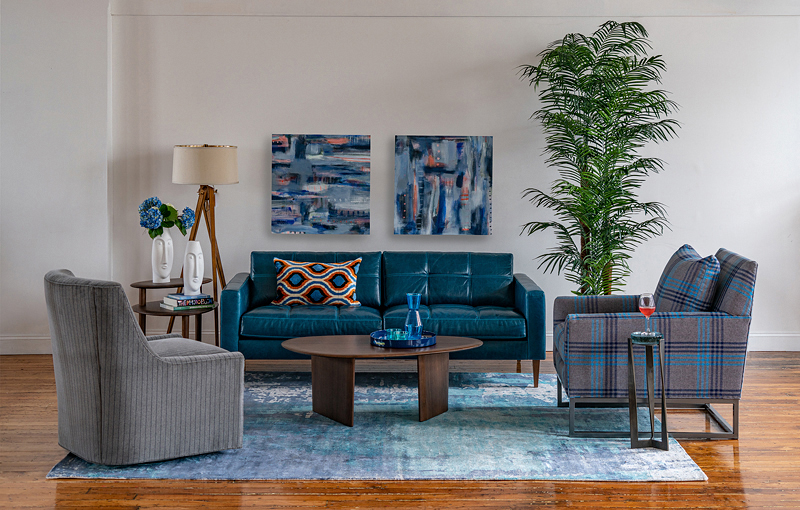 1. Streamline and de-clutter
A streamlined look is part of a modern home. Even if you don't love a minimalist look, reducing clutter where it isn't necessary allows the objects and furniture you love to stand out.
And besides creating a cleaner space, clearing out a room allows you to see it with fresh eyes. In rooms like offices and barely-used dining rooms, objects and clutter can pile up until you're so used to seeing it that you don't realize the potential of the room.
Start fresh by taking time to de-clutter and organize the room. For example, a cluttered and overstuffed bookcase can turn into a focal piece by stacking books and putting plants and art on display.
2. Change your walls, change your life
Although more of a project, nothing comes close to the power of color to instantly transform a room.
A dark room that gets no light isn't living up to its potential if it's painted in a deep eggplant. A lackluster bedroom in grey might be better suited to a warm tone.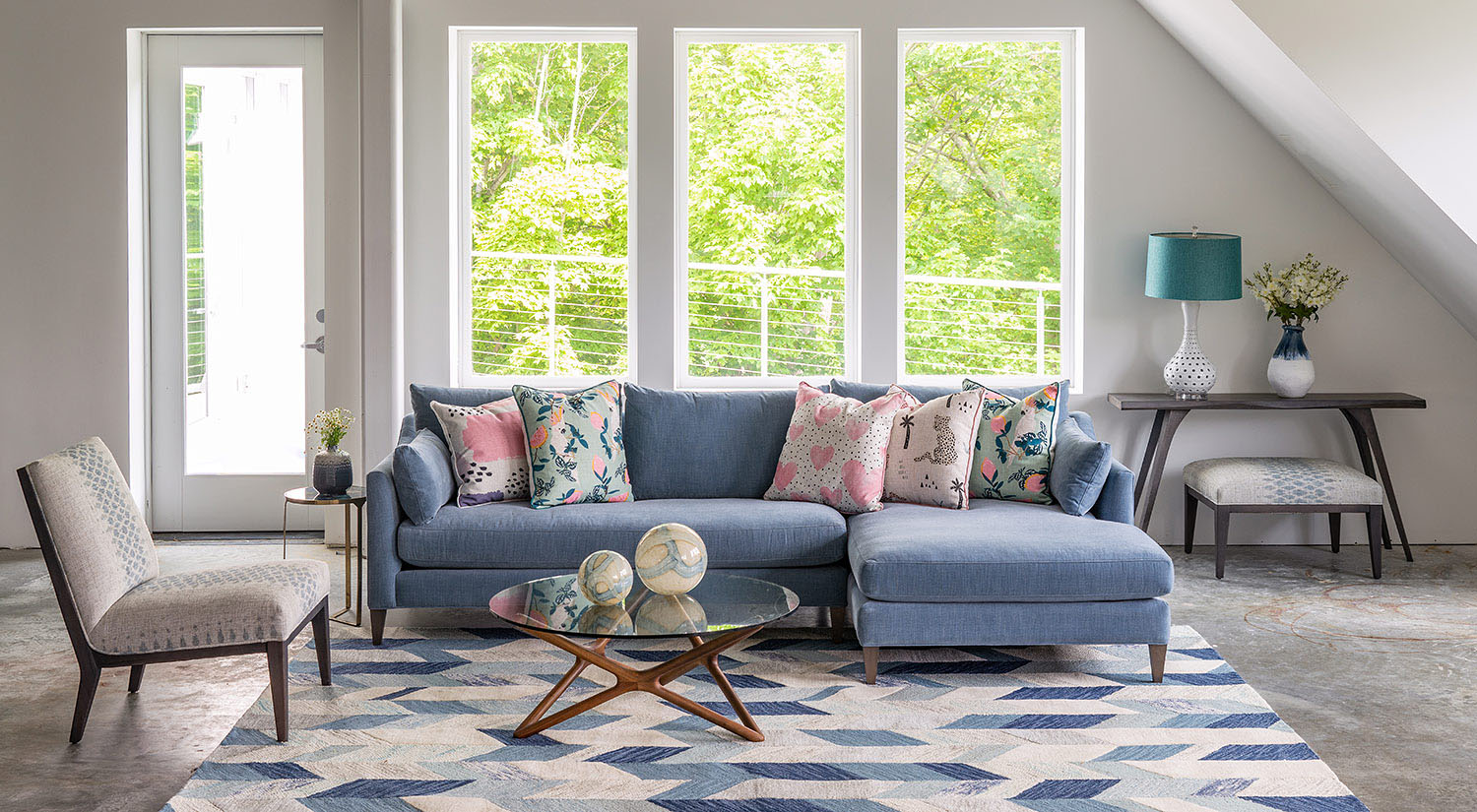 Color trends are always changing, and it's more about finding what works best for you rather than what looks beautiful in magazines. But, that being said, a modern color can create an entirely different tone in your home.
Greige doesn't seem to be going anywhere for a minimalist look, but we're also seeing a trend towards earthier and richer tones. Read this article to discover the 2020 wall color trends we love.
3. Swap your rug
Don't discount rugs just because they're on the floor! A rug often acts as the focal point of the room – even if it's unintentional.
This is especially the case with traditional oriental rugs that feature deep colors and intricate patterns. That's not to say there isn't a place for these rugs. In many settings, they can add richness and depth to a room.
But, if you're craving a fresher look, swap it out for something more contemporary–a faded rug in neutral tones, a Sisal for an earthy feel, or a geometric rug for a pop of color and interest.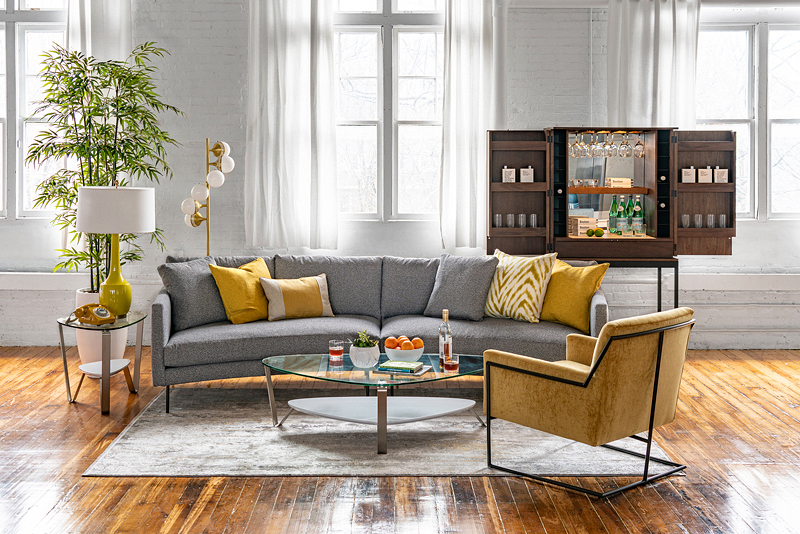 4. Let the light in
Similar to your rug, it's usually the overlooked elements of your home that can make the biggest difference. And window treatments can definitely go overlooked.
Draped heavy curtains can add unwanted weight to the walls and can, in certain spaces, look very dated. For a lighter look, switch to roller shades or woven shades.
5. Pick one new piece to invest in
Sometimes all it takes is one beautiful piece of furniture to make your space modern and fresh. If you've been hanging on to a rolled-arm sofa, but the rest of your space has a modern feel, consider investing in a lower, mid-century, or clean-lined sofa.
The same goes for a new bed frame, a streamlined dining table, or the media console of your dreams to transform your living room.
You might find, after de-cluttering and assessing your living space, that what you really need for a modern and functional living room, is a conversation area. A comfortable armchair (or two!) not only changes the look of your home but also makes it a functional and cozy space.
Read More: How to Add Color, Texture, and Life to Your Home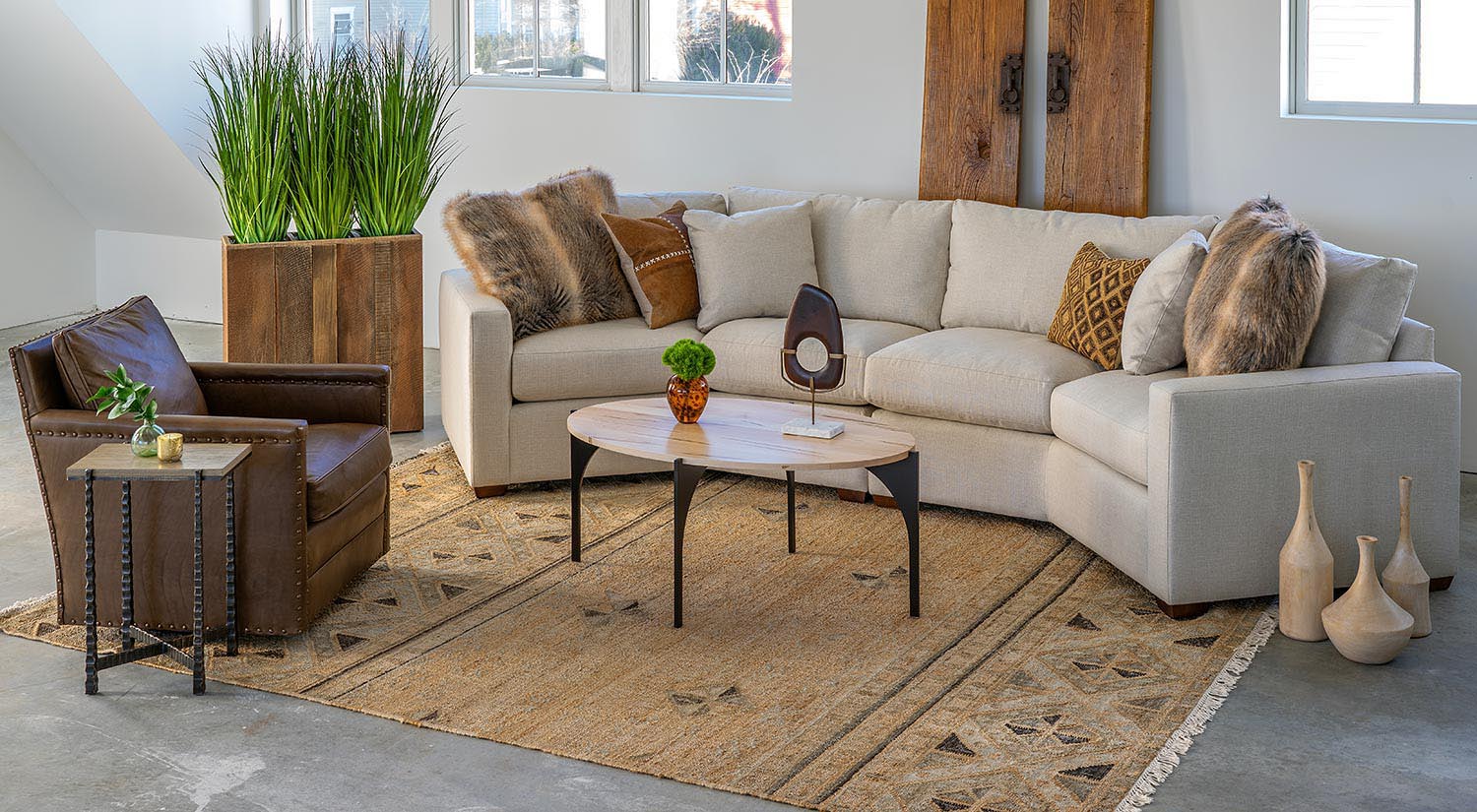 Talk to a designer you trust
When it comes to changing your home, there's no need to go it alone. The thing about your home is that it's your home and it's familiar – sometimes what you need is a fresh pair of eyes. Someone who can see your house from a different perspective.
Talking to a designer you trust is a great place to start if you want to make your home more modern, whether it's a small change or a whole overhaul.
We're lucky to have a team of dedicated, extensively-trained Design Consultants. Meet them here! Ready to get started on your design journey? Check out our Interactive Room Planner and come into one of our showrooms!
Author: Julia Maiman
Julia is a writer, blogger, and believer in the smell of old books. She has been crafting stories since she could put pen to paper. She is also a lover of dogs, traveling, and Led Zeppelin.