Our new partnership with Lighthouse Woodworks was meant to be!
When we choose which manufacturers and vendors we want to work with, we make sure that their values align with our own. Once Lighthouse Woodworks approached us, we quickly discovered that they checked all the boxes.
Keep reading to learn more about Lighthouse and hear why we're excited about this new partnership!
Who is Lighthouse Woodworks?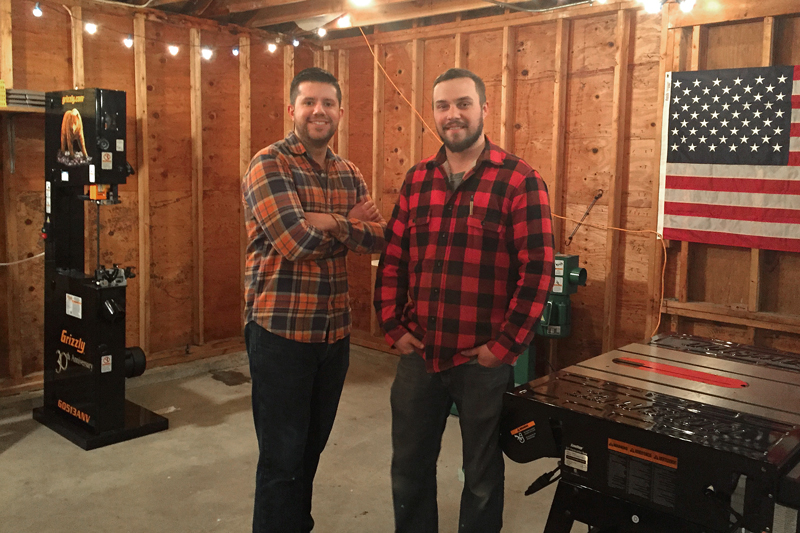 Locally made
Lighthouse Woodworks is located in Boston and was founded by long-time friends Daniel and Lucas after they both moved to the city.
"We love that they're local. They're right in east Boston - you can't get more local than that!" shared Brian Bechard, one of our visual merchandisers.
Similar to Circle Furniture, Lighthouse is a family-oriented business. Daniel and Lucas are husbands and fathers, so they understand the need for furniture that's designed to withstand everyday life. They'll work with you to create a custom-made piece that suits your lifestyle - something you'll enjoy for years.
Lighthouse focuses on dining and coffee tables, and their furniture complements what we sell here at Circle:
"We didn't have to buy special dining chairs to work with their tables," Brian explained. "We already had them in stock and knew that they would be a good fit, so that kind of shows how they marry well with our current selection."
Brian also explored how Lighthouse tables can work with the many homes here in New England:
"In terms of architecture, you have your homes that were built in the 18th - 19th century or your older homes, then you have your more modern homes. I think that their dining tables are a great fit that would work with any genre or century.
"What's great about their live edge tables," he continued, "is you can have a lot of fun with the chairs, so the juxtaposition of a modern rustic dining table with a more traditional chair can be really interesting and beautiful. I could easily see an upholstered, colorful fabric chair tucked underneath their table."
Sustainability
At Circle Furniture, we encourage sustainable living and work with manufacturers who do the same.
Lighthouse Woodworks shares similar values. They use reclaimed wood (or wood that's been repurposed), which helps to eliminate wasted materials and preserve our land's natural resources. They source all of their wood from the United States with some of it coming from local vendors in New England.
The company also uses live edge wood, which comes from trees that have already been cut down to reduce waste and benefit the environment.
Read more: Buying Green: Everything You Need to Know About Sustainable Furniture
Quality furniture and unique design
Brian described Lighthouse furniture as "modern rustic and warm." Their pieces are also functional yet beautiful and distinctive in their design.
Lighthouse's live edge collection, for example, uses wood that keeps its original appearance along the edges to showcase its natural character. This means dimensions can vary, but you get a unique table for your home.
Another collection from Lighthouse features epoxy river tables. Epoxy is a clear finish that's applied over the table's wood top in liquid form and then hardens. Before the liquid dries, you can customize with different designs and colors.
Our custom-made Wave Coffee Table was created using epoxy along with various pigments to mirror a picturesque beach scene.
"I like the wave coffee table because it's like artwork in your living room," Brian shared. "It's more than just a coffee table. It's different, it's a conversation piece, it's truly one-of-a-kind.
"It is a nice fit here in New England because we are a coastal community. I think even in the center part of the country where you're not coastal, some people still enjoy that kind of look."
Check out Lighthouse Woodworks in store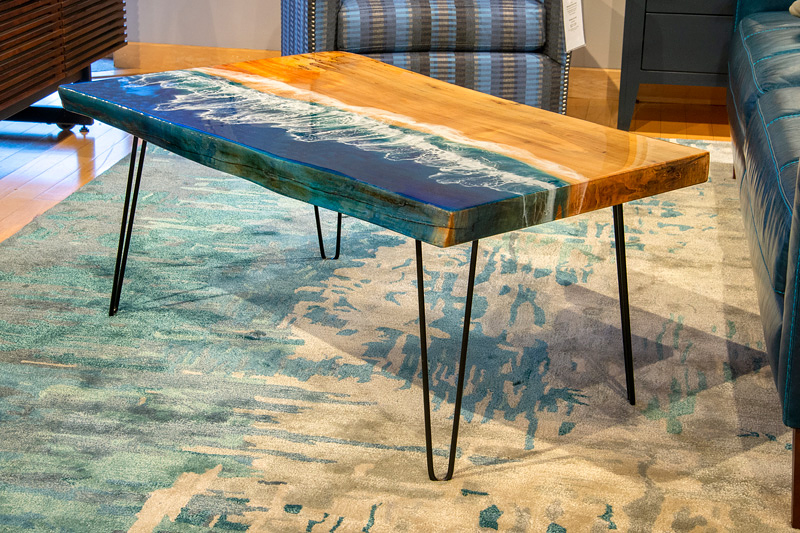 There's so much we love about Lighthouse Woodworks, and we're excited to show their beautiful tables in our showrooms! You can find the following tables in select store locations:
Author: Marycatherine Karcich