The dining room table is where you gather with family and friends, and it's most likely where you eat all of your meals. Although dining chairs may seem like an afterthought, it's important to invest in high-quality, durable, and comfortable chairs that will last through the years.
A dining chair can start anywhere from $100 to $400 and go up to $1,000. That's a wide range and it's hard to know how much you should spend or where to begin.
We spoke with Catherine Willey, our Store Manager in Framingham, to discuss how much a well-made chair costs and why it's worth investing your money in quality.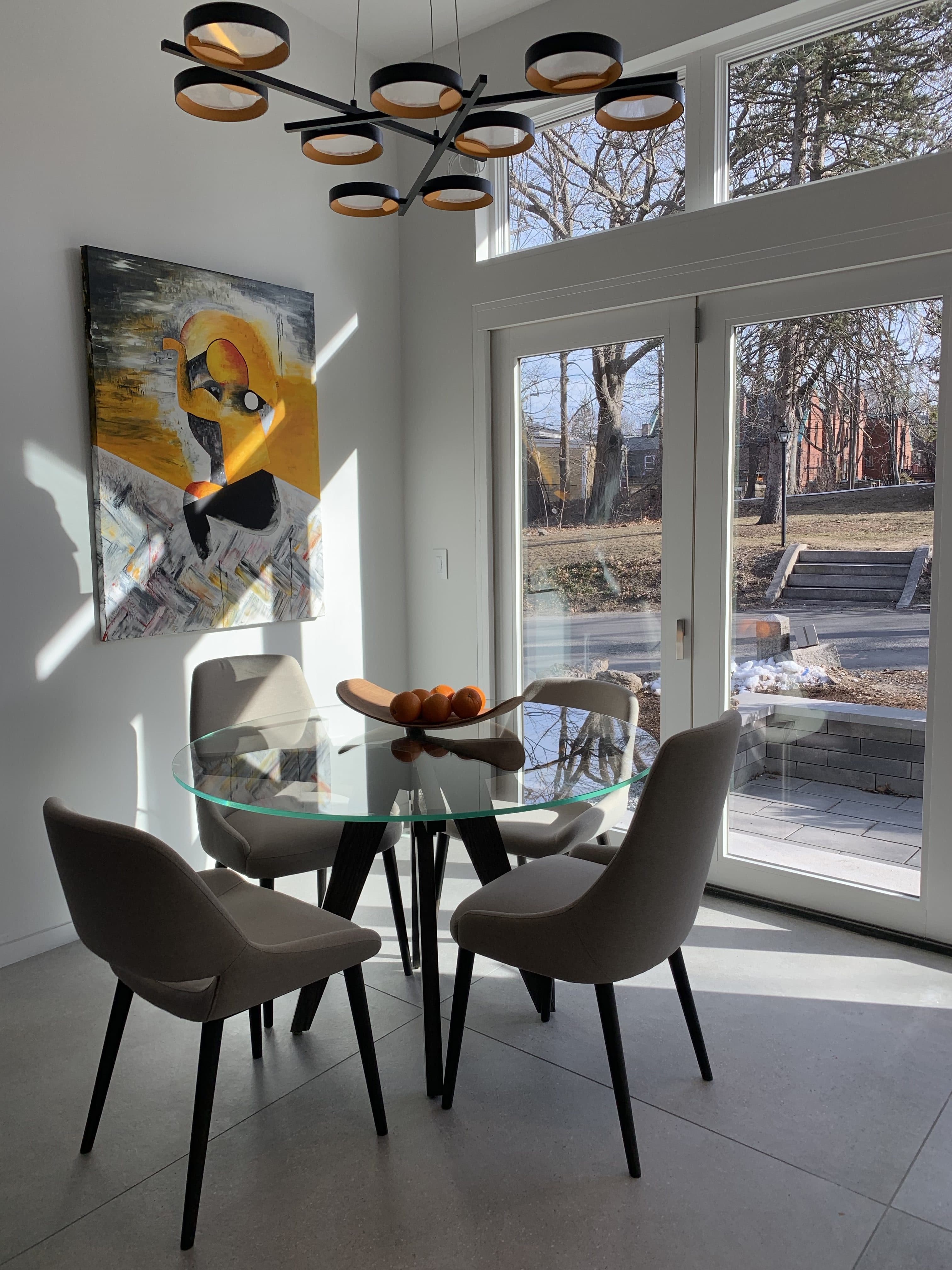 Questions to ask before you shop
When it comes to how much you'll spend on a dining chair, it depends on what you're looking for and how much you'll be using your chairs. Here are some questions to consider before you begin the process:
Are you working with an existing table? If so, you'll want to tailor the chairs to your table. You'll want chairs that have a similar wood, finish, and a similar or complementary style.

How often will you be using these chairs? Will they be in a formal dining room that's only occasioned once or twice a year, or will they be used every day for dinner?

What will be comfortable for you and your family? Generally, all wood chairs are not as comfortable as an upholstered seat or a chair with both an upholstered seat and back. However, an upholstered chair does have a more formal look. It's also important to note that upholstery requires maintenance and cleaning.

Finally, you want to consider the style of your home and dining space. Your chairs will add to the style of your dining room; whether you want a more modern style with metal legs or an all-wood design. You may even choose a fun pop of color with a painted chair to accent a family heirloom.
Read more: Dining Chairs: Upholstered vs. Wood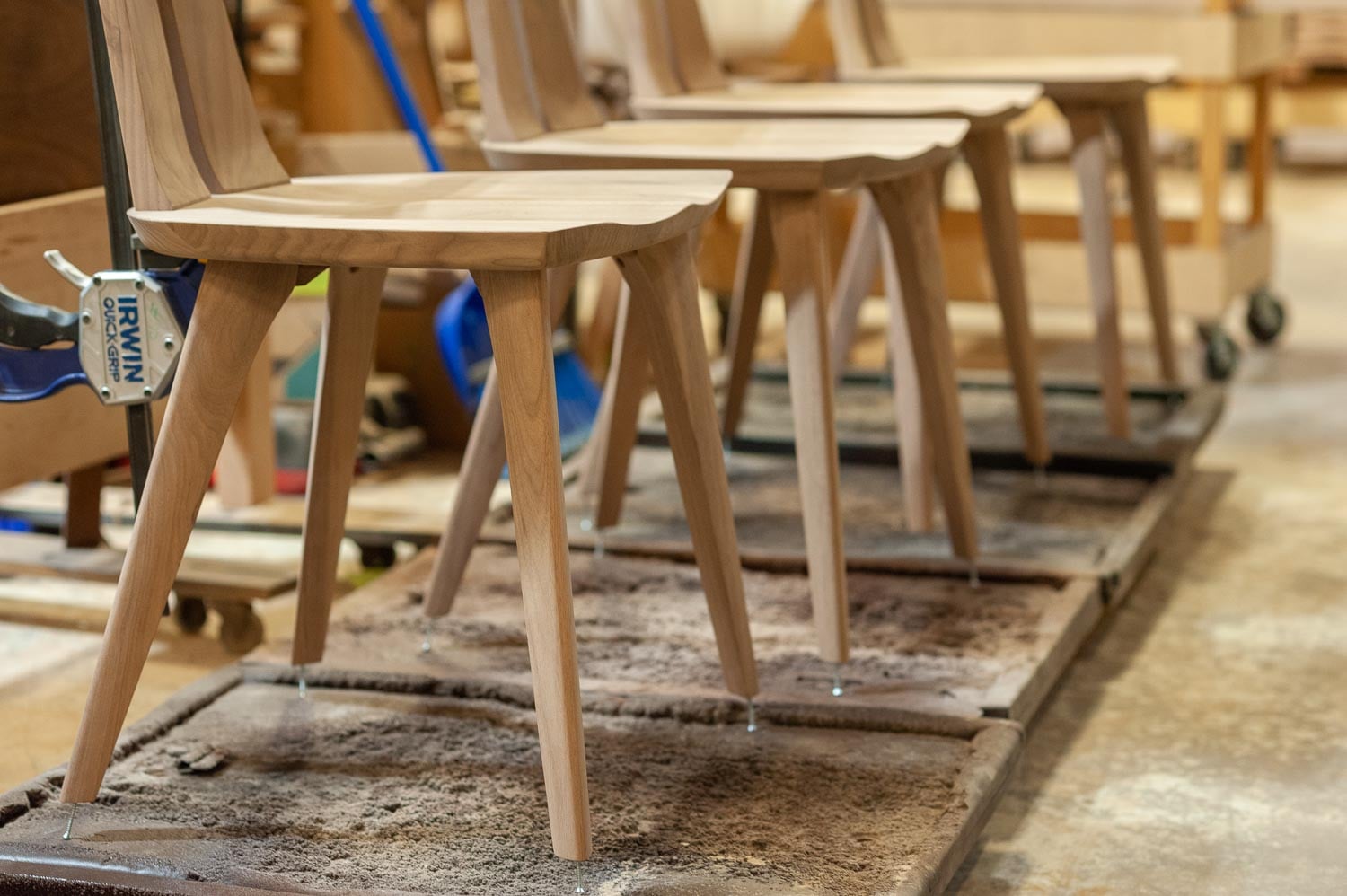 How much do you need to pay to get a quality chair?
Catherine explains, "A well-made and high-quality chair will generally be above the $300 mark." Below that, you'll find that your chair will not last nearly as long and the quality and durability will suffer. However, this doesn't mean you need to spend $1,000 for a good chair.
Quality will differ between styles and companies, but generally, after a certain point (roughly past the $800 mark) you will be paying extra for style and detail rather than a better-constructed chair.
Spending $300 on one chair may seem expensive. But let's not forget that while mass production makes life easier and cheaper, what comes out of it isn't always the best quality. Ultimately, you have to consider what works for your budget, for your home and style, and how long you want the chairs to last.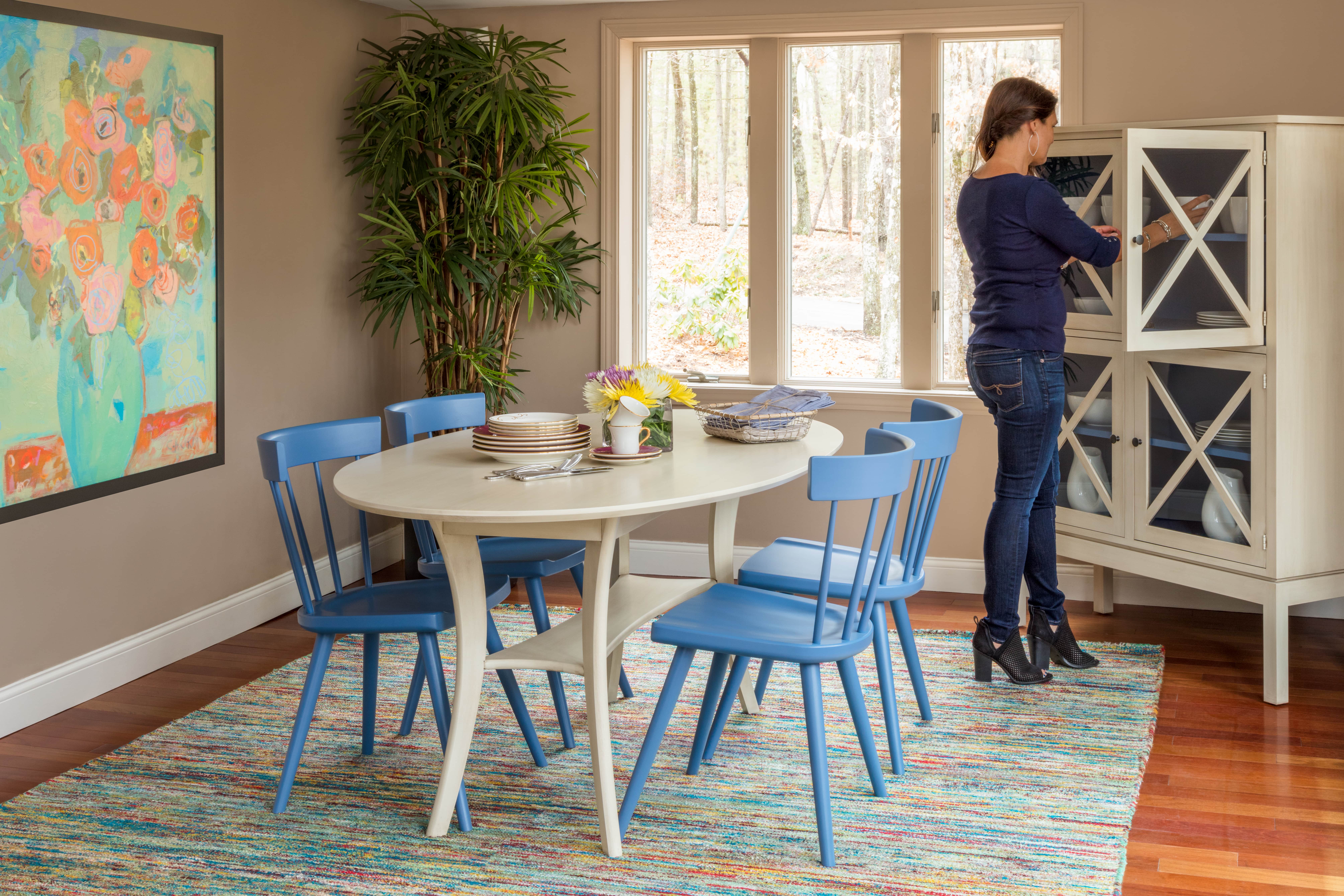 What are you getting for your money
It's important to be cognizant of exactly why you're spending more for a piece of furniture. Catherine says, "A dining chair is not something that can be machine-made." We work with local craftsmen who take pride in their work and take every extra step to ensure that their dining chairs are built with durability and longevity in mind.
What are the qualities of a high-quality, well-made chair?
There is a lot that goes into a well-made chair, but Catherine sums it up by saying, "Materials, craftsmanship, time, and labor. It can take as long to make a chair or two as it can to make a table."
In a high-quality chair that has a long back leg that extends to the back of the seat, it will be made from one piece of lathed wood. In a more affordable chair, the back leg will be made of multiple pieces that are glued and then shaped on a lathe. Catherine explains, "There is potential for this to weaken over time as the back of the chair carries most of the weight."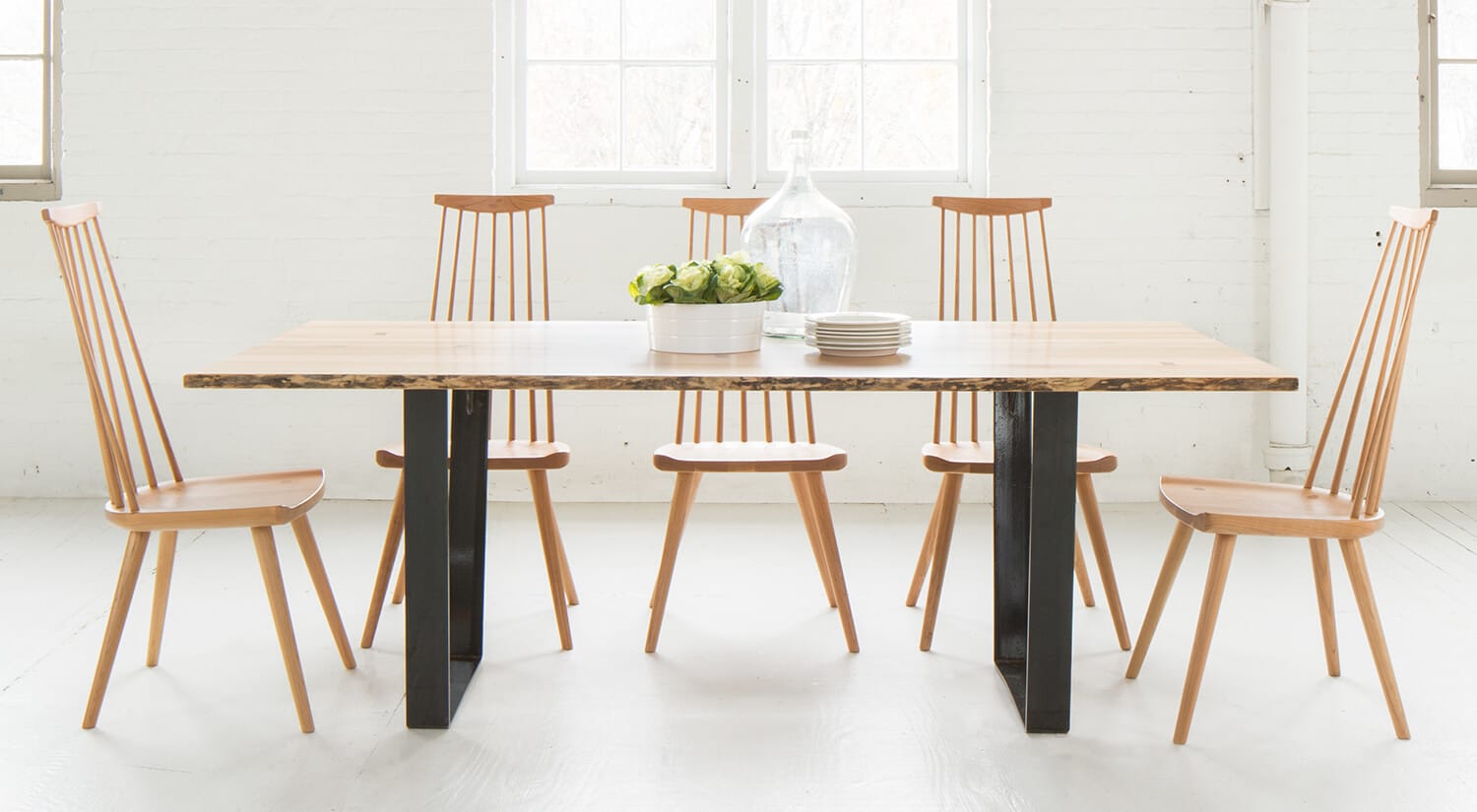 Catherine explains, "There will always be corner blocks or stretchers on the underside of the chair, giving it more stability and durability. And the chair back slats or dowels will be glued and fitted and sometimes run through a crimper. It's a lot of hand labor; all the bracing is done by hand."
If there are curves to the chair, it means that it was steam bent. "Making that one piece takes about a week," Catherine describes, "because you have to steam, bend, cool it, and repeat the process until it's in its desired shape."
Another distinction of a high-quality chair is the wood that's used. Catherine says, "Walnut will always be about 30% more." Hardwoods, such as oak, cherry, and walnut will generally cost more and be more durable, as opposed to softwood like pine or acacia.
Read more: How Much Does it Cost to Furnish a Dining Room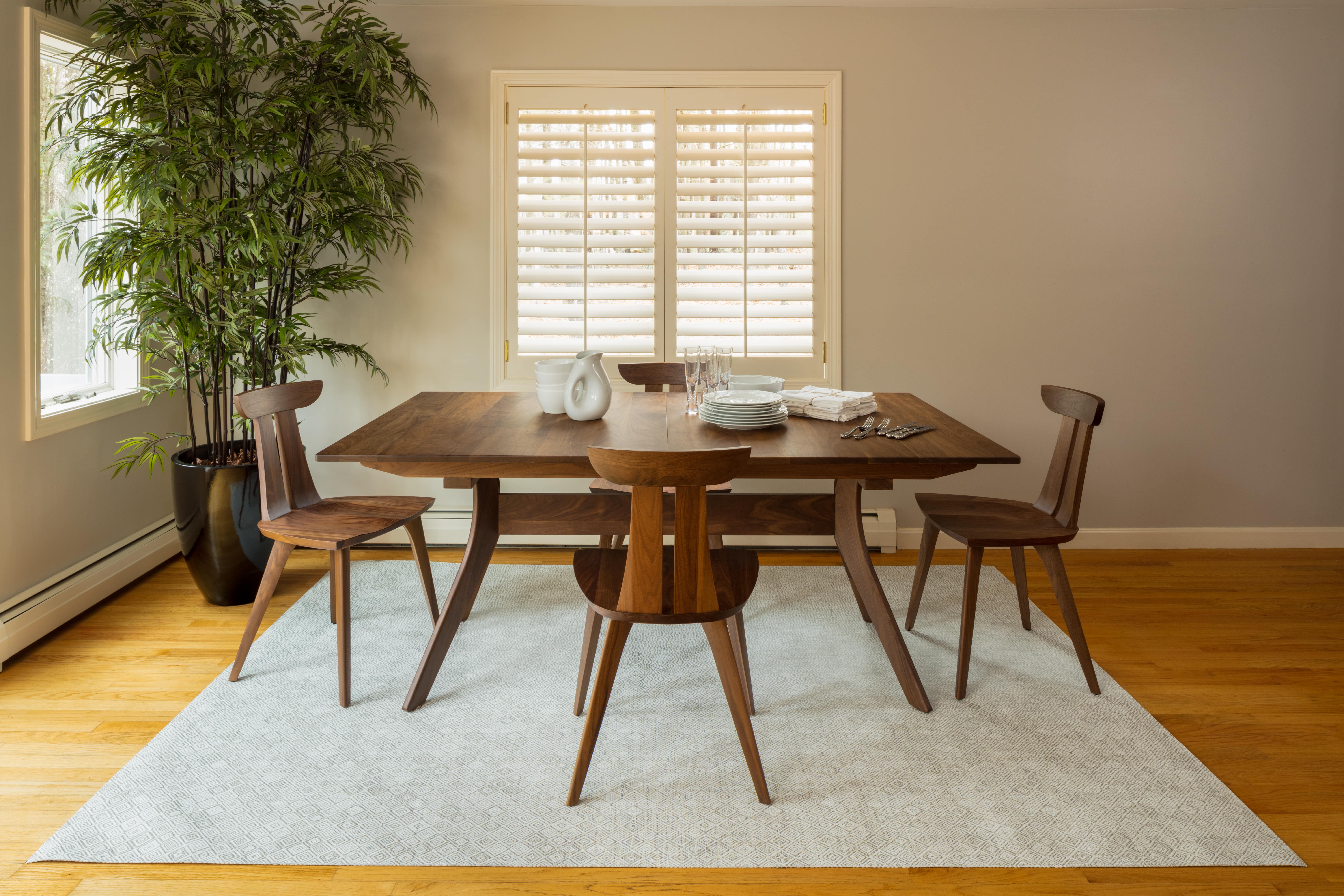 Visit a Showroom and Talk to a Designer
When you learn a little more about all the hand-labor and precision that goes into making a dining chair, the price you pay starts to make a little more sense. Ultimately, when you pay for quality, it pays out in the long-term.
Catherine says, "The dining chair is one of the pieces you'll use most in your house. You'll be sitting on it every day and you want it to last through the years. If you opt for a lower quality chair, you'll feel the difference over the time as the joints and legs will become loose and it won't be as comfortable to sit in."
Our Design Consultants have a wealth of knowledge about dining room furniture and will be able to go into detail about the construction and craftsmanship of our collection. Whether you're looking to furnish an entire room or you're just looking for chairs, come into a showroom and chat with a designer to get started on your design journey.
While we're on the topic of dining rooms...