A party is only ever as great as the company and the environment. Decorating a dining room to host parties is really about paying attention to the details. Is the lighting creating the desired atmosphere Do you have enough seating Are their design details that tie the room together We answer these questions for you here so you can design a dining room to host parties like a boss.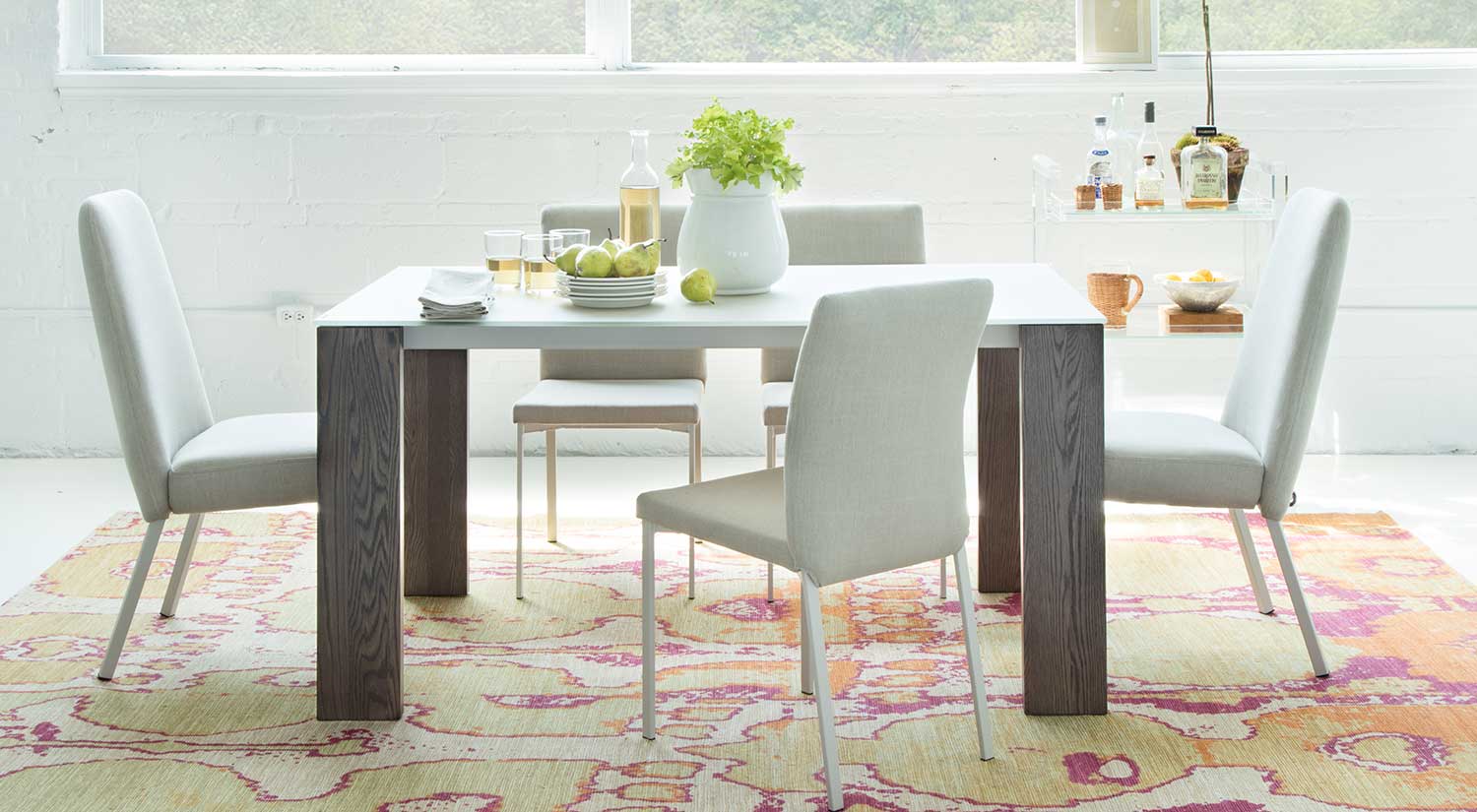 What's your party style
Before going all out and investing in bar carts and a dozen extra seats, take time to think about your party style. Asking yourself these questions will give you a good idea of where your design project will take you.
How often do you like to entertain
Who will you be hosting Family, friends, business associates
How many guests will you normally be hosting
Are you a casual, easy-going host
Will you be hosting cocktail parties, formal dinners, or casual parties
What's the layout of your dining room Is it a small, narrow space An open-concept dining space
Are cocktails (or mocktails) center stage
Do your parties roam between outdoor and indoor
?

Choose Multi-Purpose Pieces
The very first piece to think about when decorating a dining room for entertaining is the table. What are the key features to look for Versatility and style. For some, this may mean opting for an extension table, like the Sarah Trestle Extension Table. It might mean a dining table that has mobility in case you want to move it out of the way. Naturally, you'll want to invest in a high-quality and durable table that will withstand your gatherings. And don't forget that the dining table is the centerpiece of the room, so look for one that's aesthetically pleasing. You might gravitate towards the rustic look of the Live Edge Fairfax Dining Table or the striking, modern look of the Exeter Table or the Serpent Glass Table. Your dining table might be a family heirloom piece that not only brings together the style of the room, but carries meaning as well. Next, you'll want to consider seating. As you'll be hosting regularly, you want to be sure you have comfortable, cleanable, and durable seating options. Mobility is also a factor here as you'll most likely be moving the chairs around. And just because your chairs should be practical, doesn't mean they can't be stylish too! Read more: How to Choose the Best Dining Table for You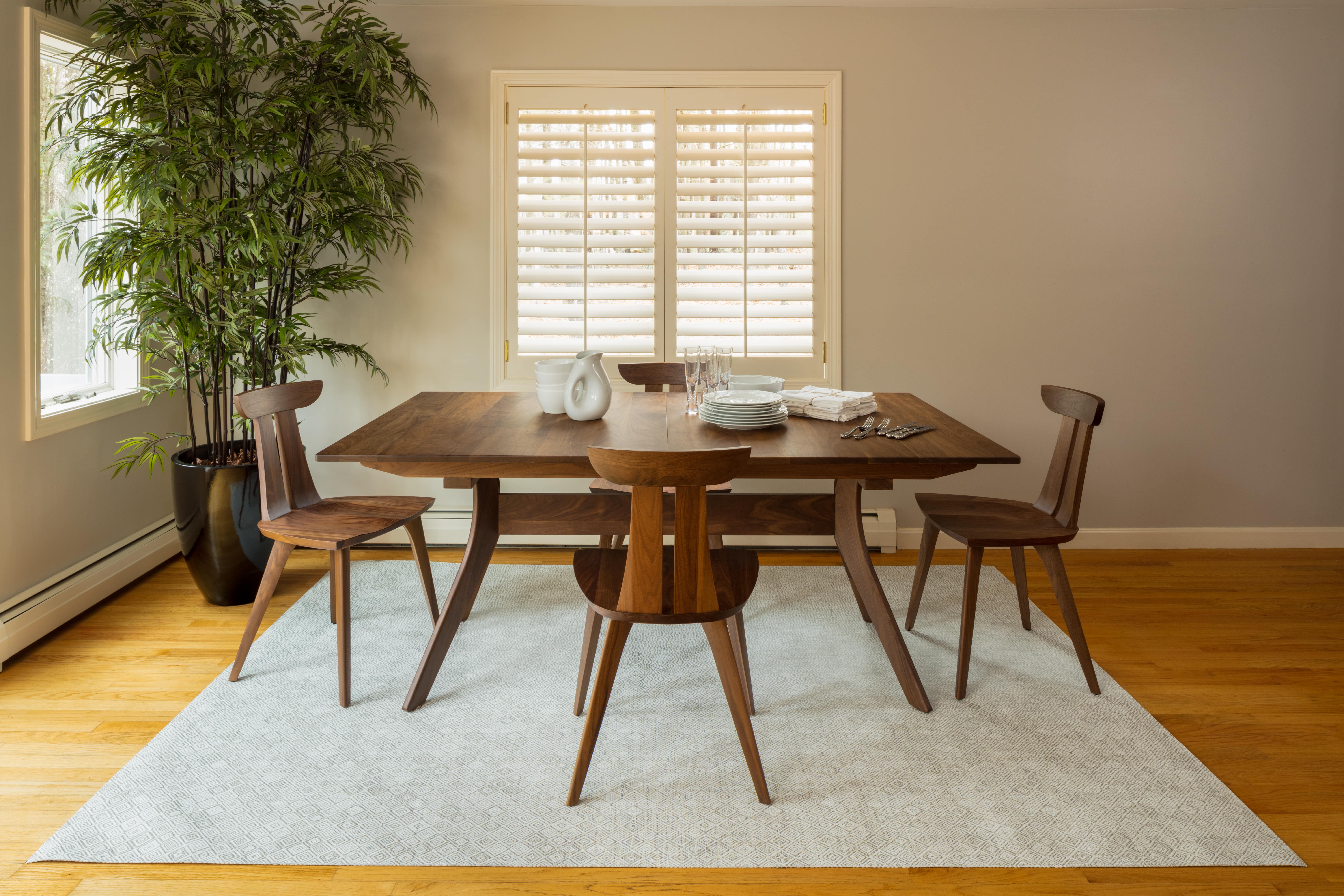 Optimize your space
If you frequently host parties, it's important to make the most of the space you have. Especially if you have a small or narrow dining room. When it comes to tables, extension tables allow for a lot of versatility in your seating plan. Catherine Willey, from our Framingham showroom, explains, "You might use your 42" x 72" table to seat 6 for an intimate dinner, but add one or two 18" leaves to seat 8 or 10 people." If your dining space is narrow and small, you should stick to a table that's 36" wide, even if it has 60" or 72" plus leaves. You can also consider moving the table to one side of the room to serve food as a buffet. Read more: How to Decorate a Small Space: The Best Ways to Visually Expand Your Room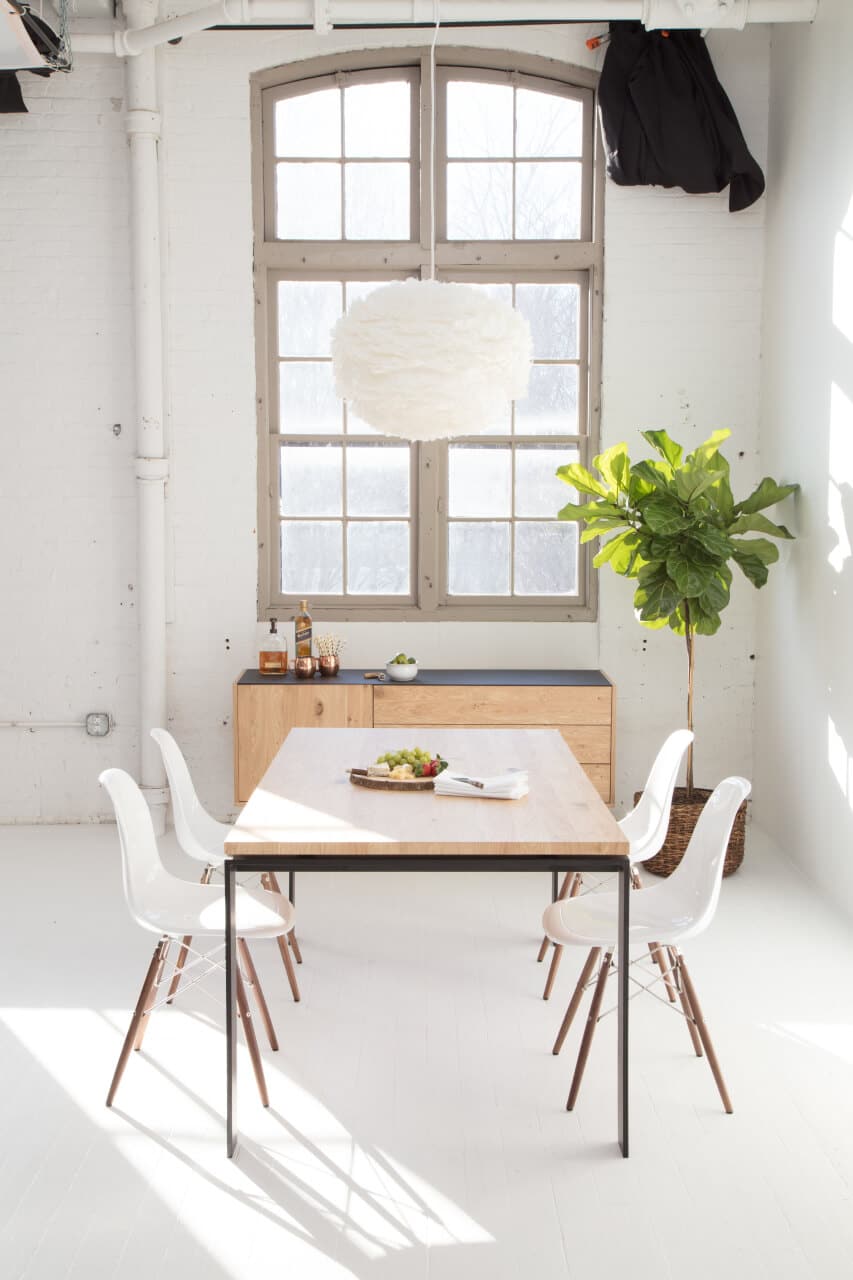 Good lighting is key
As you might imagine, having good lighting is key when you're entertaining. The first step is to take stock of your lighting situation currently. Do you have a lot of natural light flooding in Do you have recessed lighting in the ceiling If you're lacking in the lighting department, bring in an extra fixture. Be sure to choose bulbs purposefully when you're adding in light fixtures. Warmer or cooler toned light will change the atmosphere of the room. If you have a chandelier, don't hang it low! Catherine describes, "If you choose your ceiling fixture carefully you should be able to move your table aside and walk under it, with all but the lowest ceiling heights."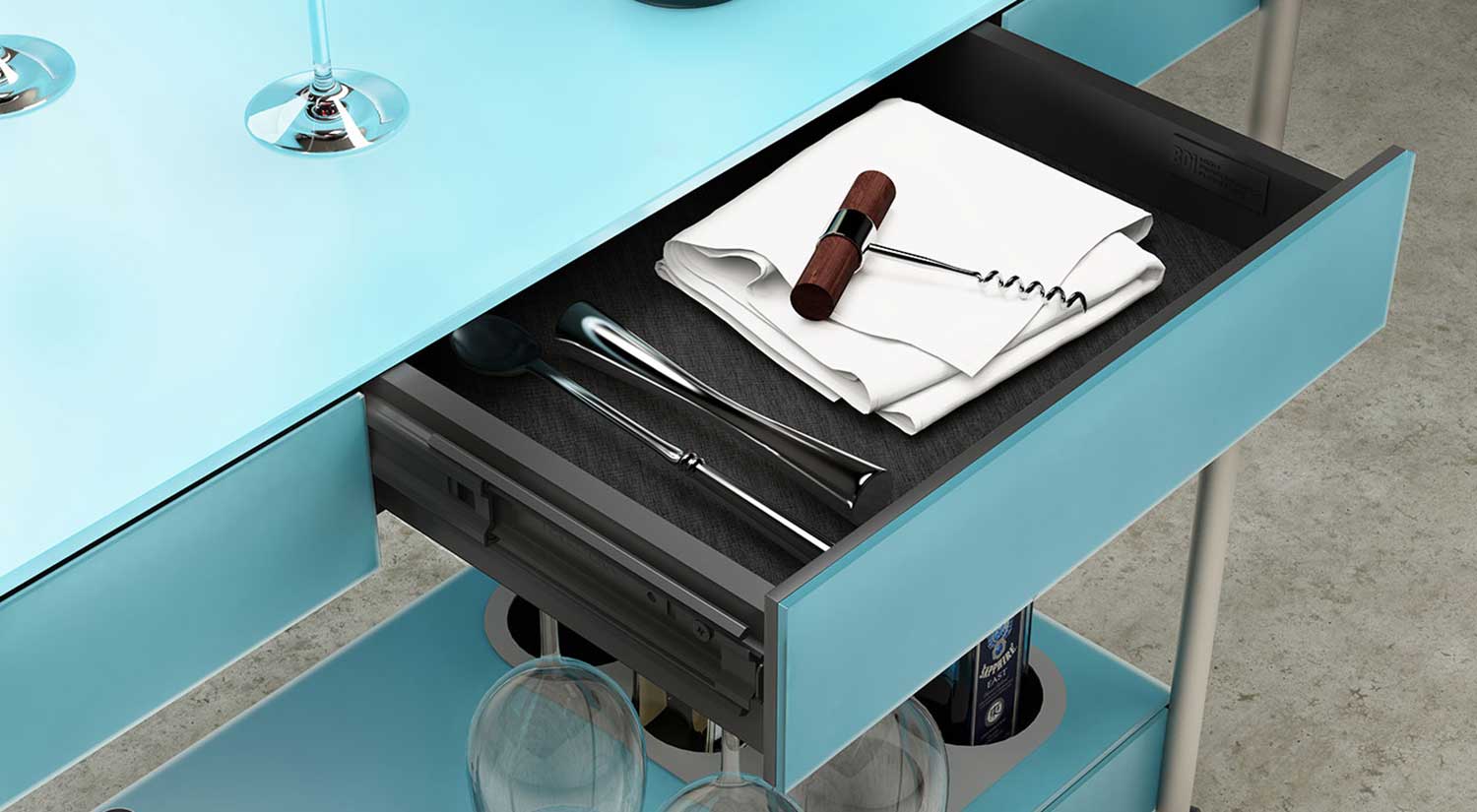 Verra Bar Cart in Aqua
Bring the design together with accent pieces
Adding in an accent or statement piece is the best way to take an ordinary, everyday space and take it to the next level. A beautiful, locally made dining table is a great way to make a statement, especially when paired with a selection of uniquely designed chairs. The buffet or hutch is a functional addition, but also a piece where you can express your creative style. The Catalina Three Drawer Buffet has a sleek, modern look. If you prefer a more traditional look, you might prefer something like the Hudson Buffet. Catherine recommends choosing a hutch with an open lower area rather than a full hutch top if you want to have an extra serving area or the ability to set up a beverage station. Bars and bar carts are really popular right now, and there are so many great options on the market. Some, like a butler's cart, will easily move around the room to your ideal location. Others are stationary but more fully outfitted. Several styles offer enclosed space with shelving, bottle racks, glass storage, and hanging storage for stemware. Depending on what you're looking for, and the types of parties you'll be hosting, there's a multitude of options to consider. The Verra Bar Cart comes in a variety of fun colors and moves around easily on wheels.
Top Tips
Here are some quick tips to make sure your dining room will be prepped and primed for any parties you have in the future:
Consider coordinating tabletop textiles (for example, napkins and runners) with colors that appear in artwork in your room. This will make both the textiles and artwork pop and create a fully pulled together presentation.
Use candles and centerpieces as artwork for your tabletop. Be creative and mix and match textures and sizes. Just be sure they aren't so tall you can't see over them when you're seated.
Perhaps you're more drawn to the "non-centerpiece." Catherine suggests "a grouping of low depression glass dessert cups with individual white blooms."
Use mirrors! Whether you use one large mirror or a grouping, they will bounce light and create the illusion of a more open space.
Chairs can move to the side for cocktail parties. Space them in gatherings of 2 to 3 so that you distribute conversation around your space. They can also be upholstered in performance fabrics that are highly durable and cleanable, for care-free entertaining.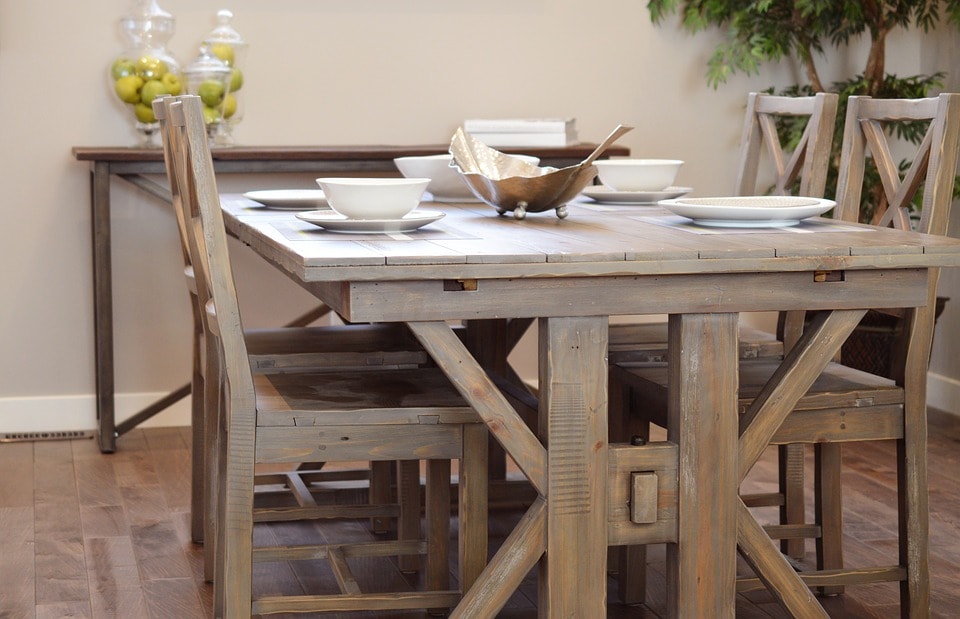 Conclusion
When you set up your dining room for success, you can relax when it's time to host. Use your space wisely, be sure you have sufficient seating, and inject a little fun and creativity into the design. Even simple changes, like choosing a bar cart or buffet over a tall hutch can make your life so much easier when it's time to host a party. Regardless of your design goals, our Design Consultants are here to help. Come into a showroom near you and chat with a designer. We pride ourselves on a high-quality and highly customizable line of furniture so you can tailor every piece to work perfectly for you. Wondering how much it'll cost you to furnish your dining room Find out here. Learn more about our Interior Design process so you'll know what to expect before you come in.