The dining table is a workhorse in the home because it holds all of your meals, holidays, and family gatherings. Maybe it also holds your coffee every morning, or perhaps it's reserved for special occasions, adorned with a beautiful table setting.
Regardless, finding a table means thinking about your lifestyle to ensure it's the right one for your home.
We've created an in-depth guide for all the different table options, from base to material, so you can make an informed decision and choose the best dining table for you.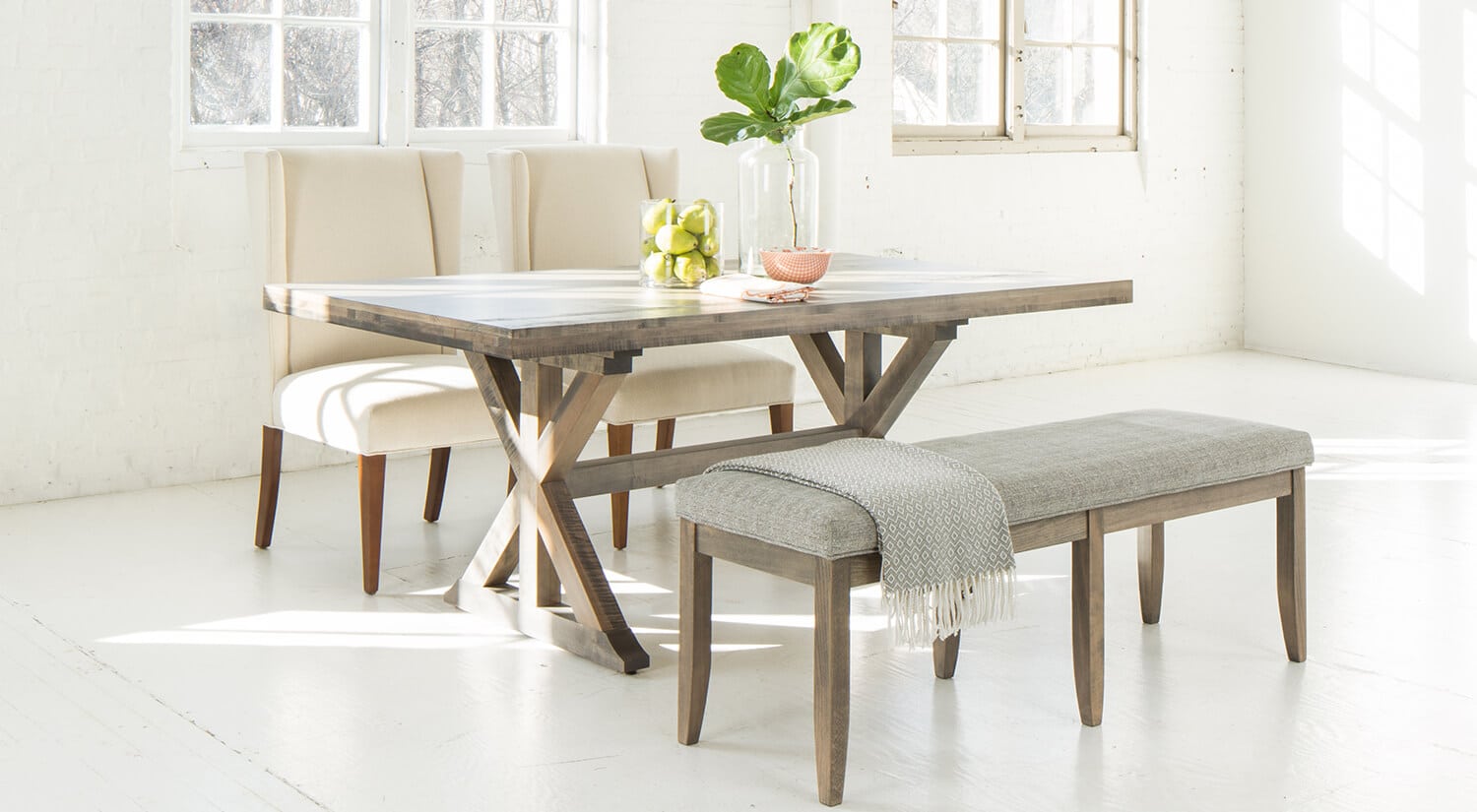 Weston Table
Where to Begin: Ask the Important Questions
Before making any decisions, think about your lifestyle and ask yourself these questions:
How will you use the table daily?
What does your room look like? Is it a rectangular dining room, an open-concept space, or a small room?
Will it be placed in a casual space or a formal dining room?
Do you have children? Will it be used for play and arts and crafts, or a table strictly for dining?
What's your attitude about cleaning? Do you have a low-fuss lifestyle?
How many people are you seating on a daily basis? Do you have a separate space for the holidays? And if it's the same space, how many people will you be seating?
Four Leg vs. Pedestal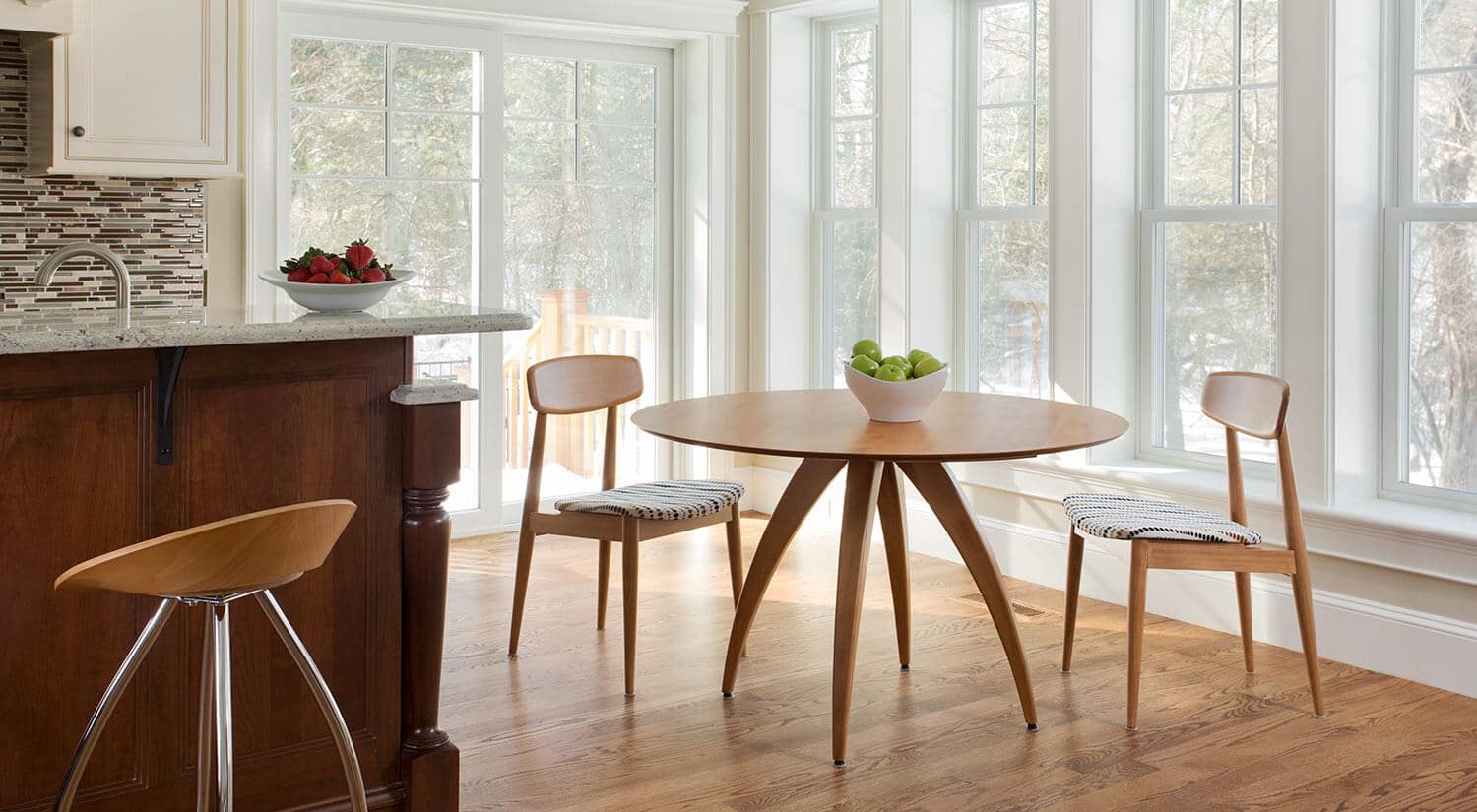 Ella Dining Table
Deciding between bases comes mostly down to personal style and how big you need your table to be. The base of your dining room table will either be four legs, a pedestal or double pedestal, or a trestle.
A four leg base is a classic, clean, and modern look. It's also the most versatile; it can be found in both big and small tables and it's a good option for people who want to add airiness to a smaller room.
A pedestal base sits in the center of the table. On a larger table, anything bigger than 42", the base would either be a double pedestal or a trestle. As featured on the Ella Dining Table, a pedestal can be a beautiful statement piece on a smaller round or square table.
Solid Top vs. Extension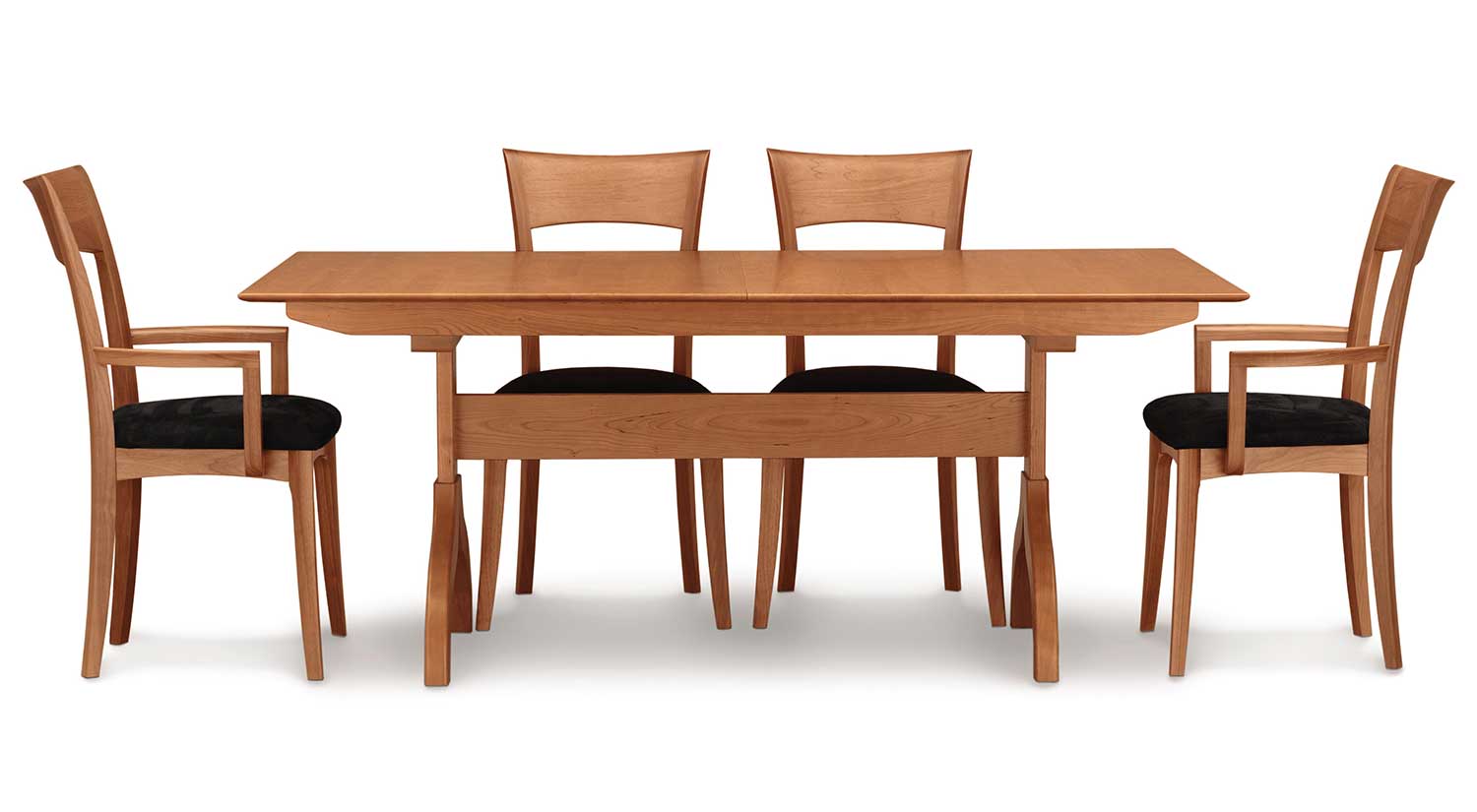 Sarah Trestle Extension Table
The top of your dining table will either be a solid top or an extension table, either in the form of separate leaves or butterfly leaves that fold into the table. The obvious difference between a solid top table and an extension table is the ability to seat more people at an extension table when you need to.
However, it's important to note that there's also a stylistic difference between solid top and extension tables. Catherine Willey, from our Framingham showroom, describes, "A solid top table is built with one beautiful stretch of wood and a continuous grain pattern. So, although you may not have the versatility of an extension table, many people prefer the look of a solid top table."
The lumber of an extension table runs side to side like train tracks so you won't see that continuous grain pattern. However, for ease of use and versatility, an extension table is a great addition to a dining room, especially if you plan on hosting parties.
Keep in mind that butterfly leaf extension tables are usually featured in four leg tables rather than pedestal tables, except for certain tables like the Chelsea Trestle Dining Table and the Sarah Trestle Extension Table.
Wood vs. Glass Top
After considering your base and top options, you'll probably think about material next. Wood is a classic and timeless option for a dining room table. And although it's a natural material, Catherine explains that "Wood comes with more protective finishes available than ever before."
Wood is nonabrasive and relatively easy to care for, although it can scratch. As it's a natural material, there will be pitch pockets and marks found in the wood. It's also important to note that hardwoods, as opposed to softwoods, have much greater durability and longevity.
If you don't like the natural look of wood and prefer a modern style, a glass top table might be for you. Glass is the perfect option if you want your space to feel clean and sleek. It will also visually expand the room and is easily cleaned with Windex. It's difficult but possible to scratch, and we do recommend a furniture protection plan if you're considering a glass top table.
There are also other materials, such as granite and marble, to consider. They're great options for a modern home, but both require protection and refinishing occasionally.
Read more: Homeowner's Guide to Natural Wood in Furniture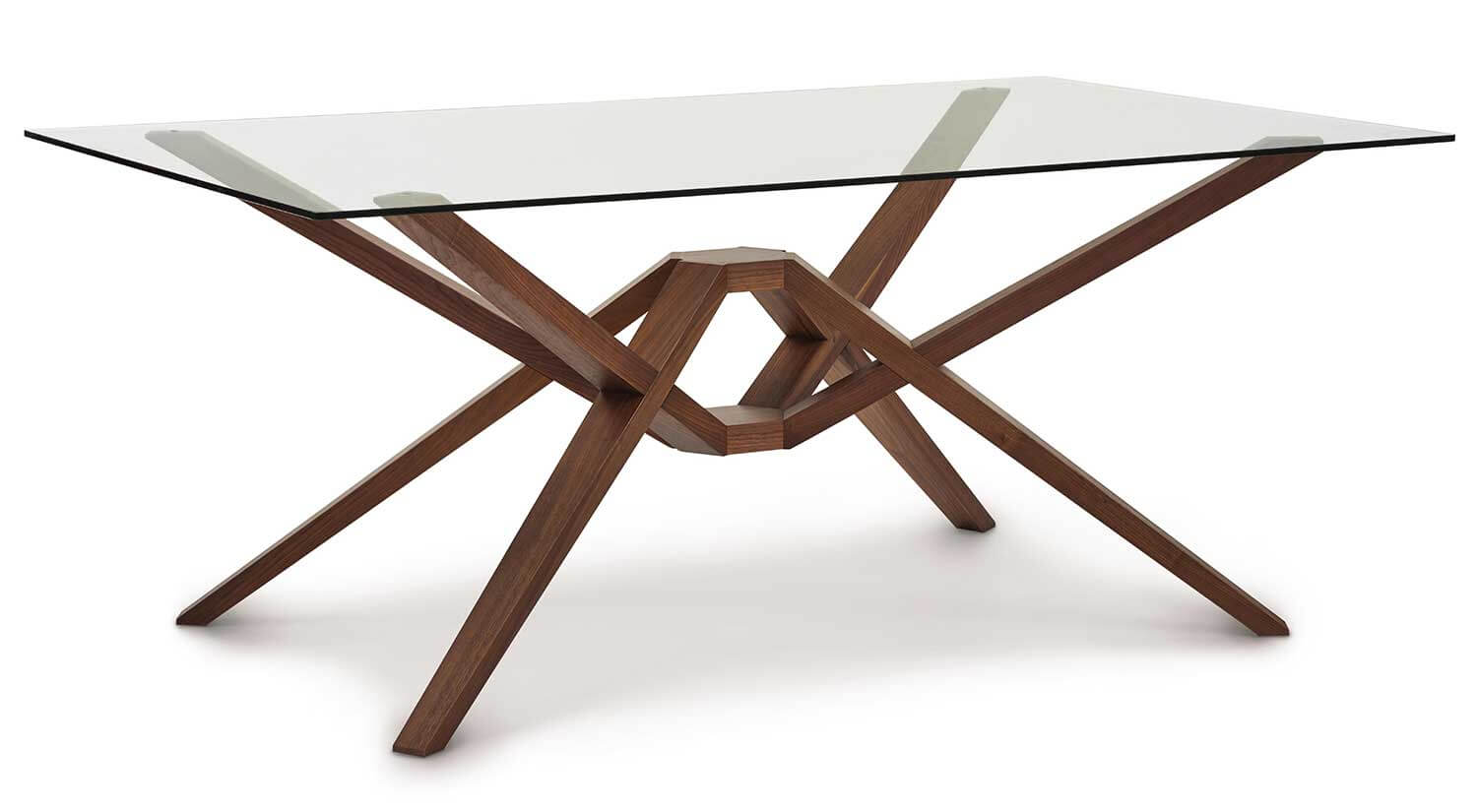 Exeter Glass Dining Table
Table Top: Round, Square, Rectangle, Oval, or Boat
Finally, we consider shape. The shape of your dining table will be mostly determined by the size and shape of your room.
For a longer room, if you want a softer shape as opposed to a rectangle, Catherine recommends an oval or boat shape, like the Berkshire Table.
A round table is, in general, better for a smaller and squarer shaped room. There's no head of the table at a round table, making it great for conversation. To seat more people, and for a more formal look, a rectangle table is a classic shape.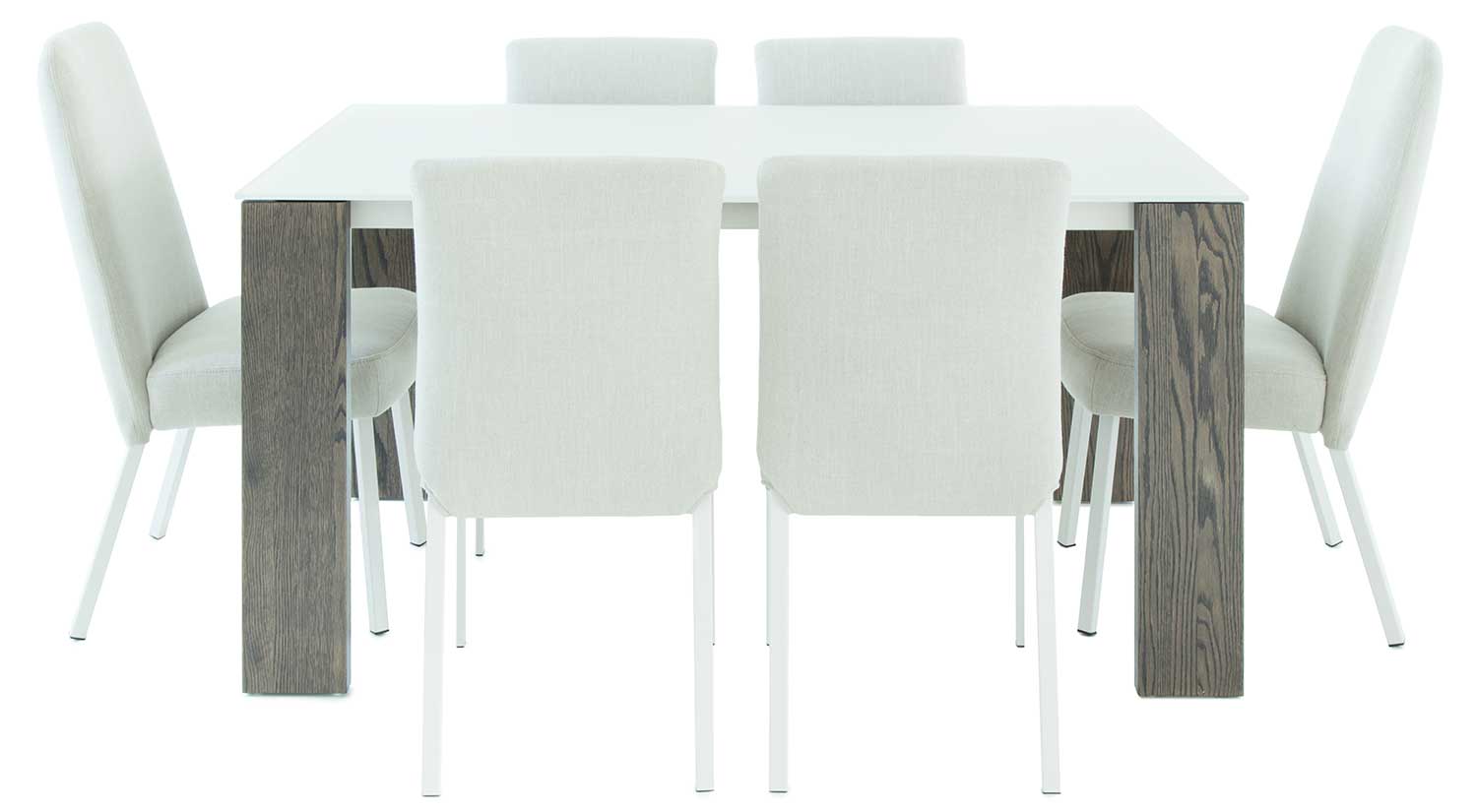 Empire Table
Final Thoughts
When investing in a dining table it's important to consider your lifestyle, the shape of your room, and what style suits your home. The dining table is the backbone of the dining room and a piece you might have for years or even decades, so when in doubt look for timeless styles.
Now that you have the lowdown on all of the options in a dining table, check out our full collection of dining tables here. Better yet, come into your nearest showroom and see them in person. Our Design Consultants have years of experience asking the right questions so you can be confident at every stage of the design process.
Curious about cost? Read our in depth-guide on how much it will cost to furnish a dining room.