A significant reason to care for your furniture, and arguably the most important reason, is to ensure its longevity and appearance. Yes, quality furniture is meant to last, but that doesn't mean you should neglect proper care.
"Furniture needs care just like people," said Linda Taylor, our Seaport Store Manager. We asked Linda and the rest of our team to share their furniture care tips so you can keep your beautiful pieces looking as good as the day you bought them.
Furniture care tips to follow
Cushions and mattresses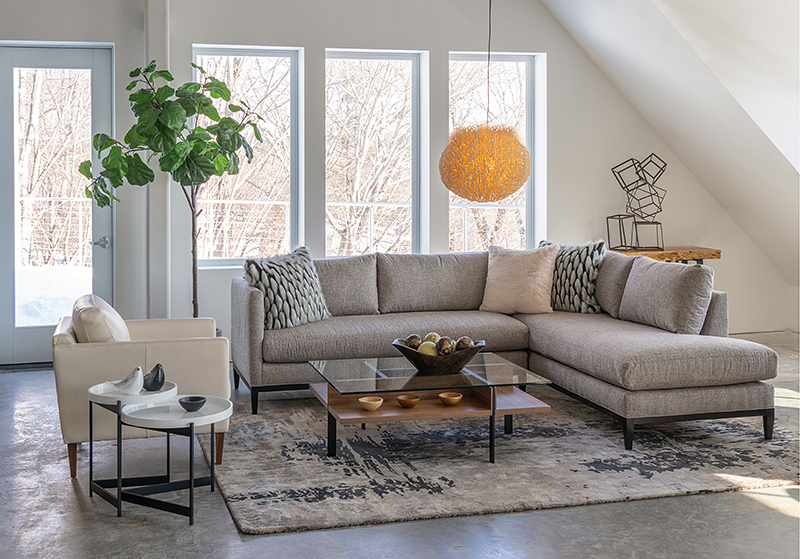 Whenever you notice sagging cushions on your sofa, it's likely they need a little TLC.
"Any sofa, loveseat, chair, or sectional with loose seat and back cushions should be rotated, flipped, and "beaten" to ensure the fiber (especially if they are down/feathers) don't end up packed or flattened," explained Stephanie Birchenough, our Online Store Manager.
And this goes for upholstery or leather. Renee Devlin, who's our Traveling Manager, added, "Rotating your cushions will keep your furniture looking newer longer. Then you fluff them, giving them rejuvenation. Dust particles are in the air, and overtime, they can settle into our furniture."
Stephanie and Renee recommended that you do any rotating, flipping, and fluffing about once a week so your sofas and chairs maintain their appearance and comfort.
The same rotation rule applies to mattresses "to avoid breakdown in a particular area," said Anita Munoz, a Design Consultant in Cambridge. Regularly rotating your mattress and taking care of it helps to extend its lifetime and ensure you get quality sleep on a nightly basis.
Wood furniture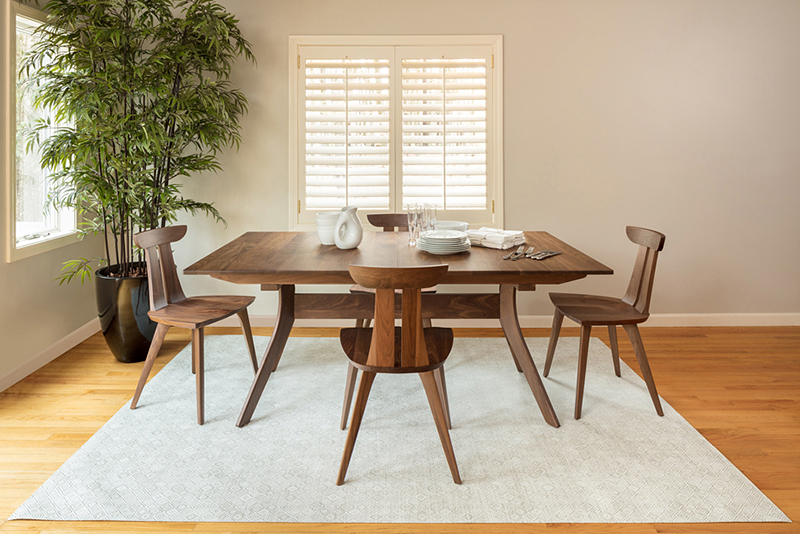 Both Betsy Johnson, Pembroke Store Manager, and Amy Masone, Framingham Store Manager, explained that you don't want to use any polish or cleaners on wood furniture because they could potentially ruin the finish or leave buildup. Instead, their recommendation is to use a damp cloth and mild liquid dish soap as needed.
If you want to help minimize any cleaning as well as scratching, you can protect your wood dining table by using place mats when sitting down for dinner and even a table pad and/or tablecloth when entertaining.
To help protect the surfaces of other wood pieces, Jo-Anne Lucas, Store Manager in Portsmouth, suggested placing felt dots underneath accessories like your table lamps. She also shared that dusting can help your wood furniture maintain its beauty.
And, of course, don't forget to use coasters for any beverages - whether it's your morning cup of coffee or a glass of wine at the end of the day:
"Not only do they prevent water rings, but also scratches from glasses or mugs that are placed directly on a wooden or veneered surface," explained Laura Nickerson, our Merchandising Manager.
Another note about wood furniture is its ability to change color when exposed to light. If you have an extension table, for example, then you'll need to occasionally keep the leaf in to ensure consistent aging across the entire table. Catherine Willey, our VP of Stores, said,
"Exposure to light and air in your home will mellow the wood tone of your finish over time. Additionally, some woods are photoreactive, like natural cherry, and change significantly in color over time. Putting the leaf in your table periodically, or opening your butterfly leaf, will allow the leaf to age with the table top and prevent a large disparity in coloration."
Upholstery
Have you ever noticed pilling on your fabric? If this happens, "don't panic. Many fabrics pill naturally and will stop after some consistent sweater shaving," said Kara Consigli, VP of Marketing. Pilling is normal and it doesn't mean you have poor-quality fabric. All you need is a fabric shaver to help manage it, which will eventually stop with consistent maintenance.
If you have any beautiful leather furniture, then you want to make sure you're caring for it.
"Take time to clean leather, especially where head and hands meet the product as head and hand oils can discolor the leather," said Linda.
"Condition leather furniture twice a year, when the seasons change, and more often if it is near direct sunlight or a heat source or gets high traffic," suggested Michelle Fleming, a Design Consultant in Framingham.
"I recommend using a new T-shirt or lint-free cloth (do not launder it, keep it in a separate plastic bag for this use only) and dampen it with distilled water. "Do not rub too hard. You really don't need leather conditioning on this type of leather, unless it's scratched or abused."
She continued, "Wax pull up leathers are the least processed and only have a light coat of wax. You will need to purchase a specific leather care product for this type of leather. For smooth leathers, dust occasionally using a soft sponge or lint-free cloth and move in small circular motions."
Her final tip? "ALWAYS test in an inconspicuous area to ensure color fastness." In other words: check to see if your leather will hold its color when cleaned; otherwise, you could end up with staining or fading.
Visit the Furniture Care page on our website to learn more or stop by one of our design centers to connect with a Design Consultant and ask any other questions you may have. In addition to regular care, you can also choose a protection plan to help keep your beautiful furniture safe from accidents.
Read more: What to Expect from the Longevity of Your Furniture
Author: Marycatherine Karcich