We know that the best investments you make are usually the ones you've researched the most. That's why we're always aiming to bring you insider knowledge about all things furniture, home décor, and interior design.
The rumor mill often plays a part in our buying decisions – but just because something is often repeated doesn't mean it's true.
If anyone has answers to the questions asked time and time again about furniture – it's our Design Consultants. They've heard it all and they're breaking down all the misconceptions and myths you may have heard.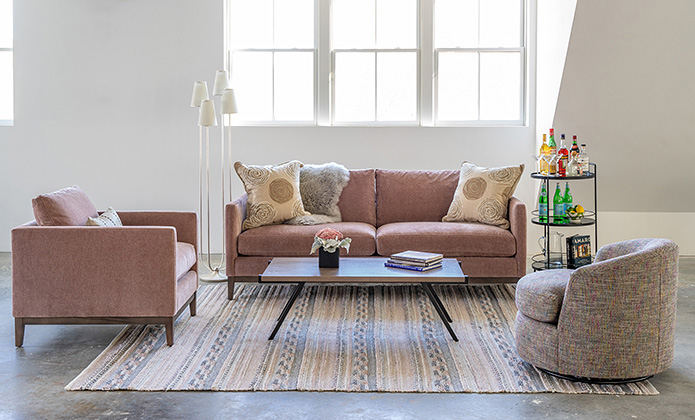 Myth: You should avoid furniture with plywood
When you hear plywood, you might immediately jump to thinking that the piece is low-quality. But the truth is, although plywood isn't a hardwood like cherry or walnut, it's still wood. And it has its place in furniture.
One of the benefits of plywood is that it doesn't crack or warp, which is why you'll find most bookcase shelving uses plywood. It keeps the shelves from bowing.
Additionally, any case good (like a dresser or nightstand) that has a leg that runs from the top of the unit to the floor needs a plywood side panel to prevent cracking.
High-quality wood furniture is about the material and it's also about construction. Utilizing plywood to prevent cracking doesn't make it inferior – it means they're using the right wood in the right places to construct the best quality piece of furniture.
Ultimately, it's important to shop with companies that are transparent about the quality of construction and materials used. Plywood in combination with MDF and particleboard? Not the best option. Plywood in a handcrafted bookshelf? A quality piece of furniture that will last.
Read more: Why is Wood Furniture So Expensive? A Detailed Breakdown
Myth: A 3-seat sofa is more comfortable
Oftentimes our customers think that a 2 cushion sofa will be uncomfortable for 3 or more people. But then when they try it out, the concern disappears.
The fact is – you may as well throw several of your misconceptions away about what you want and don't want in a sofa. The best way to find out what's really going to be comfortable for you is to try them out in person.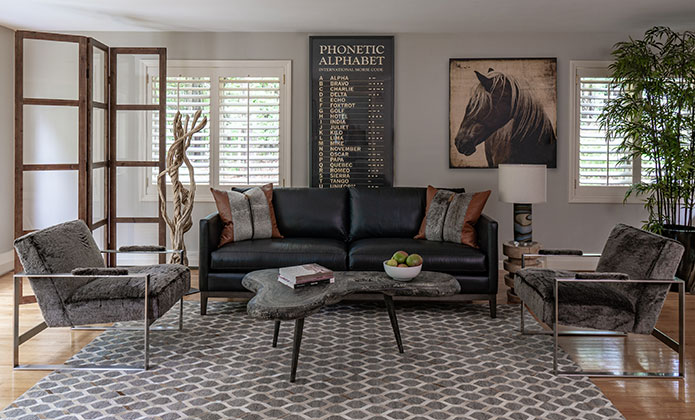 Myth: Performance fabrics are invincible
Although performance fabrics are a great option for stain resistance and durability, it's important to remember that even the most durable and easy to clean fabric can be damaged.
This is where taking care of your fabric comes into play. Even if you have a performance fabric, you still need to have a general maintenance routine. And also be aware of what you can and can't use on your fabric. If you use a water-based cleaning product when the fabric calls for a solvent-based cleaning product, you won't be happy with the result.
Like any other fabric, performance fabrics require care and attention. Maybe not as much as linen – but you can't assume that any fabric is invincible.
Myth: High-quality rugs don't shed
In fact, shedding has little to do with cost or quality. Shedding is a natural process and actually a sign of a good quality rug.
For more information, read our article, "Why Does My Rug Shed? (And Other Rug Problems)"
Myth: It's easy to get cushions refilled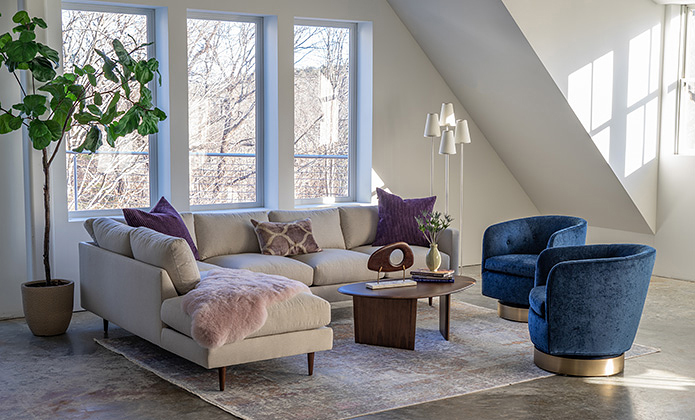 If you have a worn-down sofa, you've probably thought about just getting the cushion core re-filled. But it's not always that simple.
If you order replacement cushions from the vendor there's a chance the cushion's makeup will have changed. And that's not to mention the difficulty of getting the cushion into the casing.
Oftentimes, you're better off replacing worn-out cushions from a local upholsterer. They can look at the upholstery and can create a cushion to fit the item.
And, if all of that sounds like too much work (or too much money!), it might be time to replace your sofa. Sometimes the cost and effort isn't worth it compared to investing in a new sofa.
Myth: You shouldn't spend money on furniture if you have kids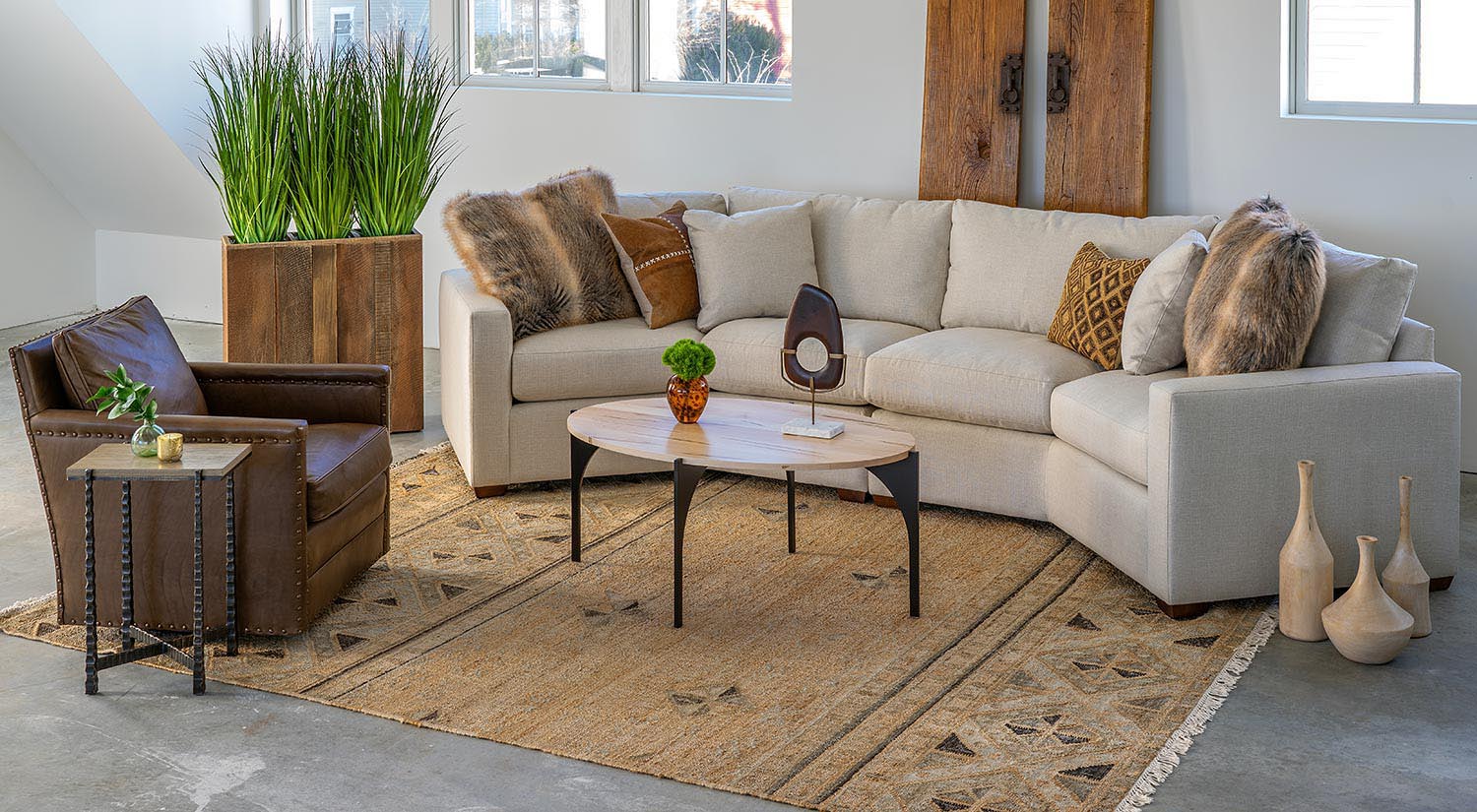 Our designers hear this a lot. A lot of people think if they have small children it means they need to have cheap furniture because the kids will destroy it.
In reality, high-quality furniture is built to withstand family life, and investing now means saving in the long-term when you eventually have to replace cheaply-made furniture.
Myth: There are design rules to follow
Finally, while you can find rules and ideas about how you should or shouldn't design your home, these are all opinion-based. There are basic guidelines to follow when it comes to space planning, but every space and every personality is unique.
Design your home for you, not anyone else.
Come say hi!
Have more questions about furniture or a design project you've been wanting to start? Our team of design consultants can help.
Stop by a showroom or reach out to us to let us know what you need – we're here to help solve all of your design dilemmas – no matter how big or small.
Read more: