If you're in need of functional furniture with modern appeal, BDI may have what you're looking for. Within each of their numerous collections, you'll find quality furniture that's beautifully made and designed for everyday use. You have the ability to create a cohesive look with a complete BDI setup or choose a couple of pieces that will work with what you already own.
Since there are so many options, we asked our staff to share their favorites. Take a look to see what they had to say!
BDI furniture: Circle Furniture team favorites
BDI has a wide selection of consoles and cabinets to choose from, but one thing you don't need to worry about is deciding on one model over the other because it has more features. This is something Betsy Johnson, our Pembroke Store Manager, appreciates:
"I love all the features of the media cabinets… the doors that remotes work through; the adjustable, ventilated interior shelves; the sliding ventilated doors on the back of the units to access all equipment; and the little wheels that are basically invisible but make the cabinets easy to move."
Elements Media Console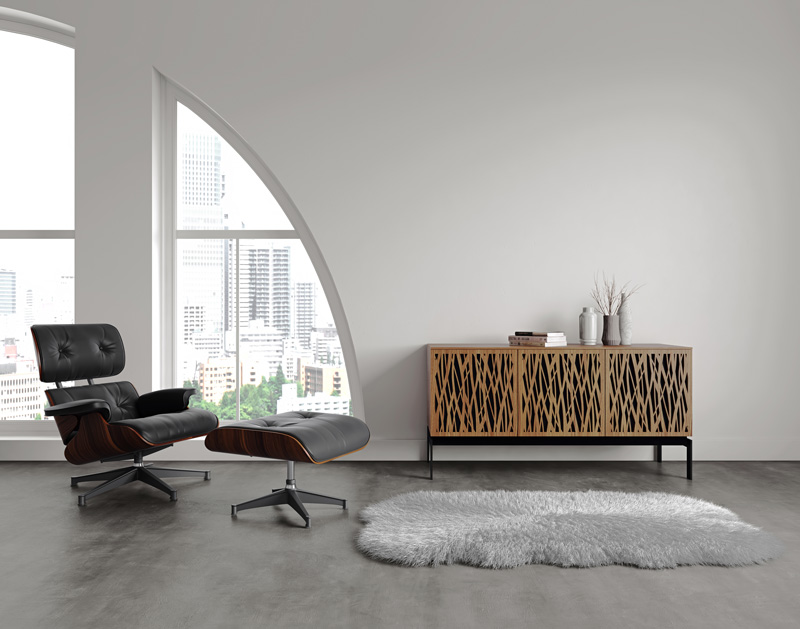 When it comes to specific models, Amy Masone, our Framingham Store Manager, favors the Elements Media Console. She described it as versatile, pointing out that it has different door styles and finish options, plus the flexibility to work as a media console or a dining buffet. The door styles and finishes are a couple of BDI's customizations that allow you to match your furniture with your existing decor and meet your personal taste.
Ann Marie Gillis, who's a Design Consultant in Framingham, likes the Elements specifically in a Natural Walnut finish which "contrasts beautifully with the black base and screen behind the doors" and the Wheat Door because of its "organic, natural movement."
Corridor Media Cabinet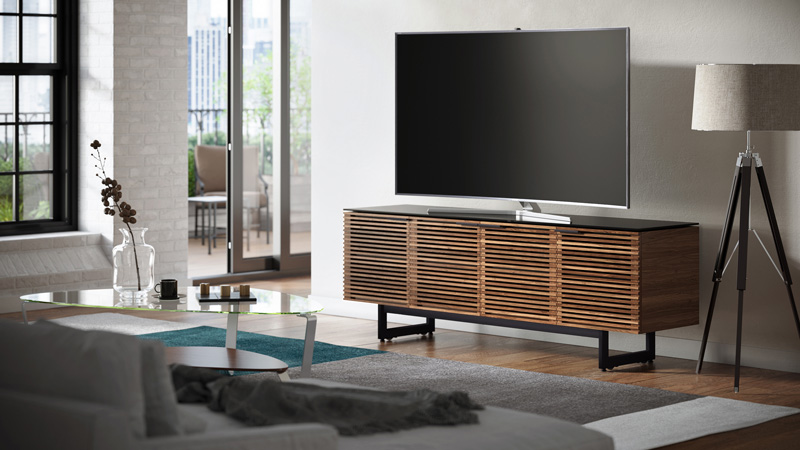 If you aren't sold on the Elements, the Corridor Media Cabinet might better suit your style. It's available with two, three, or four doors, plus a few finish options. If you're like Nancy Tracy, a Design Consultant in Cambridge, a Natural Walnut finish on the Corridor will catch your eye:
"It has a natural look and flow; one of the few natural finish items from BDI that make it stand out."
Besides looking beautiful, the Corridor has a number of the same efficient features we highlighted earlier. Justin Martel, a Design Consultant in Acton, added, "It also has soft-close doors and comes with a safety strap to prevent the TV from tipping forward - great for people with pets/small children!"
Corridor Bar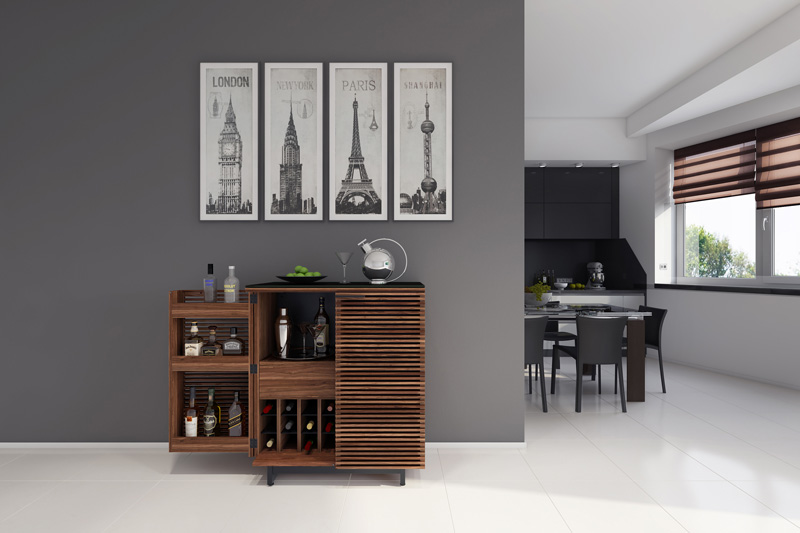 If you like the Corridor Media Cabinet and want your space to have uniformity, you can match it with the Corridor Bar. It's a favorite for Anne Bugatch, our B2B Sales Contact, because of its size, storage space, and unique appeal.
Cloud 9 Lift Coffee Table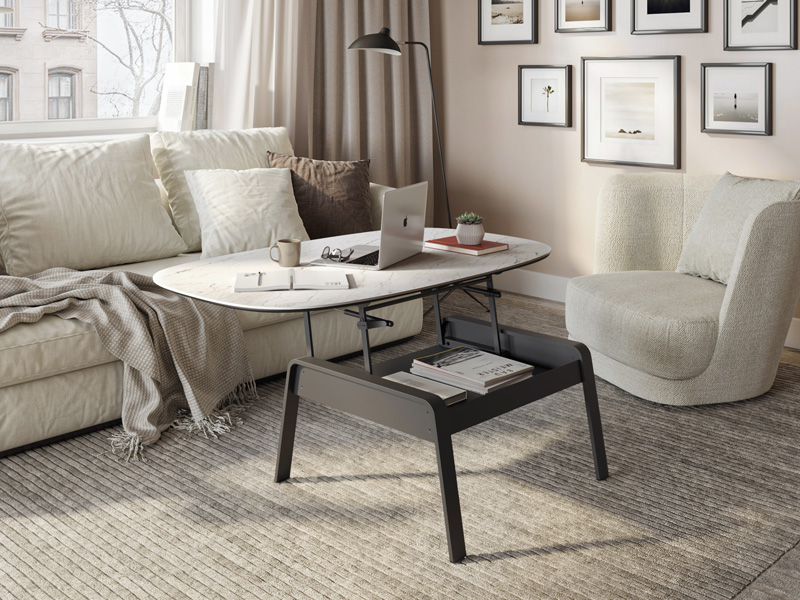 Not only is BDI skilled in designing sleek furniture, but they have options that are convenient for smaller spaces. One of their coffee tables, for example, would be great for someone who doesn't have a ton of extra room. Take the Cloud 9 Lift Coffee Table, which both Stephanie Birchenough, our Online Store Manager, and Anita Munoz, a Design Consultant in Cambridge, love for its easy-to-use, multi-functional design.
Beth Troiano, one of our Design Consultants in Pembroke, added:
"The size is large enough to play a game or spread out work items, the top surface is extremely durable, there are no sharp edges to bang your knees, the top lifts up so you can eat dinner off of it while sitting on the sofa, and there is hidden storage inside."
Bink Laptop Table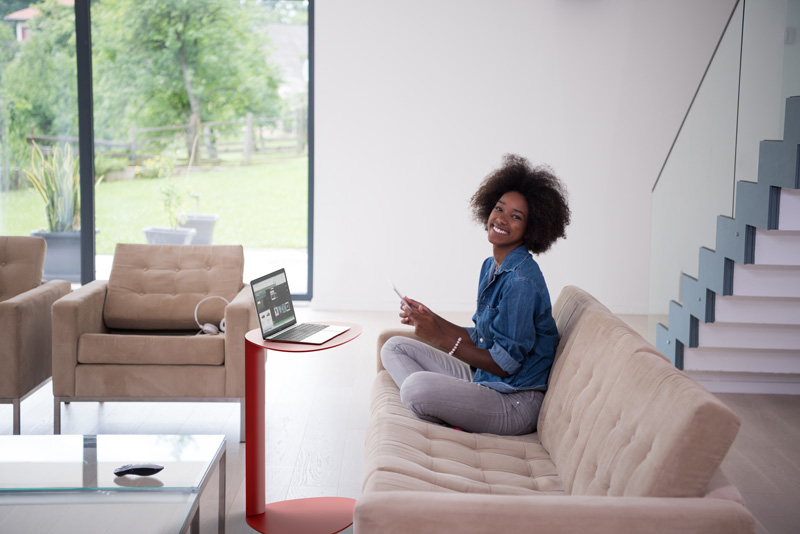 Cheryl Harrington, a Senior Design Consultant in Pembroke, described the Bink Laptop Table as "fun and functional" - and she's right! You'll immediately notice its contoured design and smaller size, allowing you to easily move it around your home (even outside) if you want to switch up your workspace or need a table nearby.
Dino Cocktail Table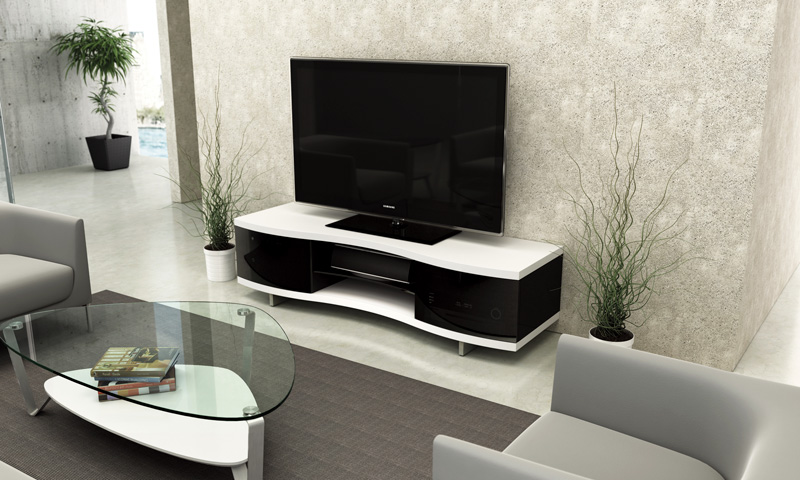 Similar to the Bink, the Dino Cocktail Table will certainly grab your attention if you're leaning towards something a little less traditional:
"The unique shape of this coffee table makes it timeless," said Renee Devlin, our Traveling Manager. "It looks great in front of a straight sofa style or cornered with a sectional configuration."
Soma Compact Lift Desk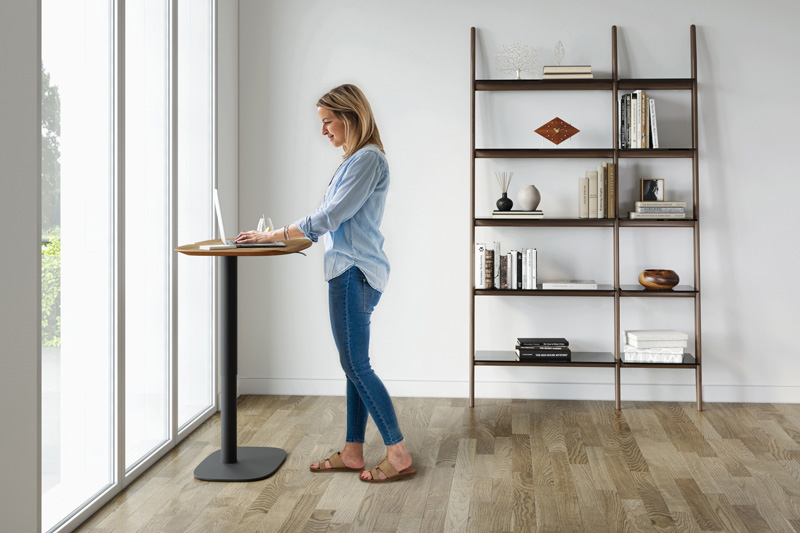 Like their coffee tables, BDI desks are versatile with a minimalist approach. A slim silhouette like the Soma Compact Lift Desk makes it easy for you to set up shop anywhere. Brian Bechard, our VP of Merchandising, noted a few of its features:
"Small scale yet user-friendly. Manual - so no wires! Sit or stand to work."
For Jo-Anne Lucas, a Design Consultant in Middleton, the Soma is perfect for her small space, whether she's working or browsing the internet.
Sequel Lift Desk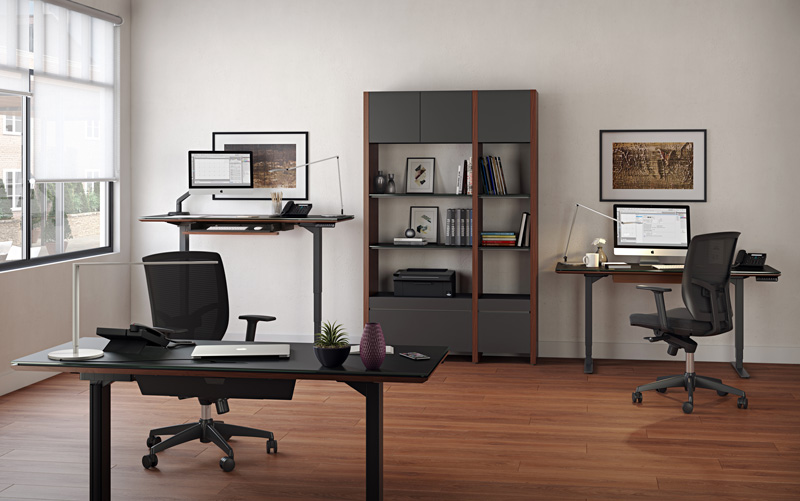 Another desk option is the Sequel Lift Desk. Richa Sinha, our Cambridge Store Manager, described it as "very sleek and contemporary. The mechanism is smooth and there are many pieces in the collection to give a cohesive look."
Linea Shelves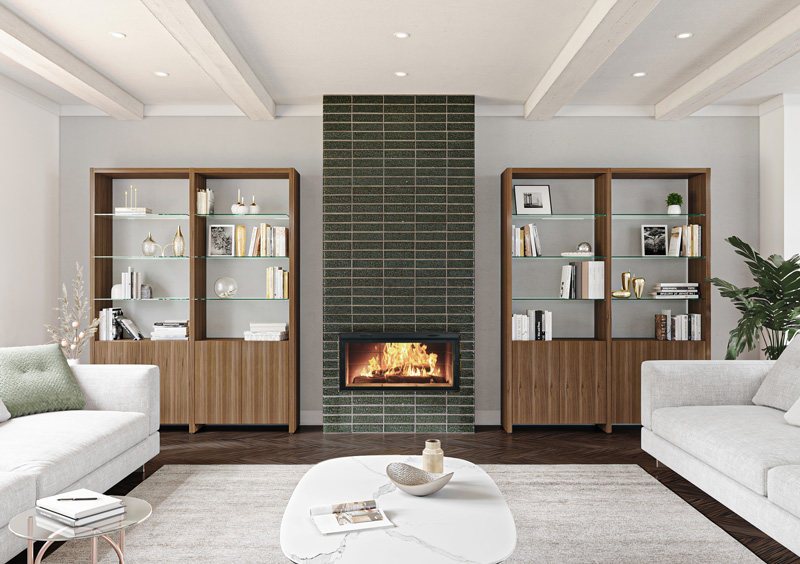 To really give you the complete room setup, BDI also offers shelving units like the Linea. You have the option to buy a single unit or you can line your entire wall space with shelves.
"Linea is a multi-function wall unit that can be used as a room divider or an elegant piece of furniture against the wall," explained Linda Taylor, Seaport Store Manager. She added that it "works in any room of the house as additional storage or a unit to show off all your worldly treasures."
Visit a design center to shop BDI
We mentioned quite a few BDI pieces, but there's a lot more where that came from. If you're interested in checking out any of their furniture, set up an appointment with one of our Design Consultants to visit a design center and look at what we have!
Author: Marycatherine Karcich