It's likely that comfort is one of the main things you look for in a sofa with little room for compromise, and we get it! Watching a movie, hanging out with family, or even taking a quick afternoon snooze all call for a cozy spot you can count on when it's time to unwind.
Stressless encourages you to do all that and more, making them a top choice for comfortable furniture. You may typically think of their recliners, but they also have a collection of sofas that offer the same quality as their chairs so you can share the comfort with others.
There are 3 different types of Stressless sofas we're going to highlight so you know your options:
Stressless sofa options
Stationary: Manhattan Stressless Sofa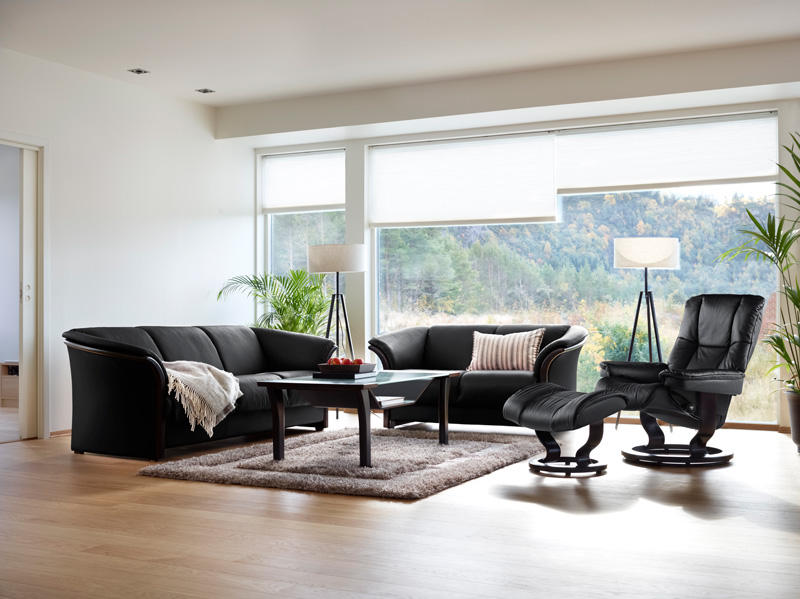 There's something to be said about the Manhattan Stressless Sofa. Upon first glance, you'll find that it has an elegant yet classic look, but then you'll be welcomed by plush seating as soon as you sit down. It's transitional in style with soft curves and wood accents, and you're able to choose from a selection of leathers and wood finishes.
Shown online only.
Motion: Buckingham Stressless Sofa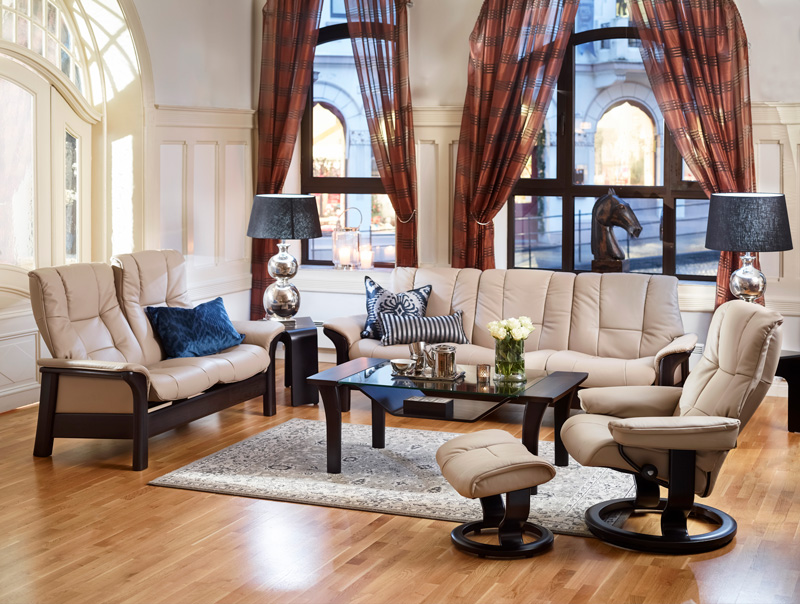 If you're interested in a motion sofa, you may consider the Buckingham Stressless Sofa. When we talk about motion, we mean the sofa reclines by using your bodyweight.
The 3-seat Buckingham is available as a high back or low back and features soft curves, padded arms, and a cozy seat. It's the most modern-looking option that's featured, but stylistically, it has the versatility for any space.
Shown in: Cambridge, Acton, Middleton, Framingham, Pembroke, and Seaport
Power: Mary Stressless Power Sofa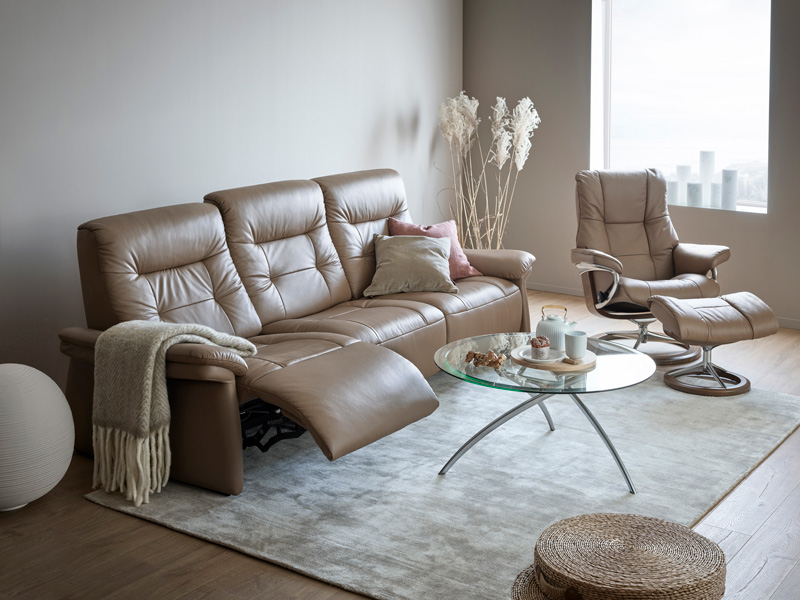 Last is the Mary Stressless Power Sofa, which reclines with the push of a button that's tucked between the seat cushions for easy access. All seats and headrests have power, and they move independently from each other so you can adjust based on your needs. If you want to float your sofa away from the wall, you'll need to purchase a battery pack for each seat.
The Mary's spacious seating allows you to curl up for movies with your favorite people, and its tufted detailing and flared arms give it a more traditional look.
Shown in: Cambridge, Acton, Middleton, Framingham, Pembroke, and Seaport
Try a Stressless sofa on for size
The best way to know if a sofa has the right amount of comfort you're looking for is to try it out in person. You can set up an appointment with a Design Consultant or pop into one of the Design Centers we mentioned to peruse Stressless sofas for your home.
Author: Marycatherine Karcich