Working from home has become a reality for most of us. And it may have shined a light on just how important it is to have a dedicated workspace in your home.
Whether it's a corner of your kitchen or a full-fledged home office, having the right desk can make a world of difference.
We're breaking down all the things you should consider when choosing a desk for your home office.
Things to consider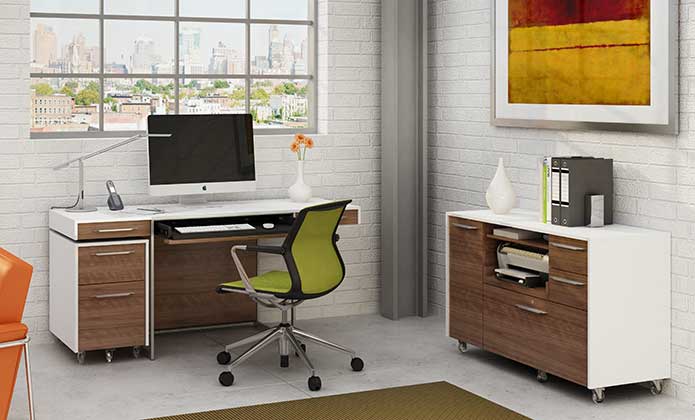 Before you begin the process of choosing a desk, there are some important questions to ask yourself:
What tone do you want to set for the room?
What type of work will you be doing?
How much desk space do you need?
Are you concerned about sitting all day?
Will you need storage for materials or paperwork?
How big is the space you'll be putting your desk? Measurements are key!
It may seem simple but think about your average workday. What do you need? What would make working more seamless?
From traditional wood desks to high-tech sit-stand desks, the desk you choose could have a big effect on your work life.
How much does a desk cost?
As with most pieces of furniture, the cost of a desk ranges greatly and is dependent on quality, materials, additional features, and assembly.
You can find a desk for around $160 if you're looking for a simple style, and you don't mind a DIY assembly. A mid-range desk is generally between $400 and $1,000, and for a high-quality desk you could spend up to $2,800 or more.
The lower you go in cost, the more likely you are to find lower-quality materials such as MDF and particleboard. Higher-quality desks will be handcrafted from hardwood and built with attention to detail, whether they're traditional desks or sit-stand desks with all the bells and whistles.
Because the cost varies so much, research is key. Make sure you know what you're getting, read reviews, and shop with reputable companies that pride themselves on high-quality furniture.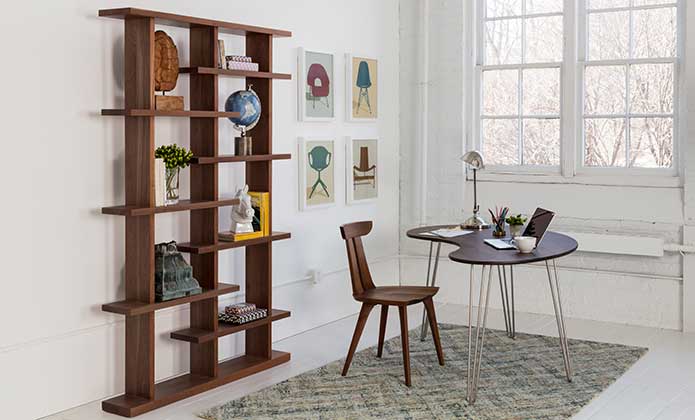 If you have a minimal set-up or you're tight on space…
For many people, a desk is simply a workspace. You may not need additional features like wire management or a lot of storage.
In that case, look for simple table-style desks like the Willow Street Laptop Desk or the Sarah Secretary Desk. If space is a concern, look for secretary desks or compact desks – they'll give you just enough workspace without overwhelming the room.
If you need a robust set-up and more storage…
For teachers who may be conducting classes over zoom, or if you need multiple monitors and storage – you'll want to be sure to have a desk that's big enough.
Storage drawers are a great option, but you can always opt for a media cabinet to put under or beside your desk. You might consider an L-shape desk or one that has multiple levels like the Oxford Corner Lift Desk.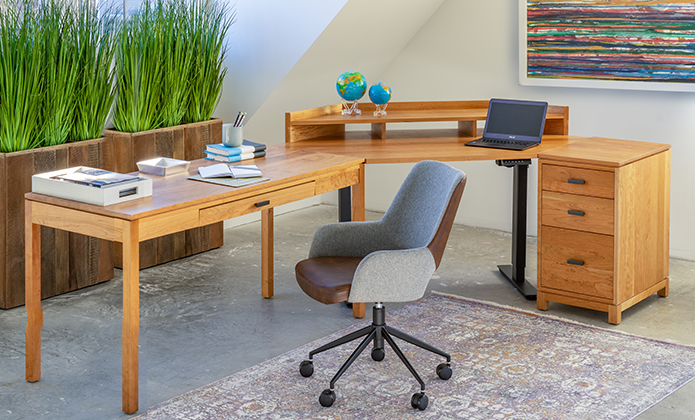 If you'll be working from home indefinitely and you're concerned about storage and comfort, we recommend trying out desks in person. As with most furniture pieces, this is the best way to get a feel for what's going to be the perfect fit for your needs.
You may love an option online, but then in-person decide that you don't like the feel of etched glass. One of the benefits of working from home is comfort – and that includes more than just your chair!
Read more: How to Choose the Perfect Ergonomic Office Chair for You
If you're concerned about sitting all day…
We've all heard the studies. It's no surprise that sitting all day isn't the best for your health.
A lift or sit-stand desk is a great solution – whether it's a high-tech option like the BDI Sequel Lift Desk, which raises to pre-set heights with the push of a button – or a simple mechanical option with two height options.
Read more: Copeland Invigo vs. BDI Sola: Comparing Lift Desks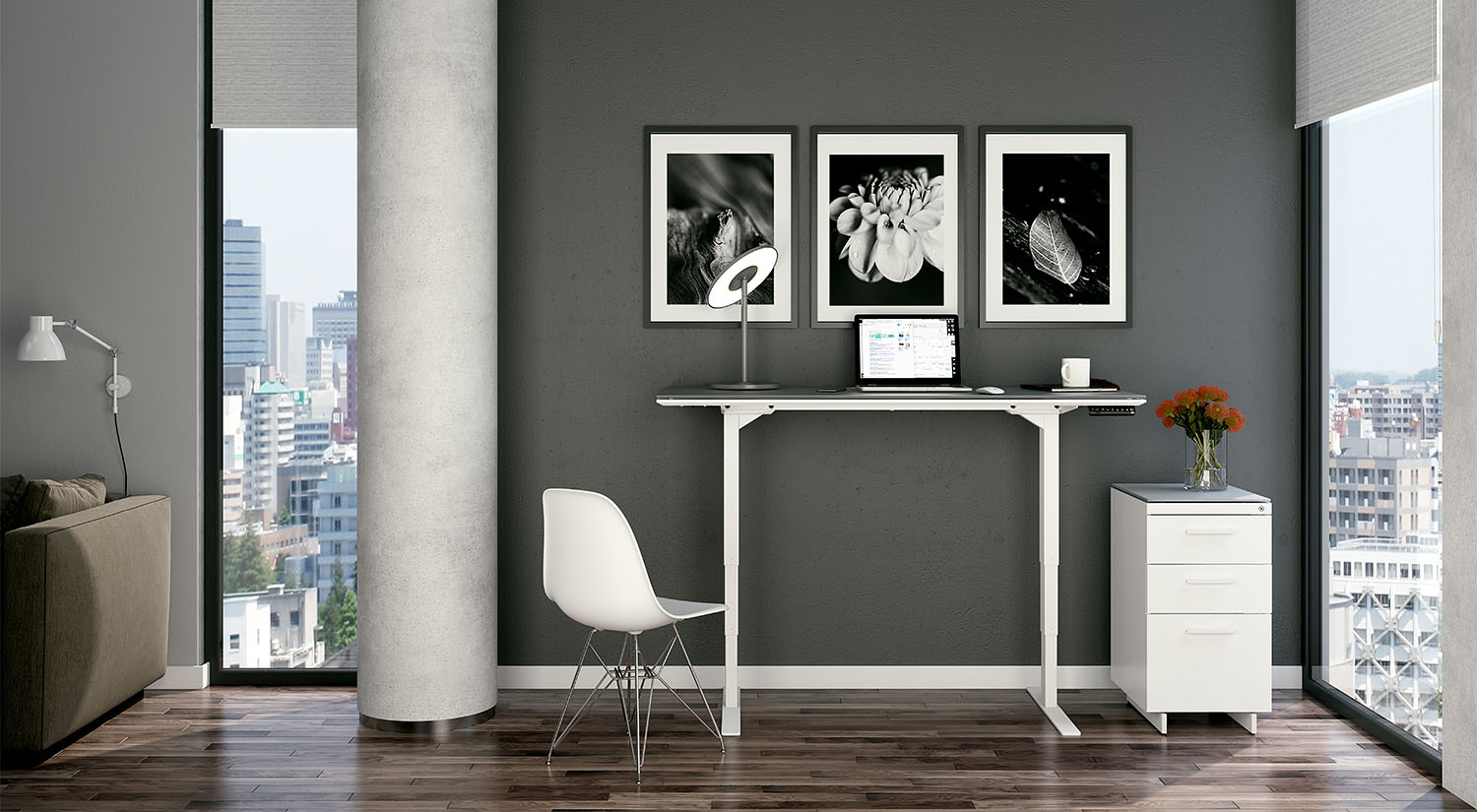 Final thoughts
There are many different styles of desks, and choosing the right one takes some consideration. With many of us working from home every day (or at least more often), having a functional desk is important.
You can find affordable aesthetically pleasing desks, but be aware that these are generally DIY assembly and won't stand the test of time like a high-quality desk will. However, if all you need is a laptop, a notebook, and a drawer – that might be a great option.
Alternatively, if you work long structured days and you're concerned about sitting all day, investing in a sit-stand desk is a great idea.
Your work set-up has a lot to do with how productive you are, and it can also affect your mood! If for the past 6 months, you've been cramped into a cluttered corner of the house, you might consider a few changes you can make to create a home office that inspires work.
Read our Guide to Designing the Perfect Home Office.
Check out our collection of Home Office furniture.
Author: Julia Maiman
Julia is a writer, blogger, and believer in the smell of old books. She has been crafting stories since she could put pen to paper. She is also a lover of dogs, traveling, and Led Zeppelin.